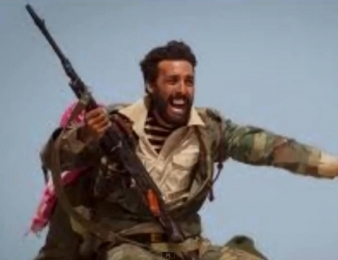 By

Jonathan Hamilton Russell.
This is my third article on Libya over the seven month period of the 'revolution'.
The reason that I have written these articles is the general silence and passive acceptance that has taken place on developments in Libya as they have unfolded, and my wish to raise awareness.
I am also greatly concerned in a period when we should have learnt from world wars and numerous conflicts across the world that war is not the solution and leads to untold misery.
Yet war has become our most favoured form of foreign intervention. My intention had been to leave writing a further article until a new government was formed however the atrocities that have taken place at the end revolution have led me to writing the present article. I  realise much of what I  report goes against what many people have come to believe, but feel it essential to report on what I  have read.
My previous arguments have been that rather than relying solely on military intervention, negotiations should have taken place with the prerequisite that elections were held under the auspices of the United Nations. Everyone could have had a say regarding the future of Libya: including those who supported Qaddafi's green movement who have been effectively disenfranchised.
The African Union and Venezuela offered to broker negotiations and Qaddafi and the then Libyan government on frequent occasions wanted to have a cease fire and negotiations. I also argued that all those responsible for torture and war crimes whether Qaddafi's regime, NATO or the revolutionary militias should be put before an international court for their crimes.
On the 4th February following International pressure the International Criminal Court have stated that they will be investigating war crimes perpetuated by Qaddafi Loyalists, the National Transitional Government and NATO. Interestingly this has not been reported in the British media but is whatever a significant step forward in terms of justice
If you do nothing else please watch the following video.
Journalist Lizzie Phelan was in Tripoli before during and after its fall. She explains the support for Qaddafi including a 1.7 million demonstration in Tripoli in support of Qaddafi  in July, of an entire population of around five million in Libya.
She also reports on how the media was falsely reporting, the democratic nature of Qaddafi's regime, how many women took up arms and of mass murder by NATO. Have a look on You Tube and compare footage of the numbers demonstrating for Qaddafi and those for the revolutionary fighters.
Seamus Milne in the Guardian has argued that intervention by the West rather than saving public lives has in fact increased deaths at least tenfold. Off course we can never know what might have happened if the then Libyan Government tanks had reached Benghazi. What we do know is that in towns that Qaddafi's troops did retake, reprisals if any were minimal.
We also know that that Amnesty International and Human Rights Watch that there have been considerable reprisals by the Revolutionary militias as well as the deaths inflicted by NATO bombing. Estimates of those killed range from 10,000 to 50,00 with  many more injured in a population of around five million.
Amnesty International has evidence of mass abduction and detention, beating and routine torture, killings and atrocities carried out by the revolutionary militias. Human rights watch have identified a number of mass graves and discovered 53 bodies with hands tied of Qaddafi fighter's, some who had clearly been in hospital, near to the hotel used by Qaddafi loyalists just before he was he was murdered. In Sirte over 500 fighters and civilians were killed in the last ten days
There was knowledge by the revolutionary militia and NATO, as evidenced by militia fighters speaking on the BBC that Qaddafi was in Sirte in the last few days of fighting.
Two weeks after the death of Qaddafi the British Government is already planning to send a delegation to Libya to sell arms.
The statement by NATO that they did not now that Gaddafi was in the 80 strong convoy that was bombed while trying to escape Sirte was almost certainly untrue, as was the assertion that the bombings and drone attacks was done to protect civilians as they were fleeing not attacking anyone.
A reporter on the BBC said the carnage was horrific.
What I believe has happened has been a concerted attempt by the revolutionary militias and NATO to destroy Qaddafi's Green movement supporters in Libya so that they cannot become a force in a future Libya. Mustafa Abdel Jalil the National Transitional Council Chairman and previously Qaddafi's Justice Minister tried to put the blame of Qaddafi's death onto Qaddafi's own snipers despite the horrendous mobile footage that was published on the net all over the world.
Peter Boukaret the head of Human Rights Watch in Libya has seen revolutionary militias burning homes in Tawerga where the majority of people were black Libyans who were seen as supporters of the Qaddafi regime, so that they can never return to their home town.
Under International law combatants should be released at the end of a civil war but the Washington Post has reported that 1,000 Qaddafi loyalists are packed in dingy jails and have faced abuse and even torture. Amnesty International have criticised the EU for leaving 5,000 Sub-Saharan refugees camped in appalling conditions on Libya's border
Will Self on the BBC has pointed out that arms are still being sold to Saudi Arabia, Bahrain, Algeria, Egypt and Morocco who have equally poor human rights records. He also pointed out that arms on both sides of the Libyan conflict were supplied by Britain.  Two weeks after the death of Qaddafi the British Government is already planning to send a delegation to Libya to sell arms.
It could be suggested that it was in the interests of Western Leaders for Qaddafi not to live as at any court hearing he could have informed the world of the arms and human rights deals brokered with the likes of Sarkozy and Blair.
The future of Libya is most certainly in the balance. Abel Hakim Belhaj kidnapped by MI6 and tortured in Libya is threatening legal action against the UK Government, and who is the leader of the militias in Tripoli, has already warned that they will not be taking orders from the National Transitional Council.
Mustafa Abdel Jalil Chairperson of the National Transitional council's attempts to mollify the Islamic militias is to say that a future state will be based in Shariah law and that polygamy not allowed previously in Libya would be allowed.
The intervention in Libya was never about saving civilians.
This in itself would suggest that women's role in Libya will take a considerable backward step. Kevin Rudd the Australian Foreign minister has warned that Libya could become another Iraq. There could well be further conflict before any elections take place.
What I would conjecture is that though there will be on-going violence, it is more likely that what will happen is that elections will eventually take place and the winners will be those that are sympathetic to the west. However as corruption increases as in Afghanistan and many people's living standards fall,  that within ten years the Islamic parties as the only alternative will gain electoral or even military victory.
One factor not reported in our media is that Qaddafi through the African Union and with other Middle Eastern states had been pushing for a new currency – the Gold Dinar.  This would have been a threat to the Euro and the Dollar. This would have soon come into effect and would have enriched African countries and had a negative effect on western countries. This in itself was a major reason as to why they wanted to get rid of Qaddafi as he had large stocks of gold.
Britain's new defence secretary Philip Hammond told the BBC:
 "I would expect British Companies to be packing their suitcases for Libya"
UK trade and Investment a British Government body has estimated that oil, gas and reconstruction works will be worth over 320 billion dollars over the next ten years.
Daniel Kaczynski a conservative MP and Chair of the parliamentary Libyan committee who has written extensively on Qaddafi  and who has been a major influence on British Policy on Libya has suggested that Libya pay back the costs of British military intervention. Previous to the revolution the majority of contracts were going to Russia and China.
There are already significant land and property claims being made by Libyans who lost their property under Qaddafi this will have a significant knock on effect pushing those who have lived in the property and land into poverty
The intervention in Libya was never about saving civilians. It has been about regime change and a grab for lucrative resources and ending Qaddafi's nearly met aim of creating a Gold Dinar as an alternative currency to threaten the Euro and the Dollar. 
In carrying out this policy the revolutionary militias aided extensively by NATO have carried out and continue to carry out genocide of ideological nature against those many Libyans who continued to support Qaddafi.