After experiencing one of the mildest Novembers on record, winter has taken a hold of the region with a vengeance, with forecasters predicting worse still to come. Voice's Stephen Davy Osborne reports.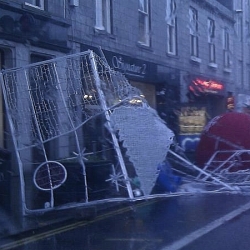 Rewind 12 months and you would find the region hidden under several feet of snow, with salt stockpiles dwindling.
So far this year however, December has yet to see a heavy snow fall within the city. Instead, Aberdeen and the Shire have been battered by severe gales, with wind speeds reaching up to 160mph in the highlands.
A number of homes have also been left without power as a result.
But in true local spirit, residents of the North-East haven't let this storm get them down, and have taken it deep into their hearts; affectionately endorsing the renaming of "Hurricane Bawbag", which now even has its very own entry on Wikipedia.
Grampian Police have put out weather warnings to motorists on a number of highland roads, and have even closed the snow gates between Cockbridge and Tomintoul leading to the Lecht Ski Centre. A similar situation can be found on the A93 Braemar to Cairnwell Road, which is also closed due to drifting snow.
The A939 between Ballater and Corgarff, and the A96 from Inverurie to Elgin have been left open, but given an advisory "pass with care" status.
Interestingly though, Aberdeen's main thoroughfare, Union Street was not included on this list, despite a very dangerous large obstruction. A section of the much-hyped brand new Christmas lights was blown from its moorings on either side of the street and came crashing down onto the busy main street between Natwest and the Filling Station towards the west end of the granite mile.
Miraculously nobody was injured in the freak incident, although traffic was disrupted while police cleared the debris of the mangled metal lights structure.
One on-looker was very pleased to note however that local bus services continued to run, even manoeuvring around the obstruction to get to the bus stops, so as not to cause further disruption to passengers.
Whoever said that the Christmas spirit was not alive amongst Aberdeen's public transport system?
The bad weather is expected to continue into the weekend and the start of next week, with blizzards forecasted as the cold weather sets in once again.