The Council has taken a bit of a pasting recently, probably in Voice as much as anywhere. That's what happens when we invite citizens to pen articles for us. One of Aberdeen Voice's founders, Ross Cunningham, makes a welcome return by musing on some of the things that councils responsible for the city actually got right over the years.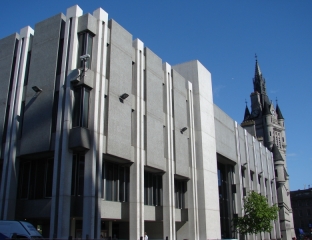 Let's face it, our city council is pretty woeful.
Hundreds of millions in debt, essential services cut, hair-brained schemes to revamp the city centre and deafness to those who wish to voice their opinions on the city itself.
But, was it always like this? Surely our great city's leaders must have been competent once upon a time?
I'm sure there are many more fantastic schemes the council has facilitated over the years that I've left out, so please feel free to add to the list. But first try these…..
1. Raising Union Street to street level from Union Terrace to Castlegate
What a superb plan. It almost bankrupted the city when it was built in the 19th century but that was the problem of Aberdonians back then and not ours. Can you imagine having to go downhill and back up again to get from KFC to Poundland? No thank you!
2. Putting the Canal Street signpost on top of a pole instead of at street level
Brilliant! We were all tired of seeing people scoring out the C and S to formulate a crude and badly-spelled statement. To hell with delivery drivers unfamiliar to the area who may not have a TomTom to guide them. Someone needs to treat these things anally!
3. Britain In Bloom champions umpteen times
Being an ex-gardener, the floral displays in the city have always delighted me. Considering we are surrounded by grey, the colour and vibrancy the flowers provided were always a welcome sight. It looks like we may have a new place to show off our horticultural nous very soon. I'd rather we just did up the old one.
4. Revamping Marischal College
It's amazing what you can do with a pressure washer nowadays. The granite sparkles with a freshness not seen for at least half a century – apart from the old church on the side – and it sits across the road from the recently-evacuated monstrosity. Still, the view from the never-ending queue to wait to discuss inaccuracies on your council tax bill is better than it ever has been.
5. Rebranding the city arms logo
Does anyone remember when the leopards on the city logo looked a bit too fierce and menacing? Surely not the sort of image the city would wish to portray? The answer? Make them look more like a cartoon drawn by an infant, with their tongues sticking out. Sorted.