Peacock Visual Arts are proud to welcome renowned paper maker Jacki Parry to exhibit in the main gallery.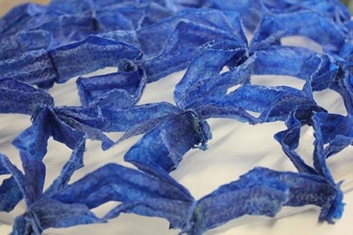 Resonance (Paper As Memory) will include a selection of handmade paper sculptures and prints, both large and small scale, free standing and wall mounted.
Works will include the large scale installation Ocean, which cascades from the ceiling like a large 'ocean wave,' alerting us to both the natural and textile-like qualities of paper.
The Boolakeel Series of handmade digital prints, which play with paper's association with mass communications; while their subtitle, The Wind Among the Rushes, leads us to the scene in Boolakeel, rural Ireland, which inspired their creation.
Small sculptural pieces such as Yellow Venus, which almost seem to burst with air and showcase Jacki's skills at sewing, folding, and weaving paper, alongside making it.
A number of these works featured in Jacki's exhibition 'Resonance' at Glasgow Print Studio in 2012. This exhibition at Peacock Visual Arts will also showcase some exciting new work currently in progress, plus an interview with Jacki, filmed earlier this year in her Glasgow studio.
About the Artist
Jacki Parry was born in Wonthaggi, Australia, and graduated as a teacher of secondary art and craft from Melbourne Teachers College. Jacki moved to the UK in 1965, and Scotland in 1970 where she has lived since. In 1972 while a student at Glasgow School of Art Jacki became one of the founding members of the Glasgow Print Studio, and had her first solo exhibition there in February 2012 to open their 40th anniversary celebrations.
In 1985 Jacki founded Gallowgate Studios, Glasgow with partner and painter John Taylor, where her studio, The Paper Workshop, was established.
In 1991 Jacki was appointed Senior Lecturer, Head of Printmaking at Glasgow School of Art, where she continued to teach until her retirement in 2006.
For the past 30 years Jacki has continually explored the material and perceptual possibilities of paper and print, studying with the master American papermaker Laurence Barker in Barcelona, and Tadao Endo in Shiroishi, Japan.
Jacki now works full time in her Glasgow studio, and was elected to the Royal Scottish Academy in 2009. She has also lectured and exhibited in the UK and internationally.
Kirsty Young, Communications Manager at Peacock Visual Arts says, "We are all very excited that Jacki is bringing this exhibition to Aberdeen. Not only will we see work included in her first solo show from 2012, Resonance, but also a selection of brand new work. This is a fantastic opportunity to get up close to, and be inspired by, some very delicate and beautiful pieces of paper sculpture'.
Exhibition Runs 23 March – 4 May 2013
Opening Friday 22 March, 6 – 8pm