Expansion and Urban Sprawl are coming your way if you are in Aberdeen City or Shire.  Peter Kennedy reports on the colossal proposal for the Elsick Estate which would change the complexion of Aberdeenshire forever.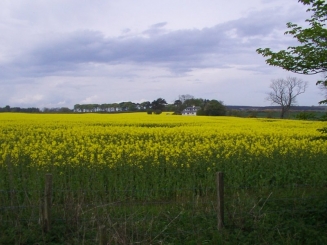 I wonder if any of you have been following the proposal to build a new town at the Elsick Estate, Cammachmore. This new town could become the biggest single town in Aberdeenshire, with an estimated population of 20,000+, outstripping the likes of Peterhead and Inverurie.
This could see an extra 15000 – 20000 cars flooding the A90 corridor
In the initial plans, local residents were told the new settlement would be some 6,000 homes, but now it has come to the planning stage, it has emerged as a settlement of 9,000+ homes, an increase of 50% on the original proposal, and possibly even more in view of the elastic nature of such developments.
The proponent of this development, David Carnegie, aka Lord Southesk, on whose father's estate he hopes to build the new town, has made  much of the 'transparency' of these plans, though little indication is given  as to where the additional 3000 homes have come from. Given that each home will have on average 2 cars, this could see an extra 15000 – 20000 cars flooding  the A90 corridor, daily, at peak times.
Given their self-proclaimed reputation for unbiased reporting one might have expected that the BBC would have shown impartiality regarding this important development.  Alas, this appears not to be the case.
In an interview solicited by the BBC with a local resident, David Kennedy, which  was broadcast on both BBC1 Scotland news and  BBC Aberdeen radio news , the editorial team seemed more interested in the irrelevance that he had been involved with "Tripping Up Trump", by handing back  his honorary degree in protest at Donald Trump being awarded one.
Although two BBC employees were present for three quarters of an hour for an interview at the Kennedy home last week, the BBCTV news only showed an old photograph taken almost a year ago this month, (28th September 2010) showing David Kennedy handing back his degree parchment –  perhaps a little archaic even for a (un)biased  broadcasting corporation.
The issue of what impact the new town might have on the local environment was pushed to one side. Co-incidentally, Lord Southesk was given a number of minutes to air his views and 'sell' his vision. According to him, no-one in the surrounding villages is opposed to the proposed newtown -though they will undoubtedly be affected by it.
The proposed site for the new town is 2000 acres of agricultural land, rather than any of the surrounding scrubland, which is more suitable for a development  of this kind.  Instead it is proposed to make a country park in this area of scrub land.
According to The Scottish Government paper, Scotland's Soil Resource – Current State and Threats, published in 2006:
"Between 1970 and 1999, 25,217 hectares of agricultural land were converted to roads, housing and industry and 9,481 hectares to mineral workings (Scottish Office 1998, quoted by Birnie et al., 2002).  These figures may be an underestimate of the conversion of all land to built  infrastructure. In absolute terms they represent annual conversions of  approximately 850 and 316 hectares respectively."
More recent data  shows that
"between 1989 and 1996, the conversion of land to roads, housing and industry was approximately 700 hectares a year. In the succeeding seven years this rose to c. 1,200 hectares per year."
Thus, at a time as a nation we are being encouraged to grow our own crops to cut down on global warming, etc some 2000 acres (approx 810 hectares ) of agricultural land will be taken out of production.
This matter is now subject to a statutory 28 days consultation period as from Thursday 8th September 2011.
I hope people may feel able to make suitable representations to both the BBC for their biased support for the development, and the disgraceful denigration of David Kennedy; and to Aberdeenshire Council asking them to consider the impact of turning productive agricultural land over to the building of a new town.
Aberdeenshire Council's website fails to give a specific reference number for  this planning development: – Although the Area Planning Officer is listed as:
Neil Stewart,
Area Planning Officer,
Viewmount,
Arduthie Road,
Stonehaven,
AB39  2DQ.
Tel. 01569 768300.   
Fax 01569 766549. 
Email:  km.planapps@aberdeenshire.gov.uk
The BBC Complaints Team are contactable via:
BBC Complaints,
PO Box 1922,
Darlington,
DL3 0UR
Phone: 03700 100 222
Textphone: 03700 100 212
or via their website: http://www.bbc.co.uk/complaints/