On Friday 7 June 2013 police surrounded an empty flat; its occupier George Copland was far away.  Reports of a gunman in the flat were obviously incorrect.  Early morning Sunday 9 June Copland was arrested at his girlfriend's flat – police broke in, took him away, held him for c. 13 hours, and trashed the flat which they laid siege to, looking for weapons.  They found a completely legal air rifle, Copland said he'd kept it under lock and key, and rarely had it out – and had not had it out any time recently.  Copland was asked to agree if several items – remote-controlled toys and a feather duster – could be construed as weapons.  Denied his medication and medical attention, he was released.  The police have no plans to apologise or to pay for trashing his flat, although he has committed no criminal offence.  Suzanne Kelly reports on recent developments.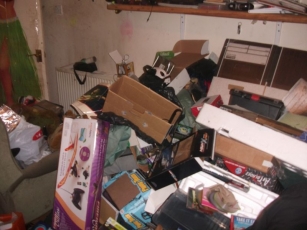 George Copland is no closer to having any form of apology or compensation for his broken goods and trashed flat.
The Sun newspaper took the story up, complete with a photo showing the devastation following the police search.
It can be found here: Scottish Sun Huckle-duster Gaffe
The rationale for his arrest, following the siege on his empty house, just doesn't stack up.
If he were a dangerous gunman – then why the huge delay from Friday morning to Sunday morning to find and detain him?  Who was the anonymous tipster, how credible were they, did they know George, and precisely what did they see and where did they see it?  Since nothing illegal was found, where was any compensation for Copland?  They were also questions about the timing of events, what was confiscated and why.
The police did not respond until days later, and after the Aberdeen Voice article was published.
Police were sent some 25 relevant, detailed specific questions; they have declined to answer these.  Their spokeswoman was asked for a quote to use for publication; the reply was as follows (comment from Aberdeen Voice in square brackets):-
"Thank you for your email. I have answered as many of your questions as I can [actually, none of the specific questions were answered]…  however you will appreciate there are operational and data protection constraints which limit what we can comment on publically."
[I wrote with Copland's consent; he has now asked for these questions to be answered under Freedom of Information legislation]
"You mention an incident with a hostage on 7 June; at no time has Police Scotland stated that information about a hostage was received and it would be entirely incorrect to report it as such. "
[The Evening Express covered the incident on 7 June, in a piece with a quote from the police.  The article, which can be found here http://www.eveningexpress.co.uk/Article.aspx/3269715 , refers to hostage negotiators being present – which certainly implied that a hostage situation was anticipated.  There does not seem to be any record of the Evening Express correcting, or being asked to correct their story, which also referred to the tip-off as turning out to be a hoax.]
 "As per information already in the public domain, I can confirm that Police received a call at 11.25am on Friday 7 June and specialist officers were deployed to carry out a containment of the property.
 "I can also confirm that no one has been arrested or charged in connection with wasting police time and that the information provided to police was well intended but subsequently found to be inaccurate."
[The Evening Express called the call a hoax, and reported "detained a 29-year-old man in connection with wasting police time" and many papers reported similarly.  This comment from the police to Aberdeen Voice seems to be the first such instance of police saying the tipster was 'well-intentioned.  There is a legal difference between being arrested and detained; and although a separate Evening Express article used the word 'arrest' in conjunction with the caller, Aberdeen Voice has since changed the word 'arrested' to 'detained' in its article.  The real issue is why the police at the time did not correct the issues which appeared in the mainstream media, and why only now are the police saying the caller was well-intentioned]
"Police Scotland has strict procedures in place to deal with information received from members of the public. The information received was acted upon in an appropriate manner in order to ensure public safety."
[Well, it is rather obvious the strict procedures have failed spectacularly in this case.  This paragraph is merely a sweeping statement which could be used to justify virtually any act – 'public safety' seems to have become carte blanche for erosion of civil rights if this case is anything to go by.]
The Voice did write for further clarification, but was told the police are not prepared to issue any further statement or information.
A Coincidence or something more sinister?  Copland stopped by police again
In the very early hours of Wednesday 26 June, Copland was with friends, and they sought to get into a local late-night casino.  Lacking photo identification, Copland and another man were turned away, and decided to go to the second man's home in central Aberdeen.  Near the entranceway for the parking area, a police car drove up, separated the two men, and proceeded to question them.  The conversation was described by the second man as follows – the second man happening to be Fred Wilkinson of Aberdeen Voice:-
"About 3.35am, as we got to the entrance of the car park, just round the corner from my house, a police car pulled in in front of us, and divided our paths … I attempted to pass the rear of the car while Dod attempted to pass in front. The window was lowered and the police addressed Dod.
"Male driver asked if he/we had had a good night and what had we been up to.
"Dod told him we had been to the casino, but could not get in –  no photo ID, so we left.
"Female, passenger side, said she had seen us at the casino, then asked Dod what he had in the box he was carrying.
"Dod said 'I have a remote control UFO ' and showed her the box (picture of the ufo flying toy on the box)
"Policewoman suggested that it was an unusual thing to be carrying around on a night out.
"Dod said something like "not for me, I like my gadgets and flying toys. What's the problem with carrying that kind of stuff about? I'm the guy involved in that police siege in Northfield. Do you not think I've had enough hassle lately?"
"I added " I'm the editor of Aberdeen Voice and we're covering the story. Do you know about it?"
"The police claimed they did not know ( which I find quite incredible as it was an extremely high profile incident ) so I gave each of them an Aberdeen Voice card and told them "read all about it". The police left us to go on our way."
Let us hope this stop and question incident is a coincidental one-off.  Otherwise, it would look as if a man who is questioning the police on their unfair treatment of him is being shadowed.
Compensation
George Copland advised the Voice the police have absolutely no plans to compensate him for his destroyed property, trashed flat and detainment.  The Voice will be looking into this.  Thankfully, while not enshrined in law, it would seem to be the case under the Police and Criminal Evidence Act (1984) that there is a right to apply for compensation:-
"[police should be ]explaining compensation may be payable in appropriate cases for damages caused entering and searching premises, and giving the address to send a compensation application, see Note 6A; (v) stating this Code is available at any police station"
Further evidence suggests the police are normally willing to pay such compensation when a search does not turn up illegal items being searched for under the terms of a warrant.
Copland supplied the name of the officer who told him he would not be receiving any compensation; we were unable to contact her prior to publication, but will continue to try and speak with her.
Watch This Space
As this story stands today, the police seem to have carte blanche to act on the word of an anonymous tipster – which then morphs into a tipster with corroborated witnesses – lay siege to and search any premises they choose, subsequently arresting the renter/owner – even  if they are not at or involved with any siege or illegal activity.  No compensation seems to go to an innocent man who was held for around 13 hours and asked to explain toys and a duster, while going without necessary medication.
The police will be more than welcome to send a written response to this article, but at the time of writing, if you have any neighbours who have a grudge against you, if you have anyone in your area who fabricates sensationalist stories, then don't' be surprised if your flat is searched and you are woken by police arresting you.
Let us hope for some real transparency from the police and some real compensation for a wronged party.
Comments enabled – see comments box below. Note, all comments will be moderated.