Dr David Kennedy, former Principal of The Robert Gordon University, is a man of many interests, experiences and opinions. Voice's Suzanne Kelly was eager to get his views on contemporary local and global topics and they conversed, among other topics, about life, the planet, greed, oil, fish and Wood. This is the first extract from that conversation.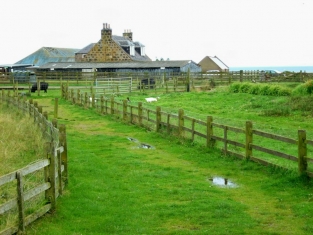 David Kennedy was not short of words, opinions or facts.
He had recently been interviewed in-depth by the mainstream media in connection with the proposed New Town development at Elsick, but in the end all that was reported was the well-publicised return of his own honorary RGU degree in protest over RGU's decision to award a similar honour to Donald Trump.
This simple act of defiance was eloquently accomplished and captured beautifully in Anthony Baxter's and Richard Phinney's film, You've Been Trumped.
For those who mainly get their news from Aberdeen Journals, the rest of the world has been writing about this award-winning documentary for months, and it is hitting cinemas in Scotland again now – see details elsewhere in Voice.
I asked first about his son Peter's concern over the development of a massive housing estate at Elsick and  Peter's subsequent article in Voice   and wondered if Dr Kennedy himself was keeping up with the issues around this or other planned housing developments?
"There's a lull at the moment other than the application that went for approval last week. The BBC spent just under an hour with me. Despite taping a long video interview when the report of the development was eventually aired, virtually nothing of what I said was used, just a reference to my handing back my degree some 12 months ago to RGU.
"The arguments that I put during the interview were about farmland. Human beings have a few basic requirements. One is food; another is warmth. As a prime requirement, humans must be able to feed themselves. We were cautioned by Winston Churchill during WWII that we should NEVER allow ourselves to be dependent on other countries for our food. If our country is unable to do this, then we must depend on trade with other countries.
"How is Scotland going to feed its people if it hasn't any farmland? Therein lies the problem. We've seen here in the North East the decline of all the indigenous industries that have been with us for hundreds of years – textiles, paper, agriculture, fishing, that sort of thing. They've all been virtually destroyed by the growth of the oil industry, which sucked skilled people away from these industries.
"Oil is a finite resource, therefore we know from the start it's not sustainable. It is a short-term gain for a long-term loss. I was on a few committees debating the future of Aberdeen when the oil was gone. Tourism was the only answer they came up with. However, tourism is like taking in one another's washing – our tourists go out, theirs come in. Where is the gain? The future of Scotland certainly depends on its being able to either produce its own food in sufficient quantities to feed its people, or otherwise manufacture and export goods other countries want."
This led us to discuss red tape and over-regulation in the farming sector.
"That of course largely comes from what is happening in Brussels. I know one or two larger farmers in the area, one of whom told me he'd never been as well off in his life. Thanks to me and other taxpayers, he was being paid so many subsidies from Brussels for set-aside, tree-planting and so on, as Europe wanted to control where food is and isn't produced and thereby avoid overproduction."
Suzanne's fascinating conversation with Dr Kennedy will continue in future issues of Aberdeen Voice. We are grateful for his input.