Suzanne Kelly, Independent candidate for Torry/Ferryhill in Aberdeen City's Council elections, speaks out against the Green Party for its apathy over the controversial Tullos Hill roe deer cull, in light of the Greens fielding a candidate in Torry/Ferryhill.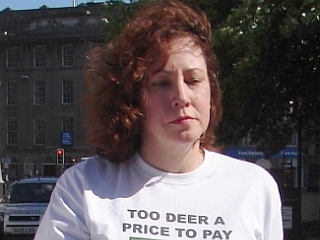 When I was with the Green Party, I explained clearly on several occasions what was wrong with this cull and Aberdeen City's 'tree for every citizen' scheme.
However, the Greens decided that the party was not going to take a stand on this, one of the most controversial environmental and democratic issues in the city.
Some of the longer-serving Green party members sympathised with me, but there were newer members who didn't see what the big deal was with the city shooting these deer.
I couldn't believe it, as I'd previously explained and written in detail that the trees are unlikely to grow and the cull is flawed. People wrote to the Greens to ask for their stance on the matter, but still the party didn't want to stand up against this cull.
I have been campaigning actively to stop this specific roe deer cull for over a year. The Scottish SPCA branded the Tullos cull 'abhorrent and absurd' for killing deer to protect trees which don't even exist yet. Many other animal welfare groups oppose this cull, and thousands of people have signed petitions against it.
Three community councils condemned the consultation and cull last year, and more recently these councils sent an open letter to the city, asking for the scheme to be halted. I don't believe the trees will grow, as the hill's soil is very scant and the ground cleared for the planting is extremely rocky, and is covered in industrial and domestic waste (there is a soil report by government officials which confirms this).
Three community councils object to the cull and the city's so-called 'consultation' on the tree scheme. The consultation did not mention deer at all (but it did cover rabbits and rabbit fencing). The consultation also failed to say that a massive 89,000 trees would be put on the hill. No one in the area wants it – and even though the city has started, the opposition will continue.
I'd been writing about this issue for some time, and The Green Party knew that the cull was specifically to plant trees and not for deer welfare issues. I am so very disappointed in the Green Party over this issue.
The Aberdeen Green Party is running a candidate against me in the May elections. I have a chain of emails between members of the Green Party and me from this time last year. Some of the Greens' comments include:
"I don't think the party as such should have a position. I certainly don't want to get involved in this"
"I don't understand why these 30 deer (or whatever number it actually is) are so different and attracting so much attention."
"Also within a relatively few miles of Tullos are large numbers of cattle and sheep that will be killed so people can eat them. We do not have a policy of enforced vegetarianism."
This last statement was particularly, amazingly patronising, and the remark is completely off the point of why these deer are to be killed.
There was no way I was going to stay in the Green Party after this. For a party calling itself 'green' to stand idly by while a meadow and its wildlife was destroyed was beyond the pale. How they can possibly stand for election in Torry and expect me to stay silent about their stance is something I can't understand either.
I have previously explained to a local member and a national member that I would have to publicise how the Greens view Tullos Hill. I did give fair warning that I would go public about how they decided to look the other way concerning Tullos.
I'm happy to have competition in this election, but people need to know the Greens could have helped when it mattered – and didn't. If I stay quiet, some people will simply think the Greens must care about the hill and the deer – I have to let them know the truth.
The elections are to be held on 3rd May. Torry and Ferryhill will be represented by four city councillors.
I served on the Torry Community Council for three years, and I have always been involved in helping people in my area and further afield whether it be fighting school closures, charity work, or helping some of our older people. One of the newer local Green Party 'higher-ups' apparently said 'Suzanne doesn't stand a chance of winning.' Well, I am determined to prove them wrong.