By Dave Watt.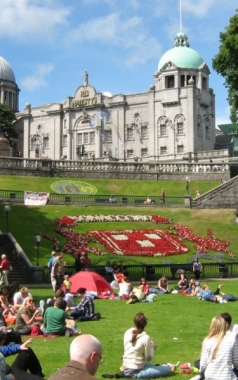 Having looked at the election results from all over Scotland, May the 5th was an SNP landslide only moderated by list system which prevented them from getting even more seats.
New Labour were beaten out of sight, the treacherous Nick Clegg's Lib-Dems were flung into a deserved oblivion and their Tory bedmates got their usual seeing to from the Scottish electorate and only the list system got them into double figures.
Huge constituency swings ranging from a national average of 12.5 % to peaks of around 20% paved the way for a long awaited referendum on Scottish independence and brought a ubiquitous bright new glow to the Scottish political scene.
Well, almost everywhere. In one particular constituency the swing was much, much smaller. Which constituency? Why, Aberdeen Central.
Aberdeen Central was a key marginal in the election – particularly as the constituency borders had been changed leaving Lewis McDonald (Labour) with a notional 300 or so majority over the SNP's Kevin Stewart  – his main challenger in the constituency. The final vote was pretty close with Kevin Stewart running out the winner with 10,058 votes to Lewis MacDonald's 9441. This majority of 617 represented a miniscule swing of 0.5% from Labour to the SNP. Easily the smallest SNP constituency swing of the night over the whole of Scotland and one in which the Labour vote actually went UP by 8.6% which didn't happen in many constituencies.
So why did Aberdeen Central buck such a huge national trend?
The short answer to this is the ongoing UTG controversy and Kevin Stewart's role in the controversy which is seen by many people as little more than a cheerleader for Sir Ian Wood's vanity project.
Last week I  spoke to several people I knew who were undergoing a crisis of conscience whereby they although were very much in favour of an independent Scotland but were struggling to bring themselves to vote for what one of them obligingly referred to as 'Woody's f**king sock puppet'.
Obviously, bearing in mind the result, some of them did vote for the 'f**king sock puppet' whereas others didn't vote or voted for Lewis MacDonald. Either way, the vote for Aberdeen Central was extremely close and, if it had been repeated nationally I think the SNP would have definitely struggled for an outright majority in the Parliament. Realistically, it was only the huge SNP national vote which got the rather unpopular* Mr Stewart down to Edinburgh.
So what does this say about the UTG controversy?
Basically, any councillor still hawking the Garden Square Project round Aberdeen over the next twelve months can expect to get his/her well-worn backside seriously kicked when the Council Elections roll round next May when the national question won't come into play and it will all just be down to local politics.
* Mr Stewart showed his strange notion of winning hearts and minds a couple of Saturdays before the election when he was outside Marks and Spencer jabbing his finger forcefully and snarling into the face of an elderly lady who had declared her support for UTG. A long term friend of mine (of Italian origin) who intimated, on seeing this, that he had rather more than half a mind to 'deck the b*stard' was fortunately persuaded to desist.