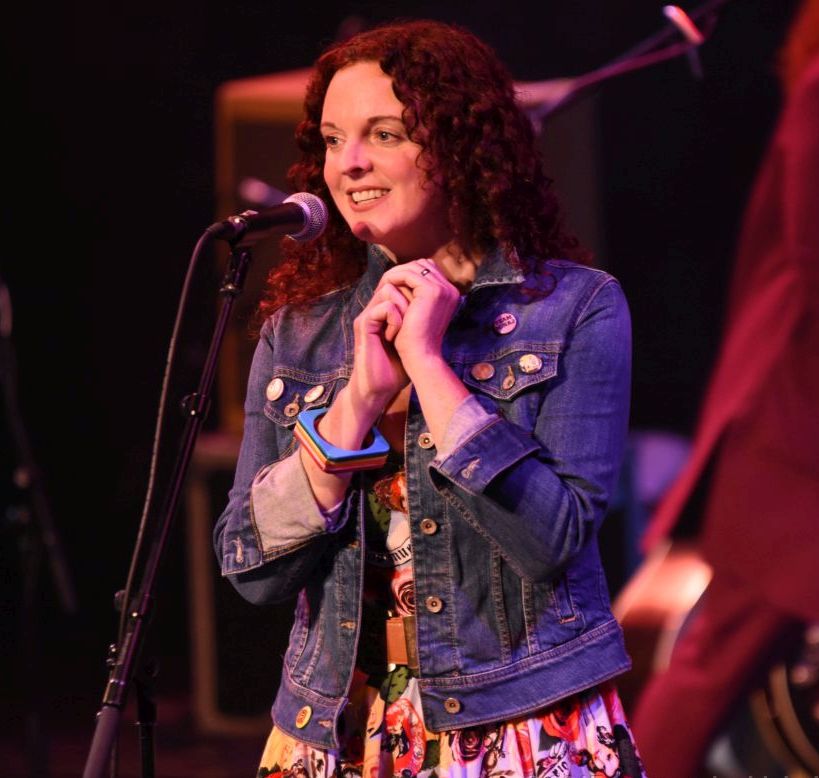 Review and Photography by Craig Chisholm.
As the darker nights draw in at the start of September, there was still time for one more music festival in Scotland. But, unlike your TRNSMT's, Enjoy Music's and Electric Field's, this was one that didn't require waterproofs and sunscreen as it wasn't outdoors but in the more comfortable surroundings of His Majesty's Theatre, The Lemon Tree and The Tivoli Theatre, right here in the heart of town.
True North is now in its third year and has drawn at eclectic range of artists over the years – from Tom O'Dell to Richard Hawley, King Creosote to Laura Mvula, a Neil Young Tribute to a night of Kate Bush songs.
This year continues that eclectic mix with sets from Arab Strap, Pictish Trail, Public Service Broadcasting, Wild Beasts and 2015 Scottish Album of The Year winner Kathryn Joseph.
And this year's tribute? A evening of Fleetwood Mac songs that included a full live performance of their classic, mega selling 1977 album 'Rumours'.
As well as the main headlining sets the festival also offered a range of fringe events for all ages – acoustic performances at the Maritime Museum by Pictish Trail and Neon Waltz; gigs at local record shop & bar, Spin, by The Great Bear, Willson Gray, Katie Mackie, The Sea Atlas and Leanne Smith; talks and panel discussions at the Lemon Tree and, most impressively, a Sunday afternoon gig for children aged 9-12 at the Lemon Tree featuring Be Charlotte and Findlay Napier – one that even provided a day care crèche in the bar downstairs for adults whilst the kids rocked out upstairs.
Lunchtime sessions at The Lemon Tree also had The 101, Harmonica Movement and The Deportees play sets for those that like a bit of music whilst having a drink and bite to eat.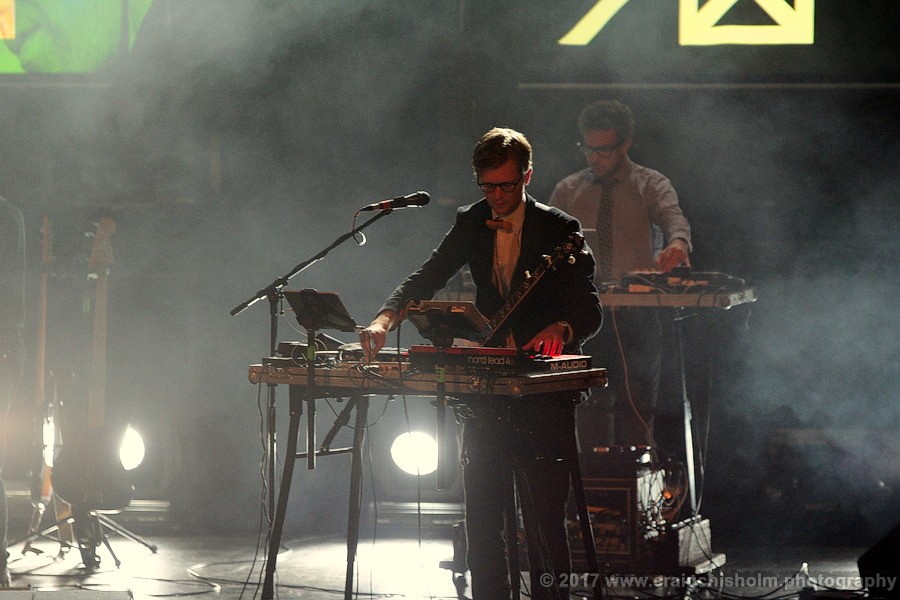 It's the headline events that are the big draw though – and these kicked off on Thursday evening at the grand environs of His Majesty's Theatre as Public Service Broadcasting and BDY_PRTS played to a large crowd of theatre goers and rock fans.
Support act BDY_PRTS, dressed in matching eye catching yellow and green outfits are a beguiling mixture of indie pop tunes mixed with Bjork style weirdness and some nifty choreography.
The female duo, consisting of former Sparrow & The Workshop singer Jill O'Sullivan and ex-Strike the Colours musician Jenny Reeve – who has also guested on tracks by artists such as Arab Strap, The Reindeer Section, Idlewild and Snow Patrol among others.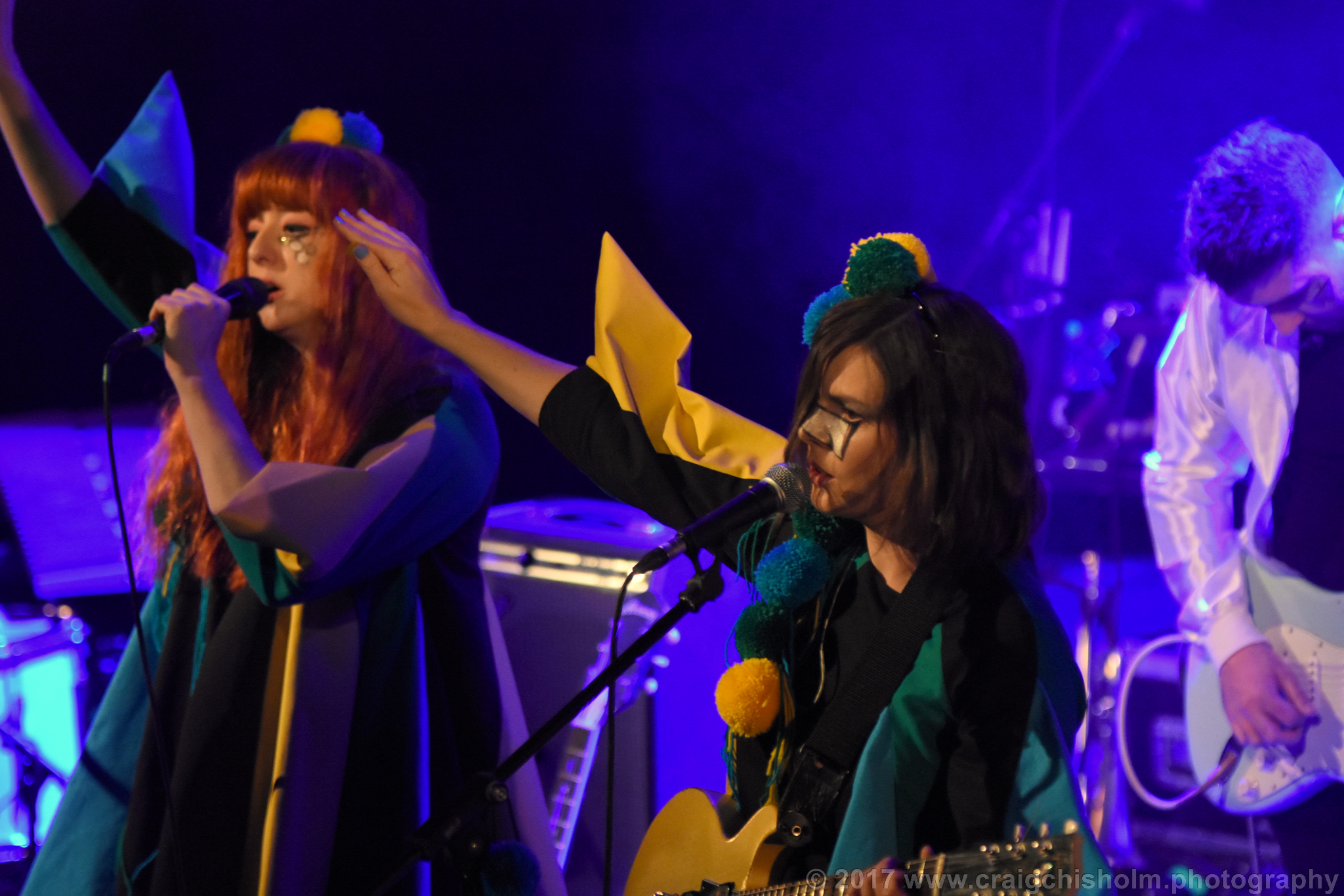 With a new album, due later in the year, you'd be wise to check the band out as their infectious, quirky songs will see them go from strength to strength in time.
Headliners Public Service Broadcasting are no strangers to Aberdeen, this being their fourth visit to town.
However, the crowd at His Majesty's Theatre is much larger than the previous concerts at The Lemon Tree.
Not that this daunts them – they're a much more polished act, used to the big stage and more confident than the they were on earlier visits, three or four years ago, when promoting their debut album.
Since their last visit, they've released a further couple of albums – 2015's 'The Race for Space' and this year's 'Every Valley', which is a concept album based on the Welsh Mining Industry.
If that seems to be quite a dry and boring idea for an album then you'd be wrong, as the band mix spoken word samples from old film and radio with a light, Kraftwerk-esque, danceable pop sheen.
There's a pathos and depth to their music that can be sometimes be lost by instrumental electronic bands. But you can dance to it as well – although in the all seated environs of HMT there's no real rush to do this by all audience members. But, by the end, the crowd are on their feet in rapturous applause as the band power through set filled with tracks such as 'Progress', 'Go!', 'The Other Side' and 'Everest' from their three studio albums.
Special mentions must also go to the horn section and the spaceman that appear onstage with the band for their own individual brand of enthusiastic dancing.
Hopefully it won't be another three years before we see them back in town.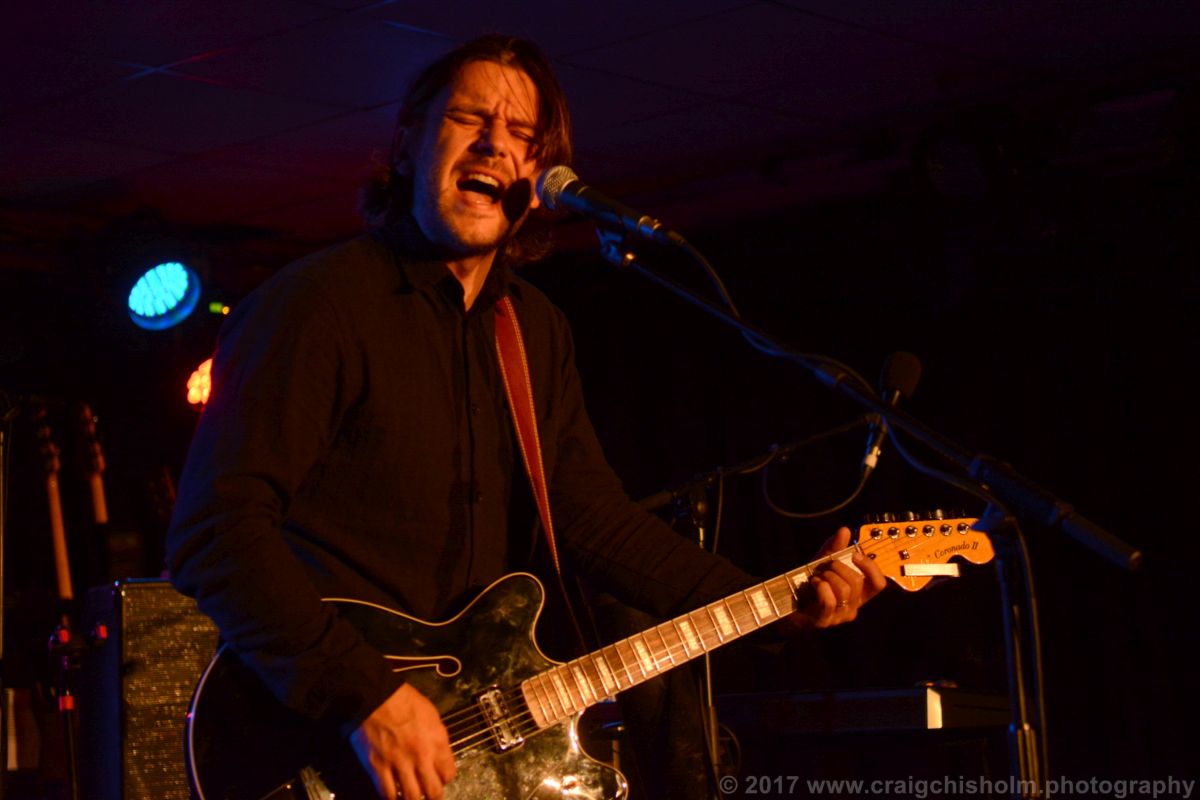 The night isn't over yet though. For the brave, foolhardy and those without work the following day, there's still a late-night gig at The Lemon Tree to attend.
Those quick enough to hot foot in down from HMT would have hopefully been able to catch the bulk of C.Macleod's opening set. Hailing from the Isle of Lewis, the singer songwriter is alone on stage with only his electric guitar and rootsy, raw vocals to fill the space.
And it's the voice that grips you – a deep rasp that has hints of Springsteen, the authentic roar of heartfelt Americana and the raging howl of the seas of his native shores in there. It's a voice that has no business coming from someone so young – it's the sound of experience and age. Check him out now before he goes on to bigger things.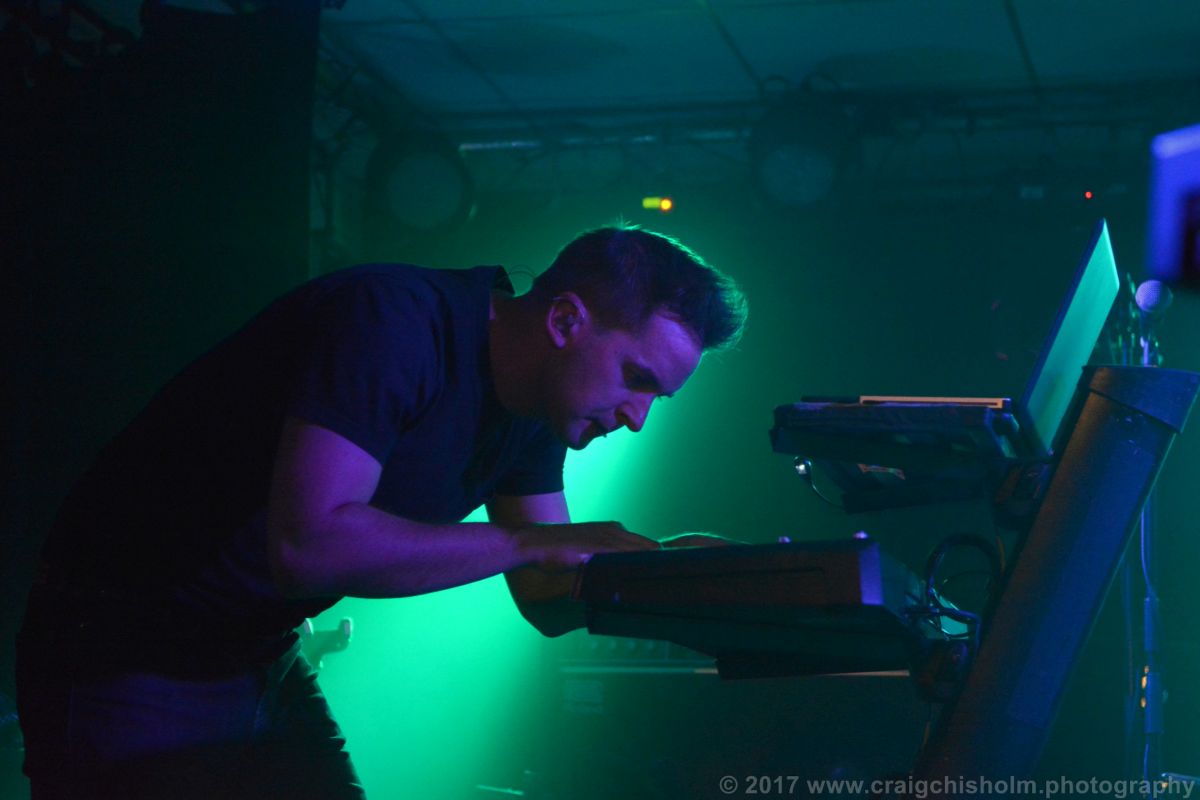 Headliners Wild Beasts are a different proposition – flanked either side of the stage by banks of keyboards, the band are an exciting mix of indie synth pop and art-rock cool.
Singer Hayden Thorpe is a confident front man, standing centre stage commanding the crowd. Unlike opener C.MacLeod, his voice is a high falsetto that fits well over the band's music. He jokingly interacts with the crowd and engages them in a friendly, jovial manner that endears him to them.
It's well after midnight when the band finishes but the night is not over yet as a late-night set by Hot Sauce DJs keeps the stragglers entertained well into the wee small hours.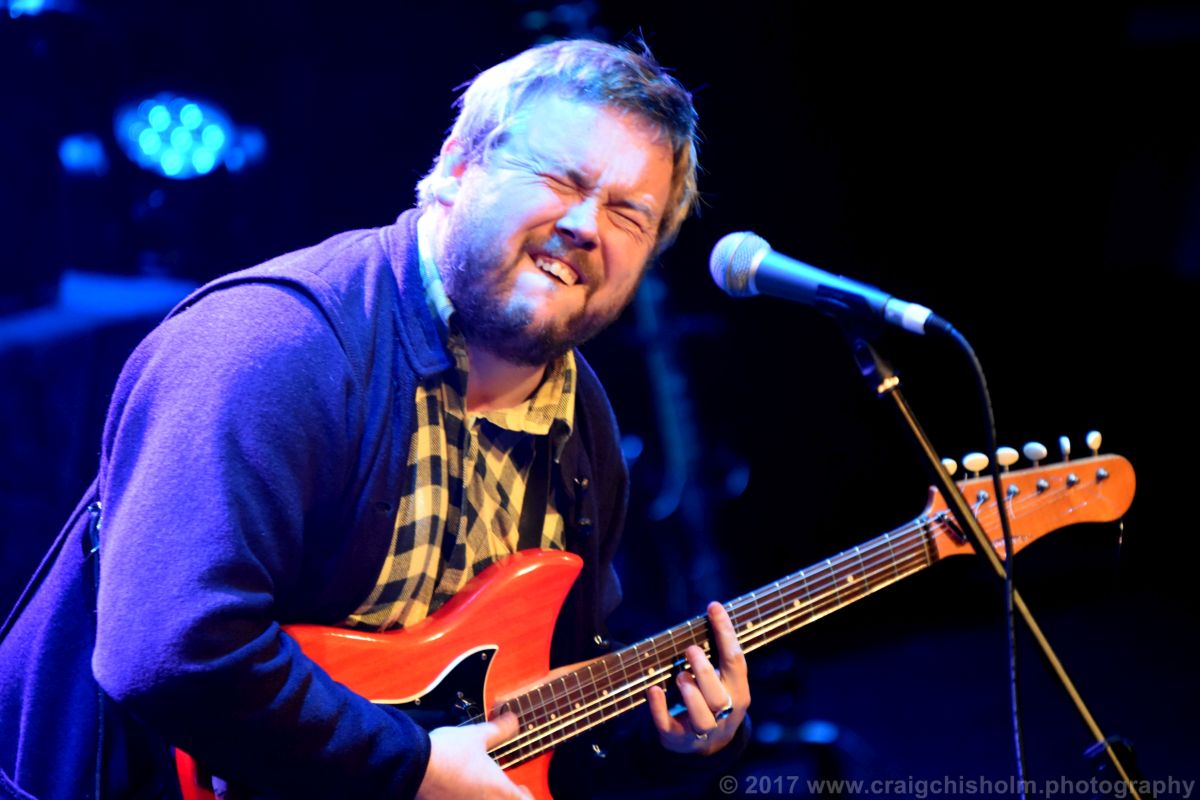 Friday night and it's down to The Tivoli theatre and a double bill of Geordie folk singer Richard Dawson and Falkirk's finest miserablists, the mighty Arab Strap.
Calling him a folk singer doesn't do Richard Dawson justice – he's a much more bamboozling and entertaining performer than that. Singing either a cappella or accompanied by a guitar that constantly goes out of tune he is a revelation, winning over new fans in his 30-minute set.
Apparently inspired by Faith No More's Mike Patton, his vocal range is enormous – from low depths to soaring highs, all in the space of verses and choruses of the same songs. The music is traditional but also experimental and Avant Garde – accessible but difficult, impenetrable but melodic.
Between songs, he is funny, self-depreciating and, quite truthfully, a bit mad. Random tall tales include staying at the 'doggy hotel' and getting showered down in the yard, about how in the future babies will be made on spaceships by computer and of confusion as to the fate of Judas Iscariot (Dawson preferred the gorier version of this particular tale).
And, to top it off, he introduces his last song by saying that after it he's then going to "get drunk…. And have a poo". And that sums him up really – there's no boundaries to him or his music.
Not many performers have trod the boards of the Tivoli and opened with the couplet "It was the biggest cock you'd ever seen / But you've no idea where that cock has been" – but, then, not many performers are Aidan Moffat of Arab Strap.
A year after the bands reformation, vocalist Moffat and guitarist Malcolm Middleton have finally made it up north, a full 11 years after their last performance here. Good things come to those who wait,
however, and Arab Strap are a good thing tonight
for sure.
Moffat, stage front and centre, is an amiable and friendly frontman and he's in a buoyant, good humoured mood tonight with his between song tales. One highlight being a story of buying a parachute jump as present for a girlfriend who he subsequently found out was cheating on him so they finish. Next time he sees her she's on crutches – after breaking her legs doing the parachute jump.
But it's the songs that are Arab Strap's greatest strength, as they should be. It's a great feeling to hear classics such as 'Girls of Summer' and 'Here We Go Again' live once more. But it's set closer 'The Last Big Weekend' that's their stone cold classic and it's still as thrilling and exciting nearly two decades after it was first released.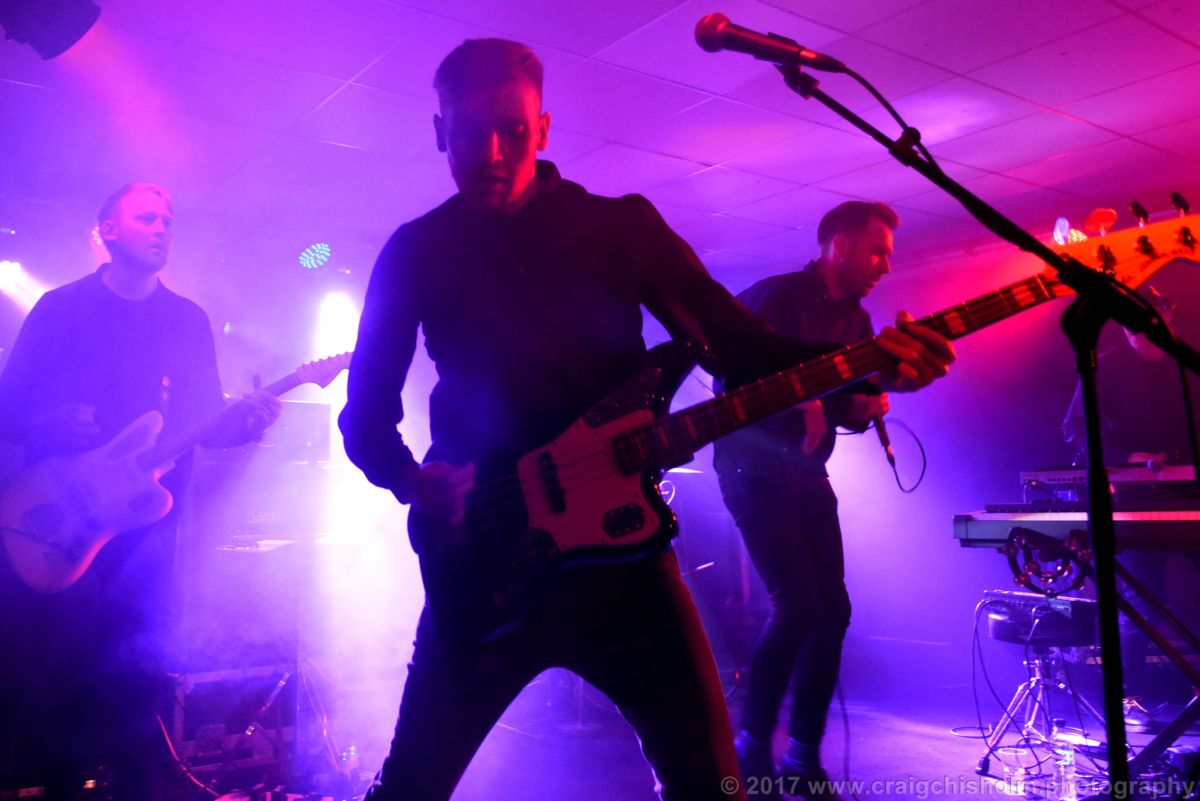 Late night at The Lemon Tree on Friday offers up another double bill of live acts as well as Radio Scotland DJ Galloway spinning tunes till late at night.
The opening act are Indigo Velvet, a young band from Edinburgh who first made a splash on the scene by playing T in The Park's T Break Stage last year. Headlining are Manchester band Dutch Uncles.
It's their first time in the Granite City and, according to singer Duncan Wallis, "It's very grey".
A lone voice pops up from the crowd to say "Aye, 50 shades of" to his bemusement.
It's Wallis that's the centre point of the band – his bendy legged dancing and high pitched, androgynous vocals proving to be quite a talking point.
Come Saturday and it's time for the main event of the weekend at HMT as a stellar line up of guest vocalists perform Fleetwood Mac's classic magnum opus in its entirety to celebrate its 40th anniversary.
Previous years have seen similar tributes to Kate Bush and Neil Young and proved to be a great success and this was also to be the case tonight.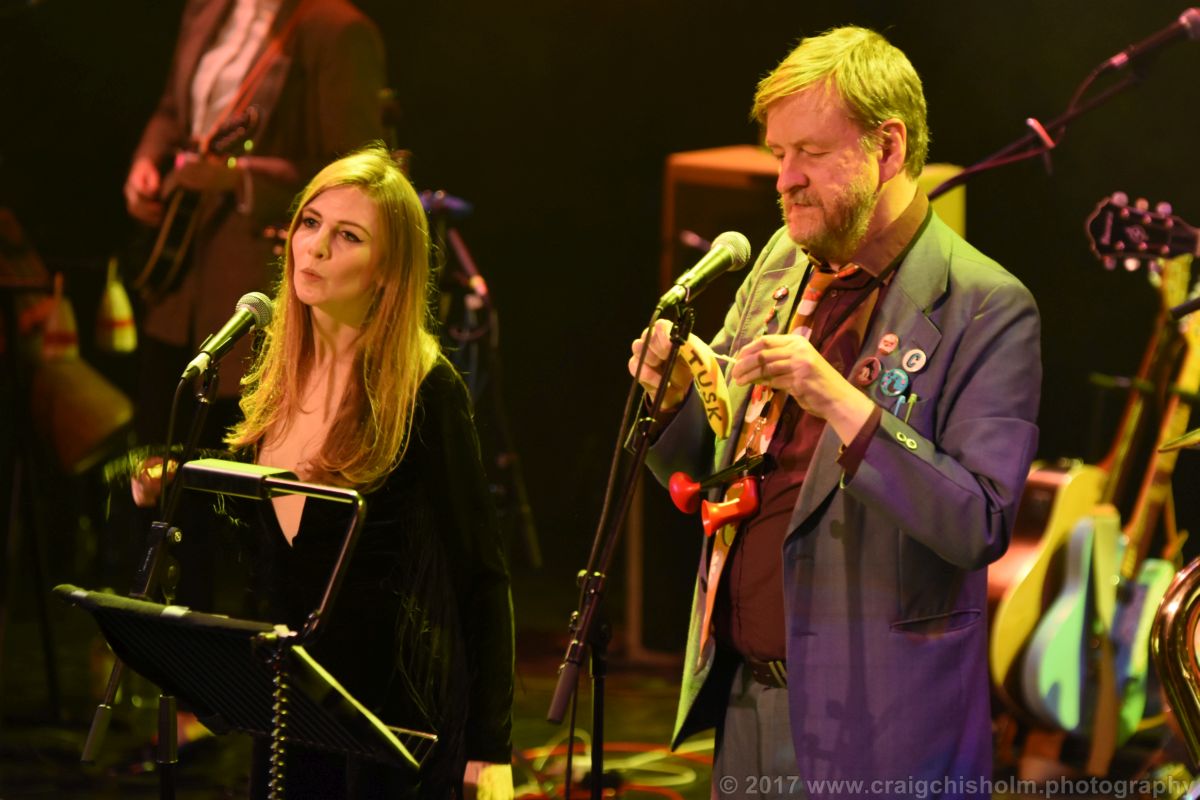 Backed by musicians Start to End, the singers include luminaries such as Eugene Kelly (The Vaselines), Be Charlotte, Duglas T Stewart (BMX Bandits), Martha Ffion and last year's compere and band leader, Emma Pollock.
The first half of the night comprises of a Fleetwood Mac greatest hits set with cuts such as 'Rhainnon', 'Seven Wonders', 'Big Love', 'Little Lies', 'Tusk' and more given an airing.
After the interval, it's straight in 'Rumours' from beginning to end with a different singer taking each song before everyone takes to the stage for an encore of 'Everywhere'.
It's a fun experience that drew a mixed crowd – older HMT regulars that you wouldn't necessarily see at the Lemon Tree gigs; gig regulars that are there to see the singer of their favourite band and, of course, Fleetwood Mac fans that are at the venue for the first time that might not be going to any other event.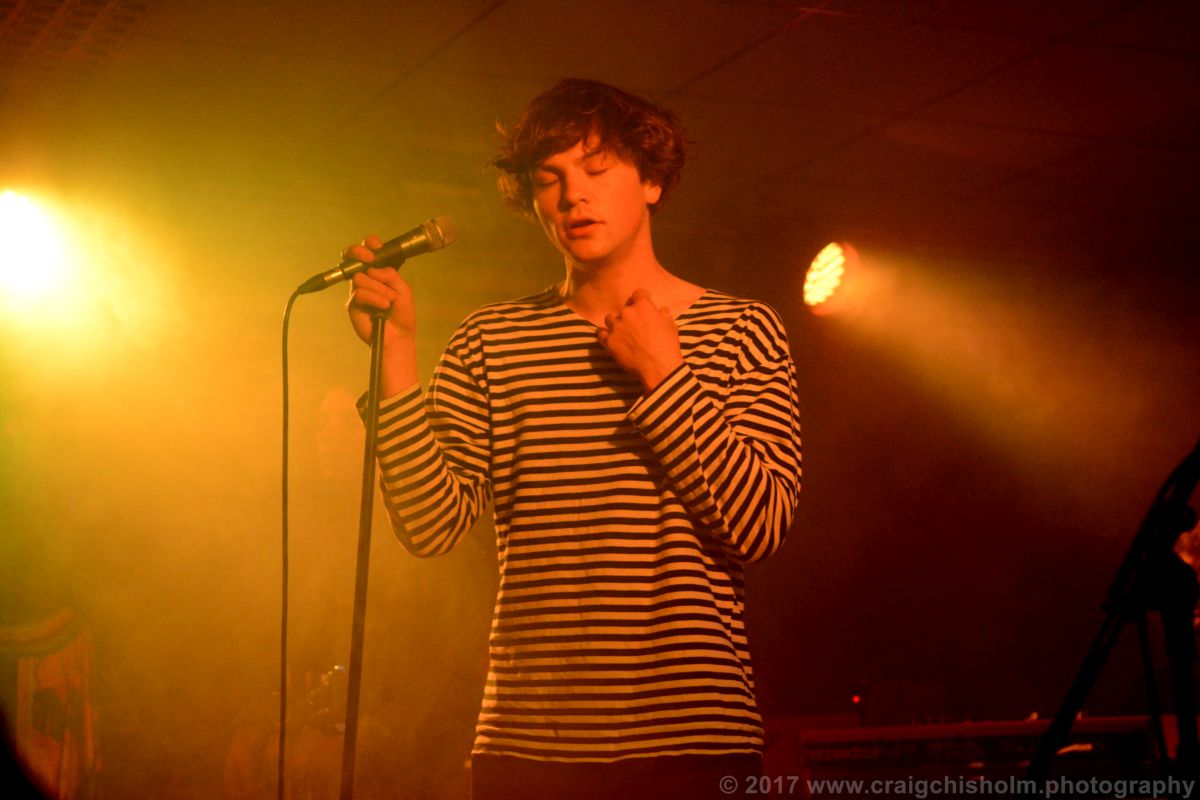 I'm generalising slightly, but it's good to see such an eclectic mix of punters and it'll be interesting to see which singer or band gets the tribute next year.
Once that is over, it's time to head to the Lemon Tree for the True North After Party, with headliner Pictish Trail and newcomers Neon Waltz.
Neon Waltz are tipped for big things – and it's easy to see why.
The band are based in Thurso and John O'Groats and were subject of an article in The Guardian just days after their appearance here.
They have the looks – and the adoring female fans – that will take them places. Their sound is reminiscent of The Verve, Stone Roses, Oasis and Britpop – a pleasant, keyboard drenched indie sound with 90s influences and the polished sheen of current pop.
Behind the dry ice and red lighting singer Jordan Shearer could pass for a young Tim Burgess of The Charlatans – hunched over the mic in a similar fashion with that distinctive bowl cut.
This will probably be their last support slot in the Lemon Tree – they'll be headlining it soon enough.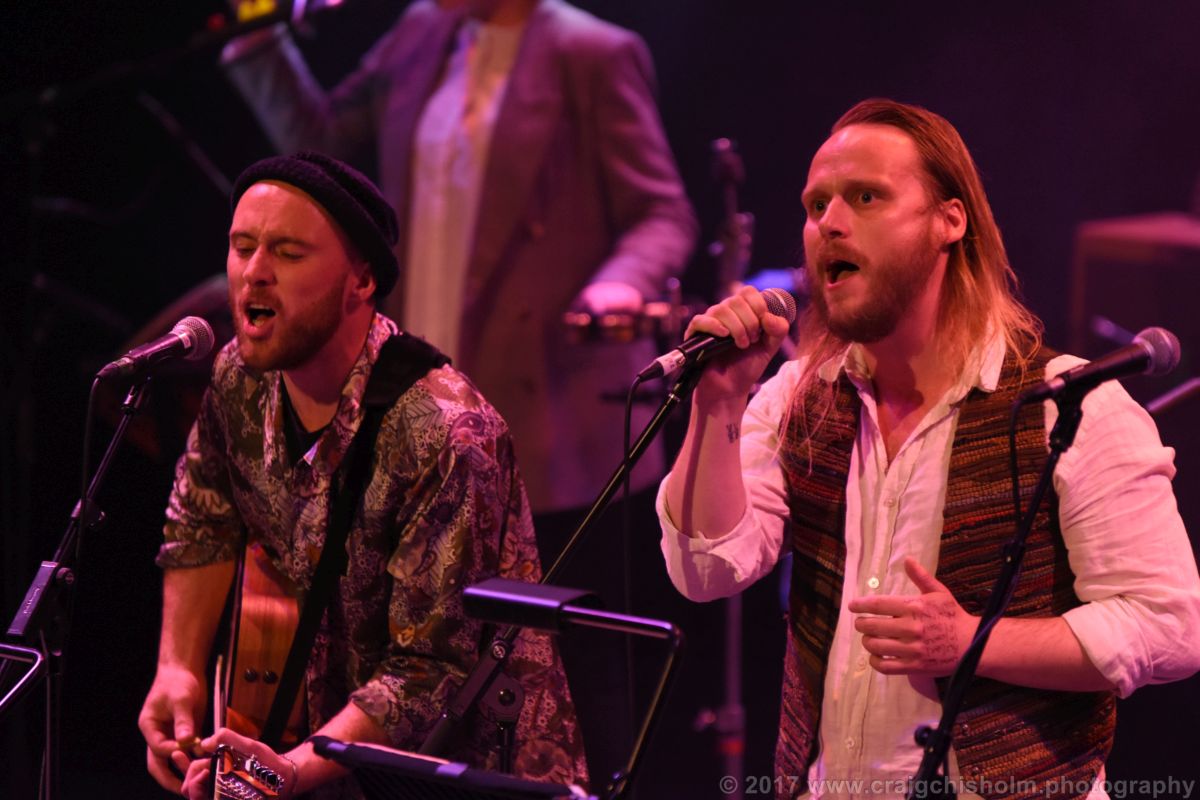 Headliner Pictish Trail is no stranger to this venue, having played it numerous times. And if you've never seen or heard him before then you've missed out.
His music is folky, electronic and rocky – sometimes all in the same song. Between songs, he could pass as a comedian, such is his wit – droll and downright funny. He has a toy plastic horse on stage and changes into what can only be described as a psychedelic orange dress.
Oh, and he has a large beard and is wearing sparkly makeup.
All of which would mark him as a novelty act but he is anything but. Tracks from albums 'Secret Soundz Vol 1 & 2' and the recent 'Future Echoes' sound fantastic tonight – especially the wonderful and haunting 'Far Gone (Don't Leave)' written about "The greatest film ever made" according to the man known to his Mum as Johnny Lynch.
The movie is question is 'Fargo' incidentally. There's a good chance he's completely correct as well.
It's always a pleasure to see him live and tonight was no exception.
Despite this being the festival after party, there's still one major gig to come on the Sunday night at The Tivoli theatre – and that's a double bill of 2015 Scottish Album of the Year winner Kathryn Joseph and Frightened Rabbit front Scott Hutchison.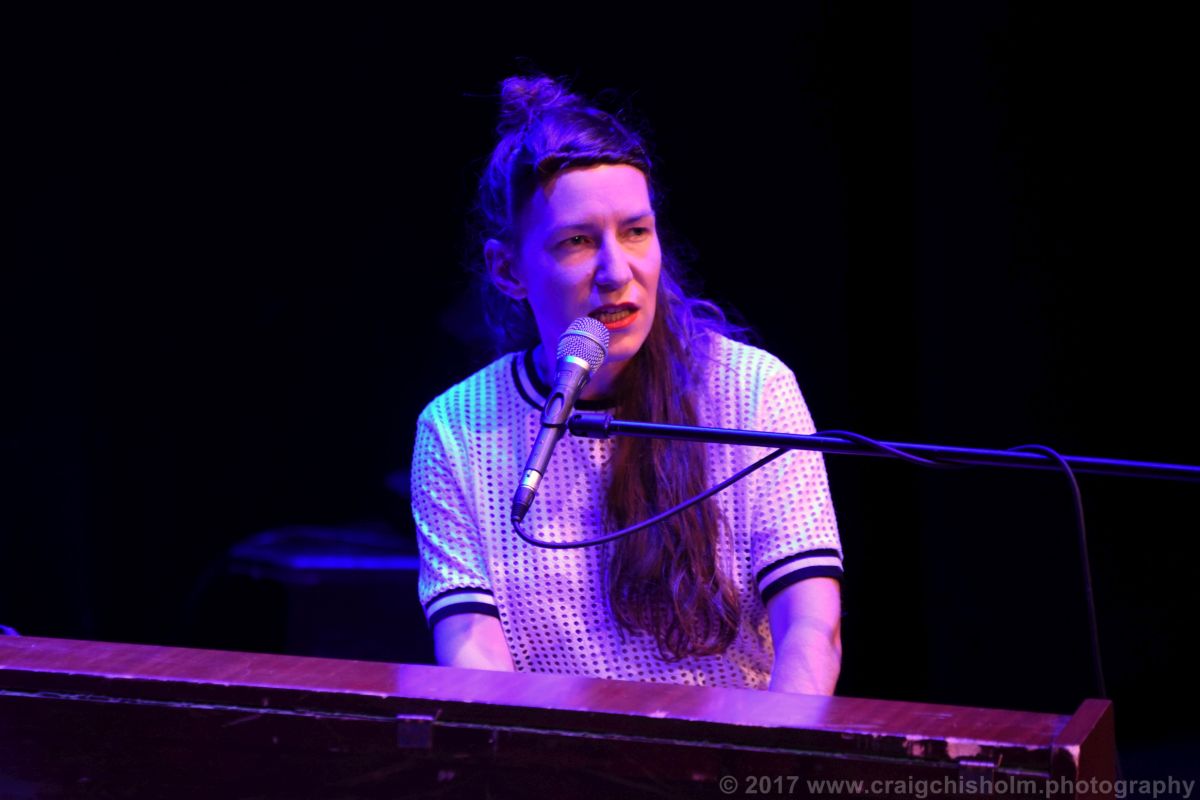 Hidden behind her piano with a glass of red wine and accompanied by percussionist Marcus Mackay, Joseph is first on stage.
Her songs are objects of beauty – her whispery voice plunging the depths of despair and depression whilst floating poetically over the haunting music.
She genuinely takes you places sonically and emotionally, with tracks that are, at turns, poignant and angry but somehow comforting and warm.
Soul baring lyrics are sung with a whisper, but are an inner scream to her fragility, to her openness and to her wounded soul.
It's easy to compare her to Kate Bush or Tori Amos but such comparisons are superficial and lazy – based purely on her voice and her gender. But her music, and her words, transcend gender and classification – she may not sound like Nick Cave or Tom Waits vocally, but these are good comparisons. There's a Gothic bleakness in there, beneath the melodies, and subjects so weighty that no 3 minute could do them justice.
The crowd are rapt – silently trapped in her songs, only taken back to reality by her whispered between song monologues.
Her next Aberdeen date is on December 28th at The Tunnels – don't miss it.
Headliner Scott Hutchison has an equal depth to his words and emotions – something that can sometimes be hidden when backed by a loud rock band.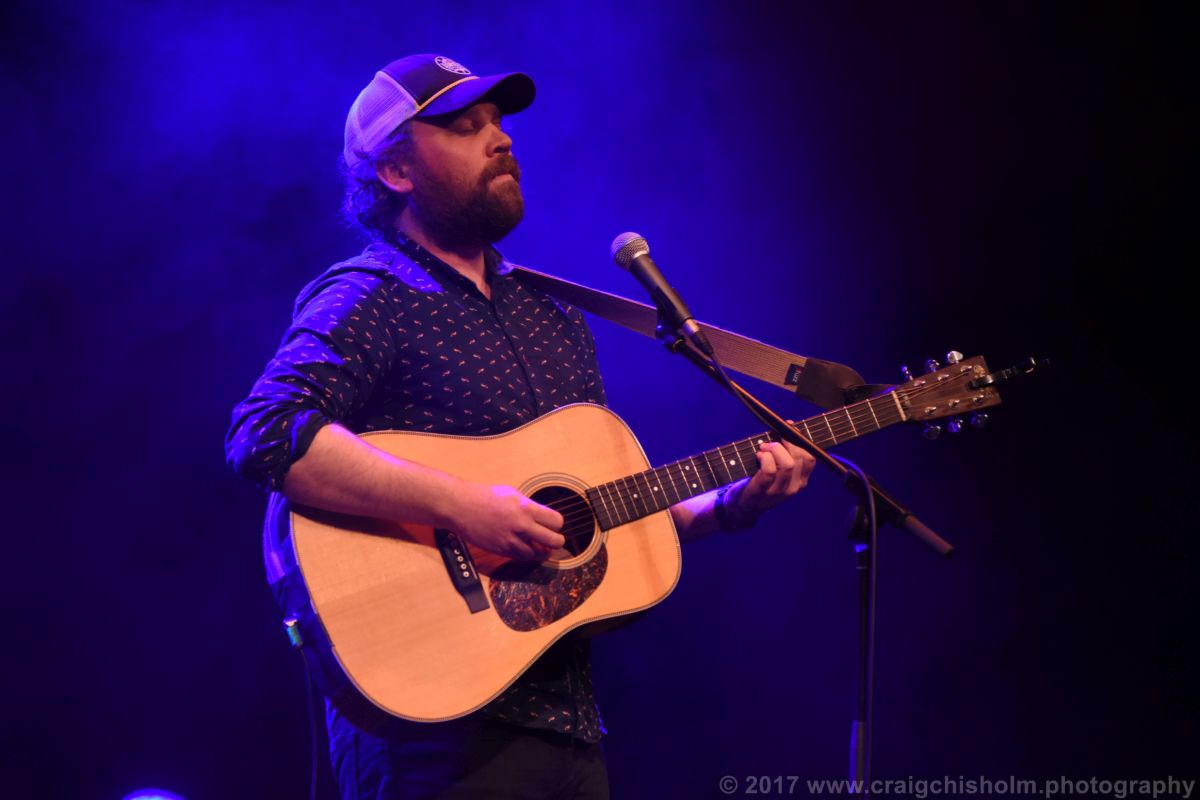 But tonight, accompanied only by acoustic guitar, the emotions are there to see. His music, and musings, make a perfect accompaniment to Joseph. As well as similar themes and emotions the two share a genuine friendship and camaraderie as shown by their joking conversations during the gig as he talks to her in her seat on the balcony.
His acoustic renditions of Frightened Rabbit songs are equal to, or in some cases better than, the originals.
If there's any complaint, however, is that his band have sold out both the Music Hall and Beach Ballroom in recent years but tickets remain for tonight. Sorry, but if you're a Frightened Rabbit fan and you weren't there then you genuinely missed something special.
And after Hutchison leaves the stage that's it all over – the gig, the weekend and the wonderful True North Festival. It's been an overwhelming and impressive few days and praise must go to the attendees, the artists and especially to the unsung organisers behind the scene who have made it a fantastic weekend of music and song.
Here's to next year and to more of the same.
Comments enabled – see comments box below. Note, all comments will be moderated.