With thanks to Gemma Setter, PR Account Executive, Frasermedia.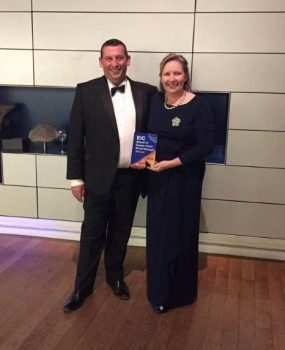 A leading provider of fire control and safety solutions has been presented with a prestigious accolade by a major industry body in recognition of its innovative supply chain operations.
Blaze Manufacturing Solutions (Blaze), which was established in 2006 to serve the global oil and gas and renewables markets, was presented with the Energy Industries Council (EIC) Supply Chain Breakthrough 2016 Award at the ceremony held at the Natural History Museum in London on Thursday (13 October).
The accolade, which recognises member organisations that have demonstrated excellence within the energy supply chain, was presented to Blaze for its operations involving its Flameshield 300™ fire protection deluge pipework system solution.
Blaze, which is headquartered in Laurencekirk, offers fire safety protection, detection and loss prevention solutions for harsh and challenging environments including offshore production platforms, drill rigs, floating production units, onshore oil fields, terminals, refineries and petrochemical plants. For the past ten years, the firm has been at the forefront of fire control and safety systems technology.
Its signature fire safety protection system, Flameshield 300™, offers the delivery of a jet fire resistant, blast resistant, corrosion resilient fire protection system with a 20-year design life, eliminating corrosion problems for the client during its lifetime operation. The system has increased levels of reliable fire protection and safety, saved many millions of pounds in potential lost production, and extended the life of valuable offshore assets helping to play its part in OGA Maximise Economic Recovery (MER).
Ann Johnson, finance director at Blaze Manufacturing, said:
"We work very hard to ensure that our supply chain operations are of the highest standard, alongside all of our fire control and safety systems. It is an honour to have been recognised by the EIC and we're very proud of our dedicated team who are committed to striving for excellence in all aspects of the business."
Blaze Manufacturing Solutions, a leading provider of Fire Safety Protection, Detection and Loss Prevention services for Safety Critical Solutions, is an accredited distributor for Xtralis; manufacturer of the market leading VESDA Aspirated Smoke Detection systems.
Xtralis has an established worldwide network of certified distribution partners to serve customers seeking world-class, early warning life safety and security solutions. Blaze has over 20 years' experience in the Design, Supply, Installation, Commissioning and Maintenance of VESDA systems worldwide for a vast range of clients.
Comments enabled – see comments box below. Note, all comments will be moderated.