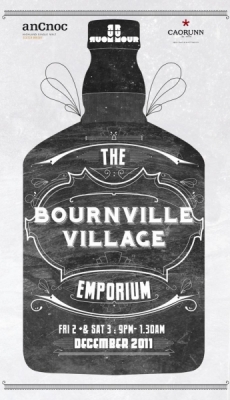 With thanks to
Adrian Gomez.
Local artists, graphic designers and illustrators are collaborating on a one-off project in Aberdeen.  But there's a slight twist – the collection will be on display at a secret location in the city.  It's part of 'Rumour', a pop-up cocktail bar and art installation, now in its second year.
The temporary brand combines cocktails, art and music, fusing all three elements together to create a social environment for the creative industries.  In typical fashion, the team are keeping the location of the pop-up bar under wraps, only leaking details and hints on Facebook and Twitter in the weeks running up to the opening.
'Rumour' began life as an 8-week residence in the Carmelite Hotel last year and, after enjoying great success, is returning next month on Friday 2nd and Saturday 3rd December only.  This year's concept is 'The Bournville Village Emporium'.
The inspiration for 'The Bournville Village Emporium' stems from the only area of the UK to be 'dry', a term used to describe a geographical region's availability of alcohol.  The weekend also coincides with the anniversary of the Repeal of Prohibition in the USA, a key date in any bartender's diary.
Adrian Gomes of cocktail catering company 10 Dollar Shake said:
"We've been asked since the end of the last Rumour when we're putting it on again, but we really needed the venue, artists and concept to come together before we were confident of holding it again.  I'm happy to say, we've aligned all factors and Rumour #3 has the potential to be the best one yet."
Local creatives Siobhan Ogg and Sarah Stanley will be creating a scenery backdrop with local illustrators contributing artwork for the walls. The period-related artwork will be a fresh collaboration of young and inspiring talent in an interesting and unusual fashion.  All artwork is available to purchase after the weekend.
10 Dollar Shake drinksmith Adrian Gomes will be creating a bespoke drinks list, in association with art-centric Scottish brands Caorunn Gin and AnCnoc Whisky, fusing scientific and gastronomic techniques to create innovative twists on some early 1900 cocktails.  Director of Music Giles Walker is again on hand to provide the soundscapes.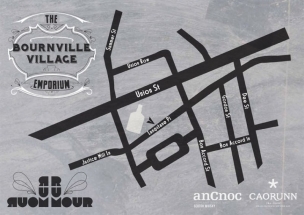 Rumour #3 – 'The Bournville Village Emporium' is open on Friday 2nd December 9pm – 1.30am and Saturday 3rd December 9pm – 1.30pm.
For guaranteed entry, reservation is advised. Entry to the exhibition is £12, cocktails are complimentary (max. 2 per ticket). Rumour is on Facebook (Rumour.Gossip) and Twitter (Rumour_Gossip)

(Click on map opposite to enlarge)