With thanks to Kylie Roux.
YOUR LEANING NECK – SONG AS PORTRAIT – Steven Anderson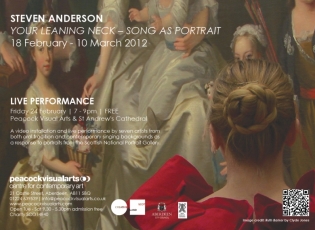 Based on an event from November last year at The Scottish National Portrait Gallery, Your Leaning Neck is a performance project that aims to challenge institutional representations of national identity by giving voice to non-institutional values.
A silent video installation showcasing last November's event from two perspectives will be shown in the Peacock gallery.
Saturday 18 February – Saturday 10 March 
– Live Performance
Starting off at Peacock's gallery then moving onto the Episcopal Cathedral Church of St Andrew, visitors will be treated to a live re-contextualisation of the performance event created as a site-specific response to the Scottish National Portrait Gallery's collection of portraits from the Scottish Enlightenment. Within the performance, oral tradition singers are presented alongside contemporary artists who also use their unaccompanied voice as a means of expression.
Friday 24 February | 7 – 9pm | Peacock Visual Arts | FREE 
GIG IN THE GALLERY – Martin John Henry
Recently praised by Sound-Scotland, as "one of Scotland's finest songwriters", Gargleblast Records and Peacock Visual Arts present Martin John Henry.
The Lanarkshire born singer songwriter is best known for fronting Scottish Rock Band De Rosa – critically lauded and championed by John Peel and Steve Lamaq – as well as writing, recording and playing with many of Scotland's finest musicians including Barry Burns (Mogwai), Robert Johnston (Life Without Buildings), King Creosote and Malcolm Middleton.
Saturday 4 February | 8pm | £8 on the door 
RESIDENCY/PERFORMANCE – ONE MAN UNIT – Paul Wiersbinski and Wieland Schönfelder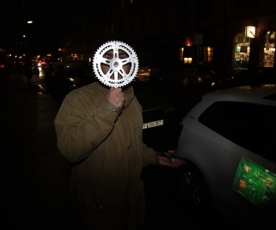 ONE MAN UNIT is a hybrid of man and sculpture. Through a variety of outputs, audiences are invited to interact with and experience the spontaneous and unexpected developments of this creative beast, as it evolves during the artists' two-week residency at Peacock.
You can follow the construction of this half man half machine via their daily blog on Peacock's Facebook page. The ONE MAN UNIT will then be let loose on the public on two occasions:
Saturday 28 January – Friday 10 February
– Note: Aberdeen Voice updates Peacock info periodically, but there may be recently added events not included in this post. Please contact Peacock direct for the latest information.
Peacock Visual Arts
21 Castle Street
Aberdeen
AB11 5BQ
Tel: 01224 639539
Mob: 07947 490626
e: kylie@peacockvisualarts.co.uk
Website: www.peacockvisualarts.com
Online Print Store: www.peacockvisualarts.culturelabel.com