Craig Chisholm reviews The Charlatans and Martin Carr at Aberdeen Music Hall.
Has it really been nearly ten years since The Charlatans last played Aberdeen? Last time around they played a run through of their classic album 'Tellin' Stories' and the odd b-side from that phase of their career.
Tonight is also a dive into the past – a retrospective set in support of last year's compilation album 'A Head Full of Ideas: The Best of Charlatans'
But before The Charlatans take to the stage for what was supposed to be a 30th – now 32nd – anniversary tour, it's the turn of former Boo Radleys guitarist and songwriter Martin Carr and his band, What Future, to entertain the crowd.
Most of the crowd seem to be in the bar when they come on but by the end of the set the hall is suitably filled with an audience appreciative of his songwriting skills.
His bright indie pop still retains a knack for the harmonies and hooks that made Boo Radleys stars in the mid 90s. Leaning heavily on his solo material for the 30 minute set there's only the one nod to his former band with a closing performance of the brilliant 'Lazarus' – which is met with an applause as rapturous to the one given when he says "have a good night – fuck the Tories".
The Thurso born, Wallasey raised, singer and his band may have won a few more fans tonight with both his music and his politics.
Coming on stage to the pulsating 'Forever', The Charlatans are treated as conquering heroes to a partisan crowd.
It's hit after hit, hook after hook, as they blast through over 100 mins of classics selected from their back catalogue.
The LED backdrop plays videos and shows pictures from the past three decades of their career – ticket stubs, tour posters, old concerts and, poignantly, old footage of late keyboard player Rob Collins and drummer Jon Brooks, who tragically died of a brain tumour in 2013.
But this isn't a wake, it's not a simple case of nostalgia and they are certainly not resting on their laurels – this is a band that have embraced all genres, mixed up the past and looked to the future.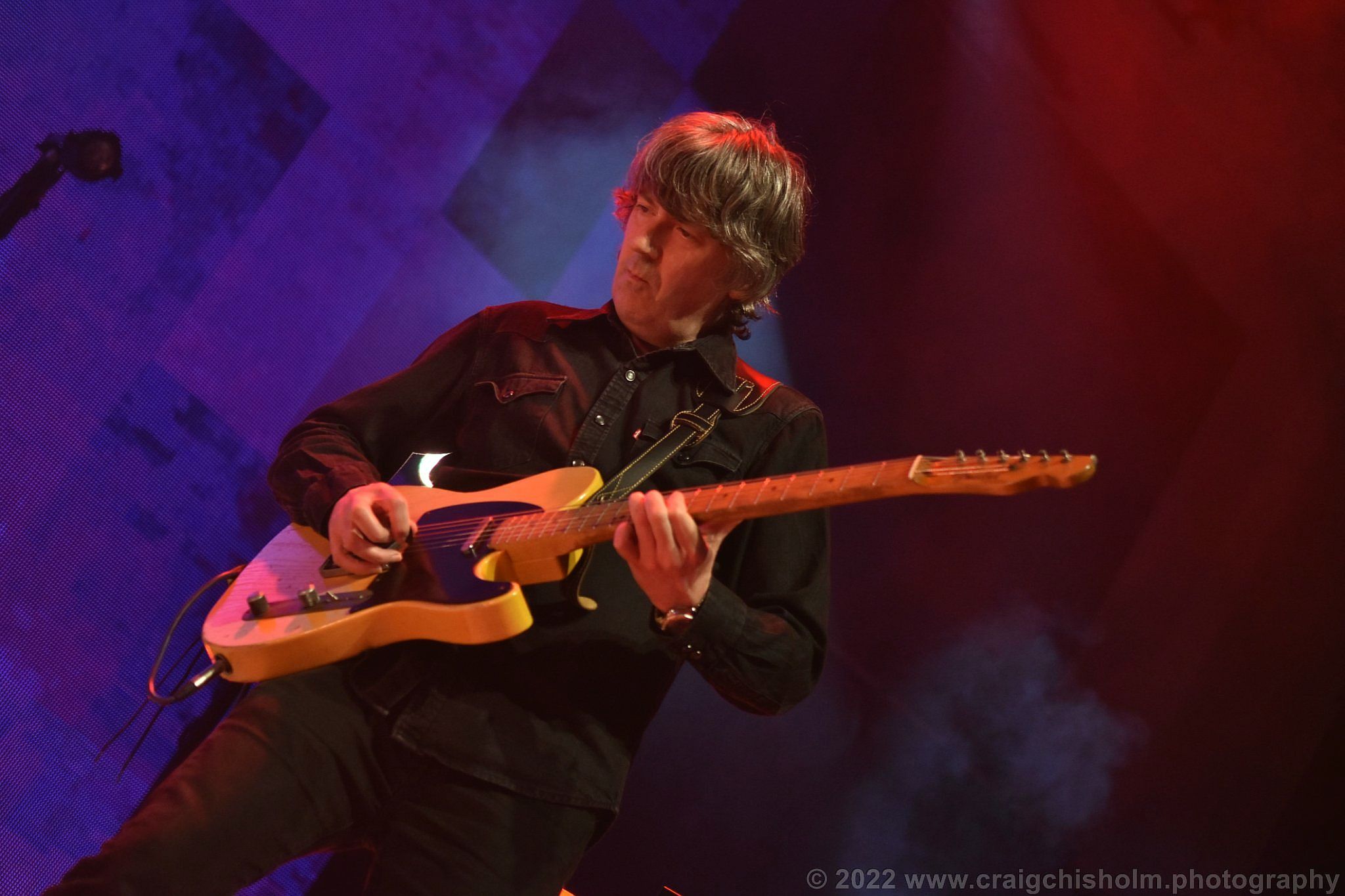 From the soulful 'A Man Needs to be Told' to the Chemical Brothers infused dance beats of 'One to Another' to the Stones-y swagger of 'Just When You're Thinking Things Over', it's a joyous and life affirming set by a band that have never stood still.
Highlights? Everything. There are no mishits, no songs that make you want to go to the bar.
It's all killer, no filler, as they say.
Closing – as ever – with an extended 'Sproston Green', the band leave the stage tired and exhausted as the crowd, reluctantly, leave the exits the in the very same state.
Setlist:
Forever
Weirdo
Can't Get Out of Bed
Then
So Oh
You're So Pretty – We're So Pretty
Sleepy Little Sunshine Boy
Just When You're Thinkin' Things Over
One to Another
Different Days
Future Tense (with Ian Rankin) (Spoken word)
Plastic Machinery
I Never Want an Easy Life If Me and He Were Ever to Get There
A Man Needs to Be Told
The Blind Stagger
The Only One I Know
North Country Boy
How High
Encore:
Sproston Green