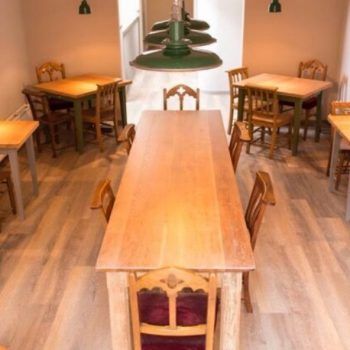 By Fin Hall.
It's not very often us country folk venture into the big city for anything else other than work and football: but today we did just that.
Keen to try somewhere new for lunch, we went into a very recently opened establishment, The Kitchen Works in Summer Street.
We had the place to ourselves at this time, but were made welcome.
There was a limited choice of sandwiches available. This was deliberate and made it easy to chose.
We both had the excellent roast beef on a sour dough bun. The chill display cabinet has the selection of sandwiches by the counter. But a fresh one will be made if needed.
With coffee, the bill came to just over £11.
The evening menu also looks good. The dishes, apparently, are smaller portions, not tapas I am assured, which show in the reasonable price.
I prefer places where the menu choices aren't too extensive, as it means the cook/chef can concentrate on getting quality rather than quantity. It is also licensed in the evening
The wooden tables are laid out along the wall with bench type seats on one side.
Upstairs is a smaller space which looked like it was laid out for a private function.
The industrial style lights hanging from the ceiling and black and white large photographs on the wall, add to the  ambience of the room.
My one complaint is that the coffee cups are only half full. Apart from that, it is a place I would return to again. It is good to see new, locally owned businesses opening up.
Coffee shops/tea rooms seem to be the way forward, as barely a week goes by without another pub or restaurant closing its doors for the final time.
Pictures used: Property of https://www.instagram.com/p/BEsktyygeDK/