In January 2011, Richard Pelling posted a blog entitled 'Triple Kirks Nonsultation?' about what was going on at The Triple Kirks site. At this stage, the plans for the site had already been subject to intense local criticism, inspired a poem and had even received a bit of a national mauling in Private Eye (Eye 1279, page 16). Richard now brings us up to date.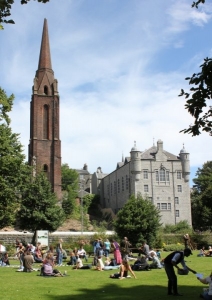 In February,  Stewart Milne Group (SMG) submitted an Environmental Impact Assessment (EIA) screening option request to determine if they would need to carry out an EIA prior to submitting plans – to which we of course made comment.
It turns out that given that the site is less than 0.5 hectares in size and "does not fall within a sensitive area",  no EIA is required.
So, the presence of the Schedule 1 listed Peregrine Falcons on site apparently does not merit any special attention and no study of the potential impact on them is required. Sad.
While on the subject of the majestic Peregrine, it is worth pointing out that the registered address of SMG is, ironically, Peregrine House in Westhill. Want more irony? Of course you do! One of the items cited in the Corporate Social Responsibility section of the SMG website is Protecting our Native Birds.
With the pesky matter of the requirement for an EIA out of the way, the plans for the proposed development were duly submitted to Aberdeen City Council in March.
Now on the aforementioned Corporate Social Responsibility section of the SMG website, I was pleased to read the following :
"Protecting our Heritage – Historic buildings are a vital part of this nation's heritage, and one particularly close to our heart".
So in line with this statement, would the final plans represent a volt face, meaning that Archibald Simpson's Triple Kirks site would be treated in a sympathetic manner? Would the soaring A-listed spire now be afforded the respect it deserves? Nae chance. Perusal of the application on-line – P110303 – reveals that they look remarkably similar to those being peddled during the nonsultation exercise – quelle surprise.
Surely the site deserves more than the bland and insipid glazed shed that that some would say desecrates the Triple Kirks site and detracts from the surrounding historic streetscape? Why bother to give a building A-listed status if it can be treated with such disregard? Please check out the plans and then make your comments on the application – you have until 31st March 2011 to do this.
Remember that if you commented in the initial nonsultation exercise or in response to planning application P110056, you need to do it all over again for this one – P110303 – in order to make your views known.
If you have concerns on the impact on the spire, it would also be worth contacting Historic Scotland directly – I'm sure they will have something to say in response to seeing the plans anyway – but it's good to let them know that you care about the fate of the Triple Kirks spire (Historic Building No. 19940).
As for the fate of the Peregrines, if you are worried about how this development may impact them it is certainly worth contacting Scottish Natural Heritage to express your concerns. The SMG website shows that they have apparently been funding some RSPB projects in Scotland, so could this mean that the RSPB may be reluctant to stand up for the Triple Kirks falcons? If you are an RSPB member perhaps you might consider dropping them an e-mail to ask them to fight for the falcons.
Anyway, whatever you feel like doing, please do it … the clock is ticking on Triple Kirks! So as the saying goes, act now or forever hold your peace.
As a footnote, it was nice to see the Rosemount Review report that :
' Rosemount Community Council rejected new plans to develop the derelict Triple Kirks site last night. The community council concluded that the new designs were "not in keeping with the area". '