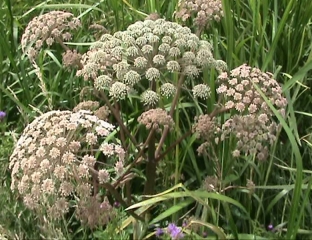 A personal account
by

Erica Hollis
of the experiences and thoughts evoked whilst attending the March Of Menie.
Yesterday I went on a walk along a favourite path only this time I did it in the company of a couple of hundred others, all marching in support of the families under threat of eviction by Donald Trump as he builds his new golf resort on the Menie estate.
We walked along well-established paths from the council car park for Balmedie Country Park to the farm of one of the threatened families at Mill of Menie.
I am not generally someone who joins protest marches, not one of the so called rent-a-mob, but rather a local resident appalled by the way a wealthy U.S. developer seems to have conned the local council and even the Scottish government into believing that his wretched resort will bring so much prosperity to the area that it is worth destruction of SSSI and intimidation of local residents.
There were probably a few on that march who do belong to the rent-a-mob mentality to judge by their overtly political banners but most of us were not. There were grannies and young families with children, dog walkers and naturalists of all political persuasions. I fell in and chatted to people I would probably never have met in day to day life as our lifestyles and views are so diverse, yet we all felt strongly that if this American tycoon gets council backing to evict innocent locals from their houses and small farms then which of us is secure in our house?
it supported the widest array of medicinal herbs in one small area that I have found in the whole of Aberdeenshire
An Englishman's home is his castle it is said, yet it appears, from the Highland Clearances to the present day that a Scot's home is no more than a blot on the landscape – to be swept away in the name of economic prosperity.
Let me ask one simple question – how do rich tycoons get rich? It is not by spreading their money around for others, it is by hanging on to every last penny (or cent in Trump's case no doubt).
Whilst it was no doubt cheering for the beleaguered Menie residents to be shown so much support, it was what I saw along the way that depressed me into seeing what a ruthless, boorish vandal this man Trump really is.
Normally when I walked along here, like many dog walkers, bird watchers and others, I did not normally turn inland to Mill of Menie but continued along the Blairton burn where it widened into a veritable paradise of a habitat with such a wide range of plants supporting an equally diverse spectrum of bird life – warblers singing their hearts out among the reed and willows in the Spring and summer and wintering ducks and geese taking full advantage of the sheltered valley in the winter.
But it is as a Herbalist that I most appreciated this valley amongst the dunes, for it supported the widest array of medicinal herbs in one small area that I have found in the whole of Aberdeenshire. I used to lead herb walks here every June/July when most of the herbs were in flower so that the public could see and understand how to identify them and learn their health giving properties. There was willow and meadowsweet, valerian and Scot's lovage, wild angelica and water cress, eye bright and yarrow, horsetail and nettle, willowherb and daisy, dandelion and dock, comfrey and red clover and probably others that I have forgotten in my distress.
And for every medicinal herb that I could identify, there were probably 5 to 10 other plant species that I could not.
Aware that this was an important part of the SSSI, I stressed to people that they must never dig-up or damage any of these plants in any way. Why the past tense you may ask? Because yesterday I saw that this mini-paradise, this oasis in the sand dunes, this cornucopia of natural medicine has gone forever. Trump has sent the bulldozers in and obliterated the whole habitat under a mound of tangled tree roots and sand.
I could not believe my eyes.
I had seen the warning signs he put up saying "Keep Out – Construction Area" yet still never believed he would actually destroy this beautiful oasis in the dunes. I thought he would surely keep it as a feature.
I don't think I can bear to walk at Balmedie Country Park ever again. Why should any of us ever respect or value SSSI status ever again. A beautiful habitat evolved over hundreds, maybe thousands of years – bulldozed away, probably in a single afternoon.
I could have wept.