By Aberdeen-Mad Editor Craig Stewart.
One way of looking at football is that it is an incredibly complex equation involving tactics, balance of players, skill, experience, work rate. trust, scouting, coaching and so on. Another perfectly valid view is that it is very simple – the best teams are the ones that pay the most wages.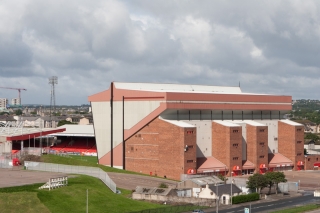 With
our club in a seemingly interminable period of transition – a relentlessly confusing and frustrating time for fans – it has been hinted that there are magic beans which can help the situation and put AFC back where we can challenge the big boys again. The beans will grow into a new stadium, the massive debt that has shackled the Dons since the mid-90's will be removed and the club will be profitable and free to challenge the giants once again. The only problem is –
where to plant the beans?
In a purely clinical, scientific [and somewhat simplistic] analysis of the situation, this is a no-brainer for supporters – build the stadium wherever you want as long as it's now! However we have hearts and souls as well as minds and while Pittodrie Stadium may be a big old wreck with faded seats, patched-up roofs and windy, piss-puddled toilets, it is what we call 'home'-not just for two hours every second Saturday but every day of our Dons-supporting lives.
We have witnessed the greatest highs and experienced the darkest lows; some of us have dated, proposed, got married and taken the resulting children on their first awe-struck steps down the Merkland Road. Nostalgic twaddle? To those outwith football, of course it is. But moving to a new stadium does not affect these people, it affects us.
However, most of us are not completely blinded by nostalgia. A poll on the Aberdeen-Mad website a couple of years back showed that the vast majority wanted a new stadium either at the Pittodrie site or at nearby Kings Links. We are told, however, that these options are not deliverable and Loirston Loch has been chosen instead.
Opinion is split on whether this is a good idea or not. The lack of any great strength of feeling against the move Covewards is telling in itself. There have been no great demonstrations on match days whatsoever despite the plans being public knowledge for many months. Meanwhile, there are plenty fans on the web forums who are vehemently against it, but there are many who support it too. However, the majority appear to display a tacit, resigned acceptance that this has to happen and a willingness to see it through, albeit with a sadness and confusion about the reasons behind it.
The inner turmoil of the supporter on this matter is precisely that we are told that to escape from the quagmire of mediocrity the club has been stuck in for two decades; we must jettison the ballast of sentiment. It is presented as a straight choice between being rooted in the past and looking forward to  future success.
Pittodrie Stadium is the physical embodiment of the glory days of being a Dons fan; to have it ripped down seems unpalatable but is it less palatable than the current on-field mediocrity?