By Fred Wilkinson.
Residents of the Nigg community to the south of Aberdeen have enjoyed a boost to their campaign in opposition to the proposed Community Stadium at Loirston with around 150 registered objections to the plan being sufficient to warrant a public hearing.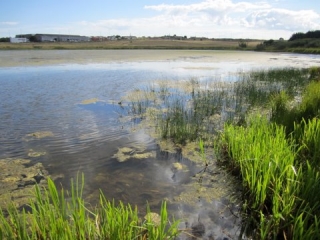 The plan may well still be on course to deliver the Stadium, but many will view this latest turn of events as a victory for local democracy offering a fresh breeze of optimism for a small community facing an uphill struggle to retain the character, identity and beauty of their local environment.
According to local sources it has not been easy to muster the time and energy, and the levels of commitment, communication, co-ordination and organisation required to oppose the planned development.
Currently, there are at least 4 other proposals for major developments which will undoubtedly have a significant impact on the Nigg/Loirston area.
Redmoss resident of 36 years Gene Abel also tells of a more sinister obstacle to the campaign.
"Back in August, we put up posters throughout the area to promote awareness of the consultation procedure with details of the closing date for objections, and where to send these. This was simply to provide much needed information that the residents could choose whether or not to act upon
"However, over a single night, these all appeared to have been systematically removed – apart from two in my own garden.
"Knowing how and where the posters were placed, I can tell you that someone went to extraordinary lengths to remove them"
Additionally, they have been branded a 'vocal minority' and accused of 'nimbyism' in the local press and their campaign compared to totally unrelated projects in an apparent attempt to discredit what has been a commendable effort on their part.
many of us wonder who in their right mind would want to destroy such an asset and a precious asset not only for Nigg, but for the whole city
Whatever view one may hold regarding the Community Stadium proposal, surely to accuse the Nigg Community of nimbyism is a cheap shot at an easy target, and takes no account of the fact that those in opposition to the plan have raised valid concerns and reasoned arguments in support of their objections. If such accusations continue to be levelled at the local community, it raises the question, who has a valid and justifiable right to disagree with a particular development?
Should a proposed change affect an area in which you live, work, travel, relax, then it seems your opposition can apparently be dismissed as 'nimbyism'.
If however you question the same development, despite the fact you and your locality are not affected, simply because you believe that it is wrong or ill conceived, then expect charges from the very same quarters that you are interfering in the affairs of others.
There are numerous recent examples of such detractions – Annie Lennox's objections to the flawed proposals for UTG and Green MP Caroline Lucas' support for the Tripping Up Trump campaign being the most prominent examples.
Mr Abel states in response to charges of nimbyism:
"The bottom line is that this is a beautiful area. That is due in no small way to the loch and the open green space which many residents actively enjoy
"Whether this is about a football stadium, or any other kind of development, many of us wonder who in their right mind would want to destroy such an asset and a precious asset not only for Nigg, but for the whole city.
Strong opposition to the Community Stadium (the New Home of Aberdeen F.C.as referred to by the Council) has also come from a less geographically defined source – the Aberdeen FC fans themselves.
According to the results of a consultation convened by the AFC trust in May 2009, out of 1140 responses, 81.2% favoured Kings Links as the location of the new stadium. 62.8% stated they would attend less matches if Loirston was chosen and 84.1% felt that the club should have consulted them about the preferred location.
Resignation, whilst infinitely more manageable than opposition, does not equate with support.
In view of the fact that the total number of responses is the equivalent of around 10% of the average attendance at Pittodrie, this has to be seen to be a significant figure to the degree that it could hardly be doubted as a very good representation of the whole fan base.
The mind boggles as to how any organisation, worthy of being described as a business, can justify a course of action favoured by less than 18% of their regular customers, a business whose very existence relies upon this very group. Few analysts would disagree that alienating this group would have a significantly negative impact on the future prospects of the organisation.
One has to conclude then, if indeed only a vocal minority are pulling the strings, there has surely been a phenomenal shift in the opinion of the fans in a relatively short period.
Or perhaps not. When one considers the psyche of a typical diehard football fan, there is perhaps less change than may be immediately apparent.
To be a committed supporter of Aberdeen FC, or any other club for that matter, is not so much a lifestyle choice as a deep seated biological drive – more an addiction than a mere habit. It is not a matter of choice, but of belief and belonging.
Therefore, love it or loathe it, whether Loirston, the Links, Lumphanan or Laurencekirk, the true fans will be there. Could this be the known factor at the heart of the apparent dismissal of Aberdeen fans' response to the 2009 consultation?
In any case it appears they are currently not being consulted in any meaningful way and on the evidence of online discussions in fans forums, opposition and resentment over the Loirston proposal has been for the most part given way to a sense of resignation.
This mass resignation may also explain the pitiful response to the "No to Aberdeen FC's Loirston Loch Community Stadium" petition, and the poor response to the "Don't Move Aberdeen FC to Loirston Loch" Facebook page
But take note. Resignation, whilst infinitely more manageable than opposition, does not equate with support.
Nevertheless in their determination to 'stand free', the residents of Nigg have at least bought some time and an opportunity to have their arguments heard, and perhaps time and opportunity for others to consider how free or compromised is their own stand on the issues.
The question remains whether there is time and scope for an alternative or amended plan which, if it acknowledges the needs and desires of the very people whose lives it impacts upon, may find a more favourable environment in which to progress, and perhaps even gain momentum.
In Aberdeen Voice next week, read the views of Craig Stewart – the editor of the Aberdeen-Mad fans' website. In the meantime, feel free to add your own view in the comments box below. All comments will be subject to moderation.