By Fred Wilkinson.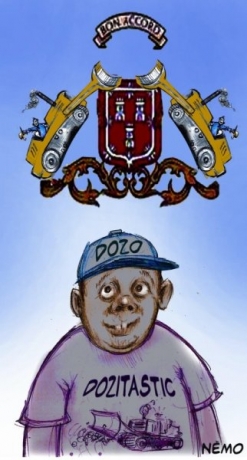 A local group of people with a shared enthusiasm for earth moving equipment has forwarded a proposal to Aberdeen City Council that the city coat of arms be replaced with a version more reflective of the bright future ahead for Aberdeen City and Shire.
Ground Up was formed in early 2010 by individuals from all over the Northeast who recognised the rise in profile, almost to iconic status, of all vehicles associated with the construction industry.
Chairman Doug Hall told Aberdeen Voice:
"It's richt braw tae see sae mony on the go again. Oor group have organised hurlies as far apairt as Marischal College an' Menie Estate tae watch the diggers daein' thir jobby. It's aye a sair fecht tae tak wersels awa hame, an' abody's aye left greetin' fer mair.
"There's nithin' lik' a great muckle construction site though. Tae see a' the JCBs, the dozers, dumpers, larries an' crans shiftin' san' an' stanes in sic a co-ordinatit an' efficient wye is jist smashin'. It aften tak's the hicht o' believin' they've a mannie inside makkin them gin aboot. Jist magic, min"
When questioned on the controversy over the social and environmental impact of particular construction projects, Mr Hall was quick to point out that Ground Up has no interest in the politics of planning.
As founder member Phil Garden states,
"Och, at's for ither fowk tae grouse aboot. We dinna get inveigult wi' nane o' thon. We dinna fash aboot fits 'ere noo an' fit'll be 'ere efter, an' fit gins up fan efter at's knockit doon. We're jist gled that ae wye or anither we hiv a puckly fine days oot tae look forrit tae. Whither it's Union Terrace, Balmiddie, Cove, Wellin'tin Road, Nigg, Westburn Perk or Pittodrie, we canna wait tae gin alang wi' wer flasks an wir sammitches, an' stan' an' watch the beasts shift grun."
Ah think ther affa bonny like. Foo an'ivver, we div aye listen tae the fowk o' the toon, and we hiv tae gie them a say
A spokesman for Aberdeen City Council confirmed that the proposed new coat of arms, featuring a manned bulldozer on either side of the familiar shield, was currently under consideration, but adoption of the design would be subject to lengthy public consultation. Cllr. Billy Auld commented:
"In order tae manage progress we hiv tae face facts, an' the fact is, naebody fae Aiberdeen his ivver seen a unicorn, at least nae fer a gey lang fyle. But ony feel kens fit a bulldozer diz, an' Ah canna think o' a better depictification o' the guardian angels o' Aiberdeen. Ah think ther affa bonny like. Foo an'ivver, we div aye listen tae the fowk o' the toon, and we hiv tae gie them a say on whither the bulldozers shid be yalla, or mibby grey. We'll jist hiv tae wait an' see"
A prominent manager of an undisclosed contruction company and chairman of an undisclosed Scottish Premier League football club was reported to be unwilling to comment on his alleged membership of Ground Up and rumours that he has accepted £400,000 from Aberdeen City Council for two JCBs to flank the entrance of their new HQ at Marischal College