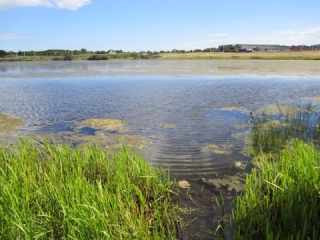 By

Fred Wilkinson.
A new red light district is to be established on the outskirts of the city!
Aberdeen Football Club, last week, lodged a planning application for the proposed new community stadium to be situated to the north of Loirston Loch.
Along with some impressive computer generated images of the new facility comes the announcement that lighting will be installed to give the stadium a red glow at night. The club's official colour of course, as oft witnessed on the faces of embarrassed fans.
But any way to bring back the 'glow ray' to our beloved football club needs at least to be considered… despite contradiction with the statement on the club's RedWeb that there is "a requirement under planning policy which is upheld by Aberdeen City Council that carbon emissions require to be reduced by 15% more than existing building standards." We can perhaps take comfort that this extravagance can perhaps be offset by the removal of a few more toasters.
Joking aside though, for many living in the Nigg area, this is no laughing matter.
There has been a lack of consultation, between Aberdeen Football Club, Nigg Community Council and the City council on the proposals
The Community Council in Nigg, established over ten years ago primarily to keep the only remaining piece of Green Belt in the south of the city, is committed to representing local residents by objecting to the new stadium. Nigg C.C. chairman Alan Strachan believes the term 'Community Stadium' is misleading
"This is a new home for AFC, a commercial business, not a community venture. Aberdeen City Council's report on site selection showed no clear favourite, so why Loirston?"
He claims that the proposal is against the current Aberdeen Local Development Plan in that it "contradicts the Council's current Green Spaces – New Places policy, and would result in the permanent loss of rural green belt land.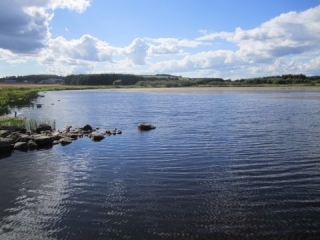 "There has been a lack of consultation, between Aberdeen Football Club,
Nigg Community Council
and the City council on the proposals. Despite ACC and AFC discussing this proposal for 5 years, to date, there have been no discussions between ACC and Nigg CC – only a 2 hour presentation by AFC to
Nigg CC
– No Consultation!"
Whilst Nigg residents ponder the loss of valuable green space in favour of The Reds, Rangers also have an eye on their valued country park … Cove Rangers that is. Plans for a 1,000 seat football stadium at Calder Park, has angered the community, and may face a legal challenge. Mr Strachan claims that a 147 signature petition opposing the plans was delivered to Aberdeen City Council when they were announced in 1999. Yet this was not formally registered as an objection.
they move to destroy a beautiful country park, and the last reasonably natural haven for wildlife within the city limits
Redmoss resident of 36 years Gene Abel expressed disbelief and frustration at the plans. Mr Abel speaks fondly of the annual spectacle of "flocks of hundreds of geese flying over" as they migrate to Loirston Loch. Of Aberdeen City Council he speaks somewhat less fondly.
"In one breath they claim concern for the environment and pledge to plant a tree for every City resident, and next they move to destroy a beautiful country park, and the last reasonably natural haven for wildlife within the city limits"
Environmental and Aesthetic aspects aside, a major concern is the effect the proposed development will have on traffic. The images of the new stadium are unlikely to allay such fears. From the images, there appears to be around 300 parking spaces – for a 21,000 capacity stadium?
Nigg CC advise all North East residents who wish to object to the application, to send their objections direct to ACC, Planning dept. quoting planning application ref. 101299 – before 31st August.
It appears there will be many more twists and turns of events regarding Nigg CC and the proposed developments in the vicinity of Loirston Loch, and Aberdeen Voice will endeavour to provide updates. For now though, we'll leave the last word to Gene Abel.
"The last thing our community needs is a stadium. Where else in Aberdeen do we have a loch?"