The Aberdeen City and Shire landscape today bears little resemblance to the landscape of the past.  Voice's Suzanne Kelly asks – Is this progress, or is this progress towards ill health, lack of biodiversity, and urban sprawl?
Back in the late 1950s, NASA (the American National Aeronautics and Space Administration) started its missions  and started photographing our planet from space.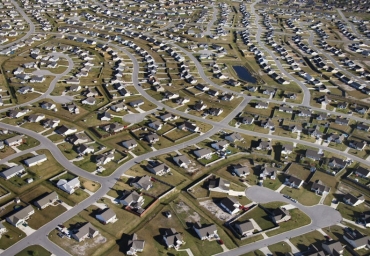 Over the decades a major change in our planet became apparent to the NASA scientists:  we were rapidly destroying green areas, quickly expanding the surface area our cities, and covering previously green areas with non-porous material – usually asphalt and concrete.
The face of the planet was visibly changing, and the term 'Urban Sprawl' came into being.
Urban Sprawl is not just an ambiguous catchphrase – it is a very real phenomenon recognised by scientists and environmentalists from NASA through National Geographic.
If any of these items sound familiar to you,  you will understand Urban Sprawl and why it has to be slowed if not halted:-
increased air pollution and 'particulates' from car use, and associated health problems (asthma, heart disease, effects on unborn, types of cancers)

Increases in other forms of pollution, including light pollution

Inadequate facilities, e.g.: cultural, emergency, healthcare, and so forth for population size

Inefficient street layouts

Inflated costs for public transportation

Lost time and productivity due to time spent commuting; less personal time for relaxation and recreation

High levels of racial and socioeconomic segregation; deprived neighbourhoods

Low diversity of housing and business types (identikit houses packed closely together)

Health problem increases e.g. obesity due to less exercise and more time in cars

Less space for conservation and parks

High per-capita use of energy, land, and water

Loss of biodiversity
Urban Sprawl is changing Aberdeen and the Shire – and it is virtually irreversible
Last week I received an email from J Leonard, an Aberdeen Planning official.  He explains that we need to kill (or cull if you prefer) the small number of deer on Tullos Hill in order to protect trees the City has a grant to plant (£200k value in total).  He explained that when the trees are grown, deer and squirrels can then live in the area (thankfully the deer have been spared), and that Tullos Hill is 'in the heart of an urban environment'.
This is what Urban Sprawl does – it takes over the greenbelt land bit by bit, until there is only a bubble of natural land left here and there, or what builders euphemistically call 'wildlife corridors' – small areas of land connecting remaining green areas. I was speaking to an older Aberdeen resident who distinctly remembers a time before the Altens Industrial Estate existed, and tells me of a green paradise teeming with many types of wildlife.
Now we have a few open areas but notably south of the city centre, we have turned part of the coast into a waste tip we had to cap just recently, and we added a sewage plant to the coast and are planning hundreds of houses in this sensitive area. Aberdeen Football Club intends to put a 21,000-seat stadium on land adjacent to Loirston Loch in the River Dee SAC (Special Area of Conservation).
We are failing to listen to the residents in these areas who currently enjoy a relatively rural area and whose lives will change greatly
The area holds remaining pockets of creatures such as (apparently protected) otters and bats as well as rare plants and animals (as per the Council's own sign on Loirston Loch).  There will be no real environmental benefits associated with this stadium (indeed the pre-planning reports come up with about 40 negative permanent environmental impacts – but says we will get a 'wildlife corridor' where we now have open fields and an uninterrupted SAC).
However, we are told we will get 'job creation' and an 'iconic building' by Margaret Bochel of Aberdeen City Planning who endorsed the stadium plan.  Somehow, the only place the Council and AFC are willing to put this building is on greenbelt land, which we will never get back and which will never be the same.
We are told that Aberdeen needs to 'ensure its future prosperity', and our elected officials, builders, planners and business organisations tell us we must keep building and expanding.  The Aberdeen Western Peripheral Route, a new runway / airport extension, the 21,000 seat 'community' stadium, and of course transforming the Victorian gardens of Union Terrace Gardens into a 'public square' are large examples of proposed new structures — structures which we are meant to believe equate to economic prosperity (despite costing the taxpayer tens of millions or more per project).
The housing developments springing up like mushrooms are, we are told, going to be 'modern', 'competitive', and 'attractive to inward investment'.  We are failing to listen to the residents in these areas who currently enjoy a relatively rural area and whose lives will change greatly:  they have resoundingly said they do not want development.  We are told there is a housing shortage (although many homes and office buildings in the city centre are vacant), and these developments are needed from Stonehaven to Inverurie and throughout the shire – on any bit of ground available.
Whether or not such building works will ensure future prosperity (can you ensure future economic success at all?), there is one truth about all of these projects:  they are all examples of Urban Sprawl.
What's so important about Air Pollution, Light Pollution, and Biodiversity? Air Pollution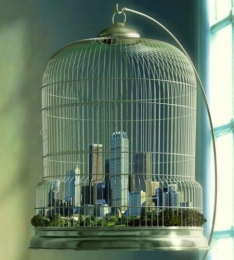 The link between air pollution and forms of heart and respiratory disease is now well acknowledge and documented.
There are cities such as Los Angeles and Hong Kong which issue daily air quality reports – recognising that bad air quality can directly cause illness such as asthma attacks.
Vehicle exhaust is a considerable factor in creating air pollution; 'particulates' created as a product of combustion engines are a part of the air pollution cocktail as are carbon monoxide, carbon dioxide and sulphur.  A brief search of the British Medical Journal yields results such articles as:
And a quote from 'Air pollution and daily mortality in  London:  1987-92 reads:
"The 1952 London smog episode was associated with a twofold to threefold increase in mortality and showed beyond doubt that air pollution episodes could be harmful to health."
Car parking lots are coated with various chemicals associated with vehicles; these get into the soil with rain and snow.  And thus these pollutants can enter the food chain.
Light Pollution:  Really?
Until the Industrial Age, the planet was dark at night.  Now (as satellite photos demonstrate) city areas emit light all night long.  The problem with this is it is definitely affecting the breeding cycle of birds, insects including butterflies and moths, bats and other creatures.  We are changing an integral part of our ecosystem.  These creatures are largely responsible for pollinating our crops and keeping other insect pests in check.
Light pollution is a real and worrying phenomenon, and we need to reduce night-time lights.  If nothing else, saving electricity and energy will help save cities money, and global warming certainly is not helped by lighting up large portions of the night sky.  There is also research to show that light pollution can slow down the way in which air pollution breaks down.
It is safe to say that having a red, glow-in-the-dark football stadium on what is now greenbelt open land in Loirston will be detrimental to creatures that can currently live and hunt there.
each new housing estate is eating up our greenbelt land and urban sprawl threatens our health and well-being on several fronts
Mark Parsons, Mark Shardlow and Charlotte Bruce-White are all experts in the fields of insect life and conservation; they have authored an article 'Light pollution – a menace to moths, and much more for Butterfly Conservation.  In it they present strong evidence from around the world that manmade light pollution is interfering in a very negative way with insect ilfe cycles.
Recommendations the article makes include:
Light should be kept to a functional minimum in all areas

Lights that emit a broad spectrum of light with a high UV component should be avoided

Aquatic environments and areas of high conservation value are potentially particularly sensitive to light pollution.  Lighting schemes in these areas should be carefully planned to avoid negative impacts
This last point is totally contrary to what is proposed at Loirston Loch.
Biodiversity
Again, the ecosystem is being changed at an alarming rate.  We are removing habitat – and without land to live and forage in, we will continue to lose animal populations and whole species.
What alternatives are there to continuous building and more urban sprawl?
How accurate are these assertions we have to keep building and using up the greenbelt?  The stadium for instance – how necessary is it?  The existing stadium at Pittodrie could be modernised.  Norwich FC recently rebuilt its stadium – the same is most definitely possible for Pittodrie.  Cities across the UK have lost millions bidding for, and hosting international competitions; prosperity is not automatic with a stadium.
We have to keep pumping money into the Aberdeen Exhibition and Conference Centre.  As to reported housing shortage, we know that there are thousands of empty houses both in the public and private sectors, and rather than new builds, using some of our vast quantities of unused offices and converting these to homes would be the more economical and more ecologically sound way forward.
Aside from the tens millions of pounds of taxpayer money any one of these new structures will drain from the public purse from consultation through to design, execution, use and maintenance, there is another price to be paid.  Each of these projects, and each new housing estate is eating up our greenbelt land and urban sprawl threatens our health and well-being on several fronts.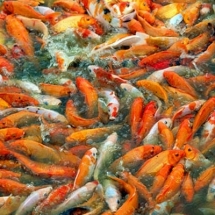 Wildlife tourism could be encouraged – as it is, the RSPB estimate that Scotland is visited by thousands who want to see our unique birds and other wildlife – perhaps we could preserve habitats, encourage our existing wildlife, and promote our natural resources more widely?
The EU is taking this very real problem seriously, and the US is realising the ramifications as well – perhaps it is time for Aberdeen's planning and development professionals to wake up to urban sprawl's threats as well.
Further resources:
EU Environment Agency publication, "Urban Sprawl in Europe – the ignored challenge"

Butterfly Conservation (Magazine of the Butterfly Conservation) Issue No. 106 ' Light Pollution – a menace to moths, and much more'
Want to take action?: Write to your local community council, city council planning department, MSP and MEP to express concern Visit your local wildlife sanctuaries, the city's coastal areas, Loirston Loch Support conservation charities such as the RSPB, Butterfly Conservation, the John Muir Trust