Voice's Old Susannah tackles more tricky terms with a locally topical taste.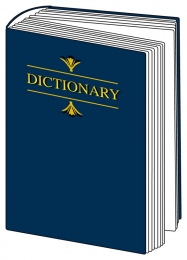 Aberdeen is such a cool city.  Make that frozen.  For those of you with snowshoes, ice skates or skis who have been able to make it out of your homes, you may have noticed a few minor problems.  There may have been one or two late-running buses during rush hour.
A few flights and trains couldn't run.  Nearly two and a half thousand of us have had frozen pipes in our homes, including Old Susannah, who couldn't find a plumber who wasn't fully booked up.
Therefore a "thank you very much" to the brains at 'Wayne's Drains' for giving such great help over the telephone; with their guidance I was able to avoid a burst pipe.
For a few days I had no running water which was a great adventure.  I do apologise for turning in such a short 'Dictionary Corner' this week but I have three days' worth of washing, cleaning and mopping up awaiting me.  Sorry!  It was messy and no fun at all clearing the pipes, and if I never see a U-bend or a tub of 'Plumber's Mait' putty again it will be too soon. Still, I was much better off than an acquaintance who had a frozen toilet.  He wound up in quite a mess.  Speaking of messes…
Local Development  Plan: The Local Development Plan, or 'LDP' to its friends, sets out the realistic, wonderful future for Aberdeen.  There are goals such as doubling the City's population, building thousands of new homes, and making a 'community stadium' on Loirston Loch (NB – Old Susannah cannot as yet find a definition of what a 'community stadium' is).  Part of this ingenious plan is to always have land available to developers for creating industrial estates – again,
I always thought land was a finite commodity, and that we still had such a thing as 'greenbelt land'.  Apparently the 'Planners' don't happen to agree.  As a voter in Aberdeen, you were presumably made aware that your elected representatives would create this plan, only I can't seem to find anything to back that up as yet.
You could also be forgiven for thinking that the local, elected Community Councils get asked what they'd like to see  – or not see – in the plans from the earliest stages.  Apparently there is a 'statutory duty' for Community Councils to be consulted for matters in their areas.  The truth is that the developers (hmm – can we think of any influential local developers?) and the planning chiefs sit down and invent the whole thing without bothering the elected Community Councils – the rationale for this seems to be that the Community Councils get a chance to object later on.
Where would the needy 'All Energy Aberdeen' have been had we not spent over £9K on a wine, beer and juice reception
This is a bit like the farmer objecting to the gate after the horse has bolted.  Therefore the 'community stadium' planners had a budget of our money capped at approximately £250,000 to spend to investigate the pros and cons of the deal.  Had they asked the local councils first, they might well have been told to scrap the idea.
But remember, consultants have to make a living, too.  It's quite funny how the pros (like a big, shiny, new, red-glowing building where Aberdeen Football Club can astound 22,000 people with previously unsuspected footballing skills) are made to be realistic and important, and the cons – such as loss of wildlife habitat, urban sprawl, traffic and expense don't seem nearly as important.
Of course, the community councils get to comment later in the 'consultation' process, during which their opinions are given the consideration that they are worth.  For Loirston Loch's destruction, they get a maximum input at the public hearing of 30 minutes per council.  I hope they can talk fast.  (Old Susannah will be getting up to have her say about the 'community stadium' at this public hearing, which is on 14 January at the Town House City Council offices on Broad Street at 09:30.  If you've nothing better to do than see Old Susannah talking to a brick wall, do come along).
Hospitality: Dictionary definitions for the noun 'hospitality' describe it as meaning "… hospitable treatment, reception, or disposition ."  Do not let anyone tell you there is any truth in the stereotype that the Scots are not generous and hospitable; Aberdeen City has definitely dispelled that myth.  It might have done so using your tax money, but it's money well spent.  It shows the rest of the world how prosperous we are.  Secondly, as previously established, our Lord Provost is worried about being embarrassed or looking foolish – which is why he and his wife need a generous clothing allowance and why he wants us to take Sir Ian Wood's £50 million for the Union Terrace car park.
Let's look at some of the hospitality we dished out last year.  On the one hand, we only spent £129,472.5 pence according to the City.  On the other hand, one wonders if it was all necessary.  We threw events for councillors and a whole host of special interest groups.  Where would the needy 'All Energy Aberdeen' have been had we not spent over £9K on a wine, beer and juice reception for it at the AECC?  You and I gladly paid for the 'Aberdeen Sports Person of the Year Awards' at the Beach Ballroom where some 275 luminati had dinner and drinks for £9,774.25.
Lest we forget, the City just recently had to stump up an extra £64K or so for the international football programme's going over budget.  I can't really complain, we attracted an amazing array of footballing talent, including Birmingham City.  We still don't have enough money to keep our schools or have children continue with music lessons.  We might have to close our parks (or turn them into something profitable).  I have no doubt that our elected officials who dutifully attend these drinkfests stick to water and soft drinks; they might wind up  useless,  sozzled and brain-addled otherwise; thankfully this hasn't happened as yet.
However, let's raise a glass to the forty plus drinks events we held last year.  Cheers!