Dons attract standing room only crowd! Not at a Pittodrie fixture, unfortunately. David Innes calls in from the joint Community Councils' public meeting on the Loirston stadium plans.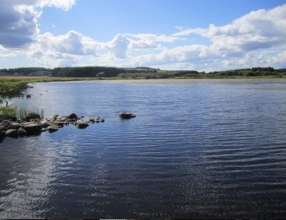 It is a measure of the interest being taken by citizens – mostly residents of the area affected – in the proposed Dons stadium development at Loirston that the Altens Thistle Hotel had to provide additional seating to accommodate those who attended.
Latecomers were left to stand. This is not a problem the Dons are likely to suffer in their current home nor in any new 21000 capacity stadium.
All four community councils for the area united to host the meeting and local councillors attended, in "listening mode", as they are prohibited from offering opinions on the development before the Council meets to vote on it. They were able, however, to give input on the planning process, being at pains to point out that this was consultation but that did not mean a majority opposing the development could stop it. That sounded very familiar…..
An early show of hands showed that nobody in attendance was in favour of the facility, or perhaps any proponents were not prepared to admit it their support.
Although not always on-topic, questions were asked politely, points were made passionately and despite the general feeling that the development is almost a fait accompli, several contributors urged attendees that it is not too late, that statements for and against the development may be made right up to the time our representatives begin the final debate.
Discussion was along predictable lines – irreversible loss of green belt, traffic and parking issues, light pollution, the financial impact on Pittodrie area businesses on match days, the competition with the AECC for lucrative conferences and, bizarrely, potential noise nuisance from late evening gigs featuring bands "like Black Sabbath".
More probing issues were also examined – why cannot the facility be shared between the Dons and Cove Rangers? What would the impact be if the Reds and Cove played at home at the same time? How would visiting fans arriving by means other than supporters' buses be safely segregated from the home support? What about the four distinct natural habitats unlikely to be protected by the guaranteed 50m "no go area" between the stadium area and Loirston Loch?
The plan goes to a Pre-Determination Hearing of the Development Management Sub-Committee on 14 January. 144 objections have been received. Messages of support and representations from interested groups have been gathered. Details are here http://tinyurl.com/65n32af Voice will be in attendance and will give its view on proceedings next week.