Aberdeen Against Austerity informs Voice of its intention to take to the city's streets this Saturday (3rd March).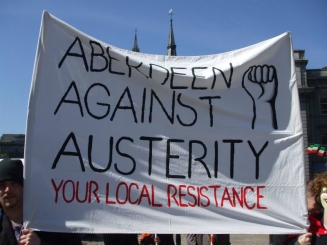 This action is part of a national day of protest against the UK Government's Workfare Scheme under which multi-national companies, whose profits run into billions of pounds, receive countless hours of free man/womanpower courtesy of taxpayers.
At least thirty other cities around the UK will host similar demonstrations.
How does the Workfare Scheme operate?
The jobseeker labours for perhaps eight hours daily, receives no wages from the company, creates wealth for the bosses and shareholders and in return receives only his/her Job Seeker's Allowance (JSA). As a result, participants in the programme receive well below £2 per hour for time they have been forced to give to multi-billionaire companies.
Many fear that these phenomenally low wages are being used by bosses to drive down existing staff wages under threat of replacement by Workfare participants. Commentators have used the term 'slave labour' to describe this Tory policy, with some even challenging the legality of the Scheme under Human Rights Law.
Not looking hard enough for work
Conservative ministers and right-wing journalists have tried to justify the Scheme in recent weeks using the same tired old argument that JSA claimants are responsible for their own misery because they are 'workshy', 'lazy' and 'lacking in drive'.
"These 'lazy' individuals just aren't looking hard enough for work," cries the right.
Figures show these ludicrous opinions to be baseless whilst revealing the underlying structural problems of our economic system. We have 2.67m unemployed, although the Trades Union Congress (TUC) has reported that the true figure might be 6.3m, and only 476,000 job vacancies. That means 5.6 people are applying for every job, or 13.2 people if the TUC figures are used.
Joblessness is a very real and serious issue woven into the fabric of our economy and it cannot simply be blamed on the 'feckless unemployed'.
The proponents of Workfare claim that the most effective way to get 'workshy' claimants back to work is by threat of the loss of their JSA. This is very misguided. The Government's own review, commissioned by the Department of Work and Pensions in 2008, concluded:
 "There is little evidence that Workfare increases the likelihood of finding work. It can even reduce employment chances by limiting the time available for job search and by failing to provide the skills and experience valued by employers."
Political and ideological
It's clear. Workfare is a political programme, designed and carried out by a government of millionaires with a strong ideological undercurrent, through which they seek to:
Undermine the legal minimum wage.
Continue the demonisation of those out of work to justify the increasing wealth gap between the rich and poor.
Strengthen the very close ties between big business and government.
Ensure that the most vulnerable in society pay for the economic crisis rather than those who caused or played a major role in it.
Continue to apply downward pressure to existing workers' pay and terms and conditions
Aberdeen Against Austerity and many other groups will be raising awareness nationwide by naming and shaming Workfare providers this Saturday (3rd March) in Aberdeen city centre. We'll meet in the Castlegate at 12 noon.
See you on the streets.