In her continuing series on the life of a pit photographer, Julie Thompson takes in The Boomtown Rats gig at the Beach Ballroom, Hells Bells at The Lemon Tree and has a chat with Matt Jolly, in-house photographer at The Moorings.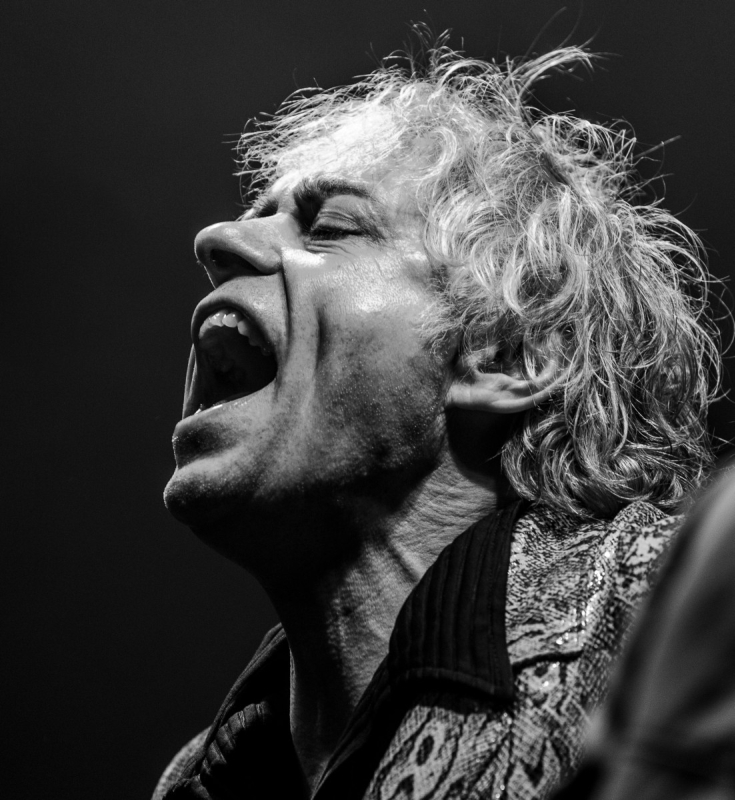 While Matt Jolly was mid-Atlantic, returning from his jaunt to the US with Fat Hippy Records, I was at the Beach Ballroom to see a band from my youth.
The Boomtown Rats formed when I was 9 or 10 years old.
Growing up, they weren't my favourite band – just not in my genre at all.
Still, I figured there was no harm in seeing if I could get a photo pass for the event and as luck would have it, I could and did.
I've only seen The Boomtown Rats live once before, on one hot summer day in 1985. It was a memorable day where many other bands played, all around the world.  
Since then a new generation has emerged and musical taste has changed, so most of the folk at the Beach Ballroom were of the generation who grew up around the time I did.
There was no photo pit at this venue, so getting there at doors open time meant a chance to grab a spot up front but, once you have it, you stay. I was lucky and got a spot at the stage left.
Next to me was local tog, Andy Thorn. Dod Morrison was with us briefly before wriggling his way to centre stage front. I also spotted a couple of other togs on the far right – George Mackie & Craig Chisolm.
The support act was not what we were expecting – but from what I've since found out it wasn't the support act they had previously and seems to have been playing just on this particular evening. Why the change, I don't know, and it was unfortunate that it was for the last night of the tour and also the last appearance of The Boomtown Rats with Bob Geldof fronting.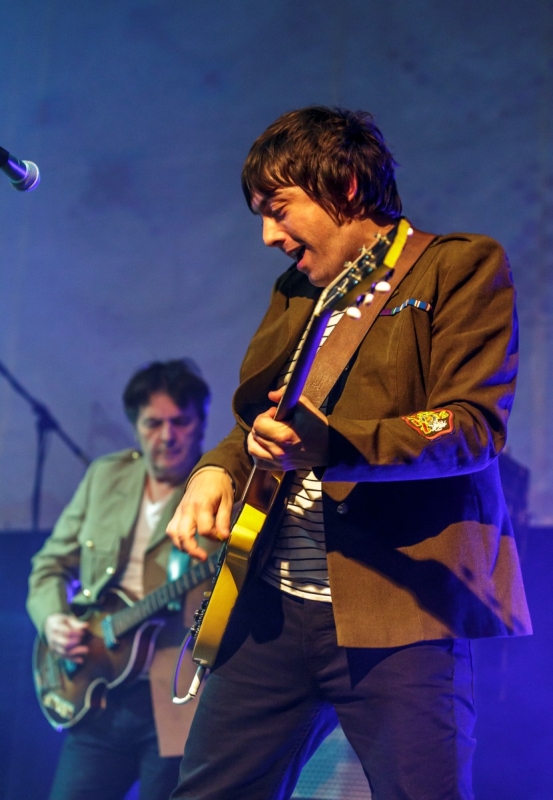 Still, all was forgiven when the reason for us all being there appeared. Laser beams created galloping rats on the speakers, there was a flash of a Pedigree Chum advert (which was an apparently an in-joke regarding one of their crew, who had been a 'Top Breeder' in the advert) and then the show began.
I had, of course, seen those photos showing Bob looking old, tired and sad – well, all I can say is it is easy to make someone look bad in a photo. The real trick is to make them look good.
There was plenty of energy that night – both on and off stage.
I've heard about, but not experienced, the sprung dance floor at the Beach Ballroom, but I thought I was going to be catapulted onto the stage a few times from the way it was reacting to the crowd jumping about.
One intrepid lady sneaked onto the stage for a quick cuddle & dance with, a clearly pleased, Bob before being chased by security and hustled away.
Between songs there was some chat – tales about how certain songs came about and how they're still relevant today – nothing much has changed.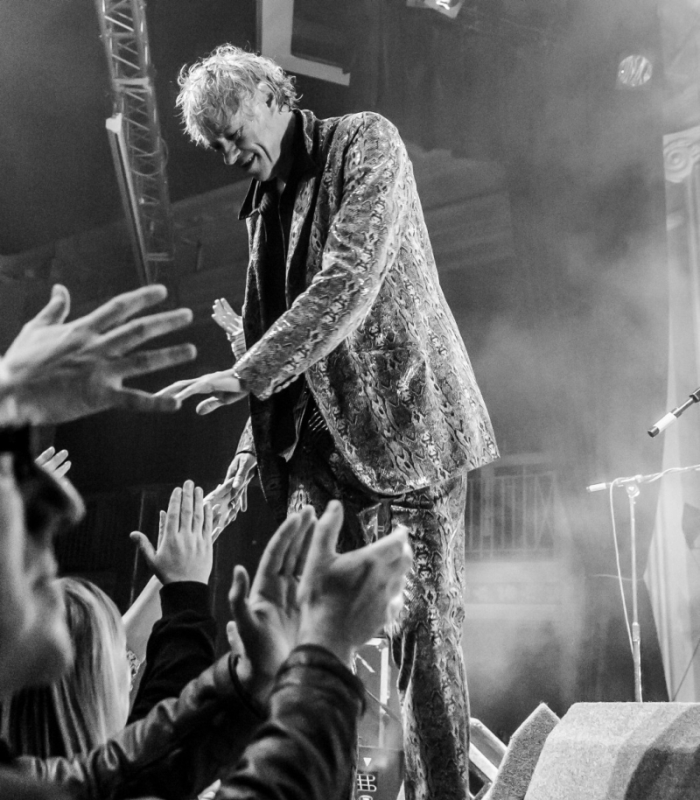 'Banana Republic' written after a trip to the Republic of Ireland. Due to Geldofs 'denunciation of nationalism, medieval-minded clerics and corrupt politicians' during an interview, the band were blacklisted from playing anywhere in their home country. The loudest complaints apparently coming from a priest who had a lovechild in the US, as it turned out.
'Someone's Looking at You' – eavesdropping on phone calls, emails, cameras on all streets. No privacy for anyone these days. And then there is 'I Don't Like Mondays'… 'nuff said.
So, 2 encores later, some new tracks from their album along with many of the old favourites, much hand shaking along the stage front and it is all over. My biggest gig to shoot so far – it was great fun and good experience.
I've bumped into Matt Jolly a couple of times since his return from the California, where he travelled with Tom Simmons (Captain Tom of Fat Hippy Records), Amy Sawers and Craig John Davidson. Usually busy when we meet, we finally managed to find time to have a chat.
Matt spent a year studying for a NC in Visual Communication and Photography at Aberdeen College, before entering a 2 year long HND course.
He's now in his final year and is using his recent experiences covering the Fat Hippy Records trip to the USA as a course project.
He spent 10 years working as a chef before deciding it was time for a change.
He began started filming friends who were working in the local music scene, putting the videos up on youtube, and taking stills using his phone.
Unsatisfied with the results, he decided to revisit an old desire to study photography.
He bought himself a Nikon D3100 and took off on tour with Semperfi, covering their summer of 2010 tour before starting college that autumn.
He began working at The Moorings that Hogmanay – working the bar and practising his photography skills.
The most difficult part (or challenging, as he prefers to put it) of working the venues is shooting in low light – adapting by using slower shutter speeds (itself a challenge, as antics on stage can move fast leading to blurred action) or flash.
Part of his reason for moving on from his previous work was that he wanted to travel. He's now travelled on various tours with Semperfi – most recently their 2012 European tour. He's also travelled as far as California, to Molly Malones – who knows where they'll go next!
I'll continue my chat with Matt next time, when we take a look at the bands he's had chance to shoot.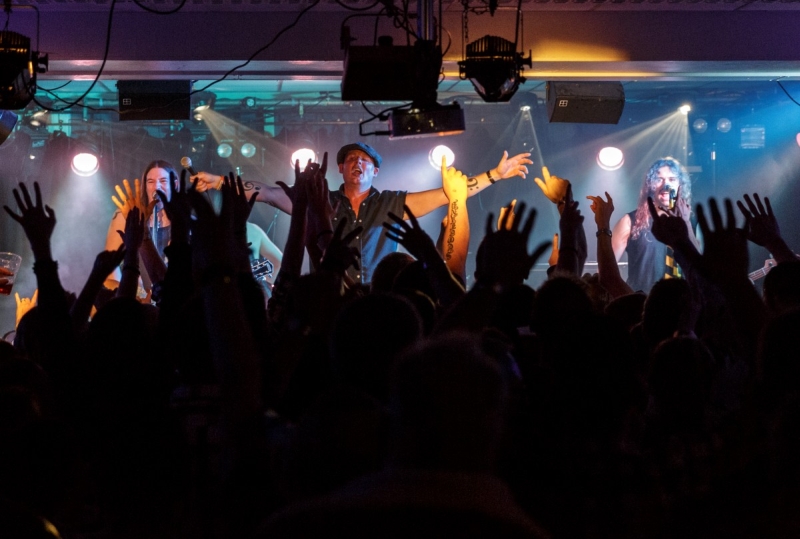 I've been to quite a few gigs over the last few weeks – I won't bore you with them all but will just mention Hells Bells – an AC/DC tribute band – which played to a packed out Lemon Tree last weekend.
The place was jammed to the rafters and the crowd was there for two reasons – to have fun and to make as much noise as possible.
I had the pit to myself – a nice luxury – and the band had their parts down pat.
I'll just mention a few set pieces: a striptease from 'Angus' went down a storm and also as far as what appeared to be a black thong (I was up the back of the venue and it was, unfortunately, hard to see); 'Brian' carrying 'Angus' around the audience on his shoulders for one long guitar solo; the two cannons blasting during the finale.
All the boys were sporting Movember facial hair – a comment on their Facebook page referred to them as looking like '70's German porn stars' – their words.
Some people are scathing about tribute bands, but it was an entertaining night, with well performed songs & lots of happy faces leaving at the end – which is surely the whole point.
Coming Up.
I have some gigs lined up for the end of November – Withered Hand, Pallas (which will be reviewed by Suzanne Kelly) and maybe another, which I have yet to hear back from (fingers crossed). Also, if I can fit it in after Withered Hand, a gig at the Malt Mill featuring our very own Fred Wilkinson and his band, Toxik Ephex.
More on how things went next week when I conclude my chat with Matt Jolly and I decide on which tog will be my next 'victim'.
More Photos:
Links:
Matt Jolly Photography on Facebook
Matt Jolly on Flickr
Comments enabled – see comments box below. Note, all comments will be moderated.