With thanks to Stevie Kearney.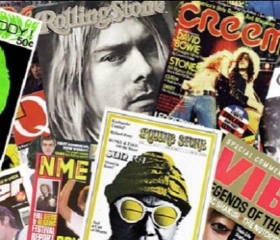 A new training course for aspiring NE music journalists is being launched as part of the 57º North web portal, run through community media charity Station House Media Unit (SHMU).
57º North is the online music hub for Aberdeen and Aberdeenshire and now, thanks to funding from Aberdeen City Council's Cultural Grant Awards, free training is on offer for those who wish to learn all about music journalism and have their work published on the website.
Each course will comprise four two hour sessions. The aim is to teach writing skills, interview techniques and develop music industry knowledge, with those completing the course becoming accredited writers for www.57north.org.
Accredited writers will have the opportunity to score press passes for gigs and interview local and touring musicians.
There is no age limit and previous experience is not necessary, although applicants will need to display a passion for writing and promoting the NE music scene.
The classes will be offered on Wednesdays from 1800-2000, starting on October 23, at Seventeen, the city's cultural hub on Belmont Street,
57º North Project Manager Stevie Kearney said:
"This is a fabulous opportunity for people to learn all about music journalism and be part of a ground-breaking project, helping promote music in and around Aberdeen.
"For years people have complained that the region's music scene lacks a focal point – the opportunity is now here with a not-for-profit project and having an army of local music writers providing news, reviews and interviews is central to the successful promotion of the North-east as a hotbed of musical talent and culture."
Launched earlier this year, www.57north.org provides everything the local music community could want, from gig listings and news, to artist profiles and a massive resources section. Last week the team published The 57º North Guide to DIY Gig Promotion, a free online document detailing the ins and outs of putting on a gig, designed to help develop more promoters and thus a more vibrant music scene.
The not-for-profit venture was set up by SHMU with backing from Creative Scotland and the project has had input from Aberdeen City Council, Aberdeenshire Council, Aberdeen International Youth Festival, Aberdeen College and Aberdeen Performing Arts.
Courses will run until the end of March. Places are limited but all applications are welcomed. For an application pack and more information, e-mail info@57north.org or call 01224 515013 and ask for Stevie Kearney.