With thanks to Stevie Kearney.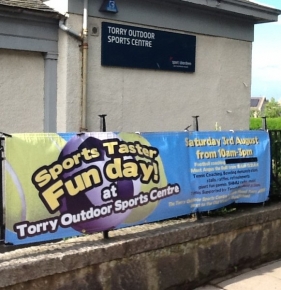 A previously under-used Torry sports facility is set for a grand re-opening this weekend thanks to the work of people from the community and the generosity of several local organisations.
This Saturday, August 3rd, from 10am-3pm, Torry Outdoor Sports Centre on Victoria Road will play host to a family fun day featuring football and tennis coaching, bowling demonstrations, kids' games, live music, refreshments, stalls, raffles and a guest appearance from Angus the Bull.
The project to re-launch the sports space has been pioneered by volunteers from Old Torry Community Centre and they've received backing from many local groups, including Sport Aberdeen, Aberdeen Football Club, Dee Football Club, Tennis Scotland, Station House Media Unit and local Police.
A generous donation for tennis equipment was provided by PK Hydraulics Ltd, which has paid for high-quality new racquets, balls and training equipment.
The space – which includes two bowling greens and a multi-purpose all-weather area with three tennis courts and a football pitch – is a community facility but has not been widely used in recent times. The fun day aims to get Torry locals along to help launch a new programme of sports and social events every night of the week, with everybody welcome.
Angus the Bull will be there for the opening at 10am but needs to leave at 10:30 for his match day duties at Pittodrie, so parents are encouraged to bring kids down early. Aberdeen FC have also donated a strip and football, signed by Dons forward Niall McGinn.
David Fryer, of Old Torry Community Centre, said:
"We have organised this special fun day so that folk can take advantage of the facilities that are close at hand, try a sport for the first time with a coach, join in a friendly game or just relax and watch others having some fun."
"We greatly appreciate the helping hands of Sport Aberdeen, Tennis Scotland, Aberdeen Football Club, PK Hydraulics, Dee Football Club, Station House Media Unit, local bowlers, and from many folk in Torry in making this all happen."
Nigel Spencer, Outdoor Services Manager at Sport Aberdeen, said:
"We're delighted to be working with Old Torry Community Centre on this project and hopefully some good weather will help make for a very successful re-launch of the Torry Outdoor Sports Centre".
Football coaching and matches take place from 10am to 12 noon, with tennis coaching for all ages from 1pm – 3pm. There will be live music at 12 noon from local singer-songwriter Alana Wyness.
For more information, you can find Old Torry Community Centre on Facebook, or email oldtorry@gmail.com