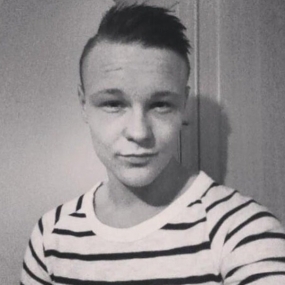 With thanks to
Stevie Kearney.
A local charity project helping young people develop their musical talents has backed the release of a debut pop single form a former X-Factor contestant.
Edward McNelis – who performs under the name EddieMAC – spent time in the shmuSOUND studio in Tillydrone, working on his debut single 'When the Weekend Comes'. The release also features a b-side called 'It's All Over'.
Earlier this year, Edward, 19, from Mastrick, auditioned for the X-Factor in Aberdeen and was invited to London for another three stages, coming up just one round short of appearing on the televised show.
Building on this momentum, he joined the shmuSOUND project, which is run through local media charity Station House Media Unit (SHMU), thanks to funding from Creative Scotland's Youth Music Initiative.
After a series of song writing workshops with the project's tutors, several sessions in the studio led to the finished tracks, which are now available online and have generated considerable interest from fans across the city.
Both tracks are proudly pop in style, with the a-side track 'When the Weekend Comes' set to become a classic anthem for the summer, with its story of rushing home from work to enjoy the weekend. 'It's All Over' is similar in style, but tells the tale of a relationship gone wrong and people moving on.
shmuSOUND's Stevie Kearney said:-
"It's been great fun working with Eddie Mac – we think these tracks should be really popular with pop music fans and it's surely just a matter of time until he gets his break. The X-Factor judges should have kept him in for sure".