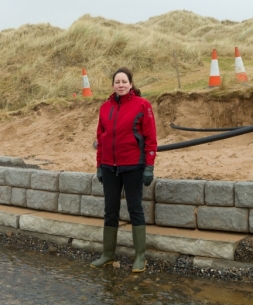 By Suzanne Kelly.
In the wake of the Trump Organisation's activities at the Menie Estate and its interactions with government, the impartiality of some of our public servants and representatives has been called into question.
Over 19,000 people have signed local resident David Milne's petition requesting a public inquiry, which will be decided by The Scottish Government's Petitions Committee.
Such an inquiry would put local and national government, Police Scotland and Scottish Enterprise and more under the microscope, and they don't want that.
Despite the protestations of these organisations, the requested inquiry is not only about uncovering past activities, it is also about what is going on in the present, and making changes for the future.
Following Milne's appearance, the Petitions Committee requested comment from SNH, Marine Scotland, Aberdeenshire Council, Police Scotland and Scottish Enterprise Grampian. With concerns still emerging across all these bodies regarding past and present incidents, the case for an independent inquiry seems clear.
In a two-part story, here are the bodies' arguments as to why the inquiry isn't needed, and the reasons why there must be a public, independent inquiry.
Background
Menie Resident David Milne created an online petition calling for a public inquiry into present as well as past public sector activities at the Menie Estate. The estate, once an unspoilt, sparsely-populated area on the North East coast of Scotland is to be transformed into two golf courses, a hotel and hundreds of homes, compromising two Sites of Specific Scientific Interest in the process.
Milne's petition, signed by over 19,000 people was heard by the Petitions Committee at Holyrood.
David Milne's petition, which can be found here, http://you.38degrees.org.uk/petitions/search?q=david+milne states:-
"We are calling on the Scottish Parliament, through the Public Petitions Committee, to urge the Scottish Government to hold a public inquiry into the way local government, Scottish Ministers and other relevant public bodies conducted themselves throughout their dealings with the Trump Organisation in relation to the Menie"
From the responses coming in from our government's agencies, you could be forgiven for thinking the call was simply for a review of past activities. Generally speaking, almost all of the statements made to the press, and the official responses to the committee to date, claim that the agencies do not want this inquiry.
Those in the firing line are taking the position that the issues are in the past, and this was 'the most scrutinised planning application' in Scottish history.  Sarah Malone, VP at Trump Golf Links International Scotland told STV:-
"This has been the most scrutinised golf development in history. The project has already gone through a public inquiry and a very lengthy planning process.
"Mr Milne needs to move on. The championship course is now established and drawing thousands of golfers from around the world to the North-east of Scotland, as well as creating business opportunities and much needed jobs."
http://news.stv.tv/north/222949-david-milne-will-appear-in-front-of-holyroods-petitions-committee-in-may/
Malone's comments about the project have nothing to do with the full scope of the requested investigation. Indeed, the very act of calling the application in by a government which wined and dined Trump both sides of the Atlantic should perhaps itself be investigated.
There is little doubt Malone, married to Damian Bates of the overwhelmingly pro-Trump Press & Journal, wishes Milne and the rest of the residents would 'move on'.
At one point a Trump operative pretended to be a private home buyer, and approached the residents, wanting to buy their homes on the false pretence that he and his wife 'fell in love with the area.'
As for Malone's claims that thousands are playing the course, this may be true, but it is far from booked to capacity according to the online booking form. Have the thousands of jobs materialised? Has the local economy received great economic benefits? Perhaps the investigation should include those questions in its scope as well.
Its minutes reveal communication issues, lack of site visits and lack of Trump employee attendance
The argument by those seeking to avoid an inquiry because of past scrutiny does not bear analysis. The planning application's past history is assuredly of interest; there are still details emerging as to how individuals and institutions acted. However, there are many issues which were never explored, and some that were brushed aside.
There was no meaningful scrutiny of what went on behind the scenes before, during and after the planning permission was granted. There was never any scrutiny of the roles played by local and central government, Police Scotland, Scottish Enterprise or environmental groups meant to safeguard the area, including the dysfunctional, disappeared MEMAG, an environmental entity set up to watch over the estate.
Its minutes reveal communication issues, lack of site visits and lack of Trump employee attendance at meetings. Crucially, there are ongoing problems, and a public, independent inquiry would hopefully examine these in detail. This is what Milne is calling for.
As David Mine indicated:-
"This isn't about me or anybody else against Trump, but an effort to try and ensure that those who were responsible for making numerous mistakes and breaches of the rules are held to account, and an attempt to prevent anything similar happening again in the future."
http://local.stv.tv/aberdeen/news/196354-trump-opponent-pressing-for-fresh-inquiry-into-golf-course-handling/
On May 14 2013 the Petitions Committee heard Milne and asked questions about his request. They then called for the public bodies involved to respond. Predictably, the responses indicate that the bodies do not want an inquiry.  Surely, if everything was handled correctly, an inquiry should be welcomed by all sides to clear the air?
It is currently only Police Scotland that seems to admit any failings at all; at the time of writing, their submission to the committee is not available. As to the other organisations and quangos involved, to paraphrase Mandy Rice-Davies, commenting at the height of another high-level scandal 'Well, they would say that, wouldn't they?'. 
Here are details of the Scottish Enterprise and Aberdeenshire Council submissions, with relevant reasons why they inquiry is needed despite their protestations.
Scottish Enterprise
Submission to the Committee by Scottish Enterprise Chief Executive, Dr Lena Wilson.
http://www.scottish.parliament.uk/S4_PublicPetitionsCommittee/.pdf
SE Comments on Scrutiny:
"Over recent years, our engagement with the Trump Organisation has been the subject of numerous FoI requests and as such this information is in the public domain. At all times we have endeavoured to provide a full and comprehensive account of all staff engagement and SE's relationship and role with regard to the Menie Estate development."
Highlights from the body of the letter:-
"In 2005/6 SE Grampian conducted a Feasibility Study of the Menie House Estate to assess the economic viability of a 5-star hotel and golf resort …also commissioned a promotional DVD to showcase the project to the international market and to promote and increase the profile of Grampian as an attractive inward investment location.  ..The Trump Organisation contacted the Menie Estate directly, with no involvement from SE… the Feasibility Study has been made public under FoI…  "
"Through our international arm, Scottish Development International we were alerted by a third party that the Trump Organisation was looking for locations in Scotland and Ireland for a prospective golf development. When we met with representatives of the Trump Organisation, the Menie Estate had already been identified by the organisation as a possible site.
"SE Grampian was supportive of the proposals for a golf development at the Menie Estate, given the economic impact it would have on the region.  SE Grampian (and subsequently SE) did not offer or commit funds in support of the proposed Trump development in Aberdeen.  In 2007, our former Chief Executive wrote to the Trump Organisation on the matter of the planning application decision."
Comments
This response does little to explain the role Scottish Enterprise had in the successful planning application. It might refer to the contents of the 2007 letter Perry sent Trump, but the contents and implications should surely be subject to a public inquiry.
You could be forgiven for thinking that the determination of an unelected quango, whose head accompanied the First Minister to dinner with Trump, outweighed the legal status of SSSI land, and the wishes of Scottish Natural Heritage, the views of which never seem to have been sought when SE decided to market the Menie Estate.
Aberdeen Voice obtained the 2007 letter some months ago from a FoI request.
There are indications too that correspondence from SE to Trump, Aberdeenshire Council (and possibly other entities), which simply must have existed have been lost, discarded or not disclosed. More details to follow, and will appear in a separate forthcoming article.
letter also provides among other things a nice list of Perry's pro-Trump lobbying efforts
For instance, SE claim that no correspondence took place between 2008 and the present between it and Trump.
Magically, a ringing endorsement for the club by Jack Perry, SE, appears on the club's website – a site that did not exist until after the planning go-ahead was granted, and after the December 2007 letter they mention.
It seems too that correspondence from Perry on the subject of Trump cannot be found, perhaps an inquiry can get SE to explain how so much happened with so little correspondence, or whether correspondence was definitely deleted – and if so why. Additionally, since Perry tells of writing to the head of Aberdeenshire Council 'expressing dismay', there should then be a letter to this effect somewhere.
The SE logo and Craw appear in a pro-Trump video shown at a public meeting, apparently taken from STV. SE, supporting Trump, had no problem in letting this go without complaint.  No doubt therefore that anyone is at liberty to use the SE logo, which of course implies SE endorsement, with impunity.
This December 2007 Perry letter also provides among other things a nice list of Perry's pro-Trump lobbying efforts, all of course made possible by the public purse.
Here are excerpts from the 7th December 2007 letter Perry wrote to Trump:-
"You may or may not recall that I had the pleasure in October 2006 of joining you for lunch in the Trump Tower with the then First Minister, Mr Jack McConnell.  …We at Scottish Enterprise certainly shared your excitement over this project. As the project developed we believed and still do that the economic benefits to Scotland of this project were substantial.
"Accordingly, we were profoundly dismayed by the decision made by the Aberdeenshire Council Infrastructure Committee to reject the planning application for this project. I recorded that disappointment in a personal letter to Ms Anne Robertson, Leader of Aberdeenshire Council. As you know, since then the Scottish Government has decided to 'call in' the application. Rightly and properly, Scottish Government Minister's [sic] will not now comment on the application but I regard their action as encouraging. We concur with the Scottish Government's contention that this is genuinely a project of national importance to Scotland.
"I have taken the liberty of discussing the matter with the Chairman of the Scottish Parliament's Enterprise, Energy and Tourism Committee to make him aware of our support for the project and to offer any evidence to him and his committee should they require [sic].
"While this Committee has no role in the approval process of your application, it is possible they may consider the repercussions of Aberdeenshire Council's decision on Scotland's tourism industry. I have also now spoken about this matter to the Shadow Enterprise Ministers from the Labour and Liberal Democrat parties in the Scottish Parliament. I have tried to make it clear in these discussions that the impact of Aberdeenshire Council's decision goes far beyond the immediate issue of the Trump development but has much wider implications for Scotland's international image and reputation as a country which welcomes investment.
"I have been greatly encouraged by the unequivocal support from the Scottish business community which your project was [sic] attracted. I remain hopeful that Scottish Government Ministers will address this matter with speed. We shall continue to provide whatever evidence and support we can, should we be called to do so.
"For your information, I have also been greatly encouraged over the past few days by the support shown by the Aberdeen City and Shire Economic Forum [ACSEF] whose chairman, Mr Patrick Machray, has been very public and very vocal in support of the Trump development. Patrick is also the Chairman of Scottish Enterprise Grampian. As Scotland's principal economic development agency, we at Scottish Enterprise wish to see your development proceed. We will continue to do what we can to help.  "
CC (redacted), Lorna Jack, Patrick Machray
One of the glaring issues is the reference to Scottish Government's predisposition to go ahead with this project, prior to the government reporters making their report. If the head of the government you worked for wanted a particular result, and if that knowledge was well known, viz public dinners and meetings with the applicant, lobbying letters from SE, etc., would you possibly be pre-disposed to doing what your employer wanted?
An inquiry should look at the lobbying admitted to and what repercussions this had in terms of creating pressure to press ahead with the Trump plans.
Quango watchers will not be surprised by the overlap between ACSEF and SE; both unelected, both lobbying for their own causes with public money.
despite the expert opinion of Sarah Malone, these issues were not examined fully
Both quangos seem convinced by the economic arguments; perhaps the robustness or otherwise of the economic case for the course made at the time should be re-examined in public.  Perry may have been dismayed by the Shire's initial rejection; those who are interested in democracy may well be dismayed by Perry's lobbying, dining habits and spending.
Was it proper for Jack Perry to send Trump such a letter in the first place? Should unelected, publicly funded quangos pressure local or central government and shadow ministers? Should SE as a quango have sought environmental guidance from Scottish Natural Heritage before committing public money, some £35000, on a DVD and one thousand copies extolling the virtues of building a complex on two SSSIs?
Perhaps a public inquiry should be asking these questions, for despite the expert opinion of Sarah Malone, these issues were not examined fully, and have definite implications for the future.
For further details of the ongoing FOI request and the questions and anomalies involved, see   https://aberdeenvoice.com/2013/06/scottish-enterprise-trump-and-menie-business-as-usual/
Another article is in preparation concerning recently released Scottish Enterprise correspondence.
Aberdeenshire Council
Submission to the Committee by Shire Council Chief Executive, Colin MacKenzie.
http://www.scottish.parliament.uk/S4_PublicPetitionsCommittee/Aberdeenshire_Council
Comments on Scrutiny:-
"I would suggest that any such matters arising prior to and surrounding the call-in by the Scottish Government in December 2007 have already been exhaustively considered and debated. ……I strongly believe that no further scrutiny is required of events leading up to and including the call-in by the Scottish Government and I can find no substance in any of the allegations made against Aberdeenshire Council during the subsequent period with reference to either elected members' conduct or due planning process."
Summary of letter contents:-
"[begins by mentioning many historic inquiries, omitting the quantity of information since released and the number of issues subsequently arising]…I would also require far greater detail in order to respond to any such inferences made [in the film You've Been Trumped and/or at the committee hearing]  in relation to the conduct of Aberdeenshire Council elected members. What I would say is that both officers and elected members of the council take very seriously any allegation that the rules detailed in The Councillors' Code of Conduct have not been followed, being fully aware of their importance particularly when elected members are exercising a quasi-judicial role in regulatory matters… It is and has been Aberdeenshire Council's position that procedurally elected members are not provided with the detail of the planning obligation and financial contributions in order that there is clear autonomy in the process. I would add that as part of a wider council review of developers' obligations, the position is currently being considered here.
"It is misleading to say that all bar the original application at the Menie Estate have been retrospective. I can further confirm that with reference to the applications for full planning permission for further development at the Menie Estate, due planning process was and is being properly followed by the council in accordance with the relevant statutory guidance and legislation. … Also, where the council becomes aware of any breach of planning regulation which requires investigation, proper investigation is carried out with any appropriate follow up action taken. It is not the case that council officers are on site every week but only as required with reference to any statutory regulation whether in terms of planning or otherwise.
"… Unauthorised planning developments were not allowed to continue unabated at the Menie Estate nor was an unusual or different process adopted with reference to planning developments there. In 2012 there were 175 retrospective applications dealt with by the council. This represents only 4% of all applications submitted and of the 175, only 5 (less than 3%) related to the Menie Estate. The requirement to make retrospective planning applications is a common and consistent approach taken by the council to remedy breaches of planning control.
"With regard to some of the other points made during the hearing, I would explain that the clock at the entrance does have planning permission and there are a number of planning applications where the work is in accordance with the approved plans. The large marquee referred to was properly erected under the permitted development rights which allow for such structures to be in place for 28 days. The temporary clubhouse is in fact located as per the approved plans. It may be the case that reference is to its position indicated in the outline planning permission but that was only indicative which is perfectly competent. I can confirm that Aberdeenshire Council did previously investigate the use of the former Leyton Farm buildings and concluded that no unauthorised change of use of the buildings had occurred and that their use had been incorporated into planning permissions that had been approved. The council's planning service is currently seeking a retrospective application for an area of bund adjacent to Leyton Cottage. Although the car park and lighting were not constructed in accordance with the original approved plans, a retrospective application has now been granted for the works as they have been carried out.
"There have been a number of complaints regarding outdoor access restrictions at the Menie Estate, only some of which are valid in terms of preventing access rights under statute. Our officers have met with a representative from the estate on a number of occasions and were working with the estate looking into various solutions which would resolve users' access issues whilst taking on the concerns of the landowner/estate in relation to potential security risks and vehicle access. Menie Estate has recently instructed agents to act in this matter and the intention going forward is to correspond direct with them."
Comments on Aberdeenshire submission.
It is hard to know where to start; the letter paints a picture of a correctly-behaving council and misguided residents and observers.
It is possible to take exception to almost every idea it puts forth, but rebutting a few of its claims and attempts at explanation should suffice in making the case for Aberdeenshire being a Council where there are leadership, accountability, procedural and communication issues, to say the least.
With regard to the use of figures to try and trivialise the number of retrospective planning permission applications needed at Menie, this is at best disingenuous. We could likewise make statistical analysis of the applications over the size of the shire, and see how many are localised at Menie.
We could ask how many of the total retrospective planning applications made were for areas with stringent conditions laid down by central government. We could ask how many of these retrospective applications were for properties with their own dedicated Environmental Clerk of Works.
We could also ask for an explanation of how the weekly visits to the site to ensure planning permission was adhered to are now being denied. In August of 2011 Aberdeenshire's spokesperson wrote to me:-
"This development is well-scrutinised and the approved plans are being adhered to.
"Site inspections are undertaken on a weekly basis by various organisations to ensure that the development is being carried out according to the planning permission granted."
This does seem just a little at odds with the newly-stated position that MacKenzie takes.
I can see why Dr Lena Wilson gets to speak for Scottish Enterprise; it is not an elected body.  Were the elected members of Aberdeenshire Council consulted as to the contents of MacKenzie's submission, and should they have been?
MacKenzie's letter puts a good deal of emphasis on the councillors and their conduct.
He is well aware that Councillor Gillian Owen was an outspoken supporter of Trump; her own newsletter (now taken down alas) had a photo of her with Trump, apparently taken at a visit to the course. Perhaps she accepted not so much as a cup of coffee; for nothing appeared on her register of interests. Again, this is somewhat at odds with MacKenzie's sanctimonious offering.
It is also at odds with MacKenzie's attempt to give Councillor Martin Ford a dressing-down for the crime of being a councillor giving the BBC an interview at council premises.  In terms of following procedure and precedent, it should be noted the council stood at all times by Dr Christine Gore.
The main focus of any inquiry should be Aberdeenshire planning.
The conduct of Dr Christine Gore has not been looked at critically by the government as yet. She famously sought advice from the Trump team, and wanted to know how to manage the public over the impending approval. When in 2009 Gore was to be the subject of investigation by her professional organisation, the Royal Institute of Town Planners, over potential collusion with Trump, the Shire defended her.
The Shire, aware of communication between Trump's lawyers and Gore, issued a statement reading in part:
"It is very easy to throw around accusations in such a highly publicised case where misinformation by a number of parties always grabs the news headlines."
As Rob Edwards wrote:-
"Trump's lawyer, Ann Faulds, drafted a four-page report in Gore's name justifying the evictions for submission to councillors, though it was never used. An email from Gore to Faulds in April requested at least a week's notice of Trump's application to help manage media interest.
"Thereafter 'close liaison' would be required, Gore wrote, 'in order that we can have a managed approach to what is inevitably going to be a difficult and emotive reaction given that this new application will involve land outwith the applicant's ownership.'
Marshall alleged that Gore 'appears to have colluded with the developer's solicitor', and argued that her use of the word 'emotive' was pejorative. Her behaviour was in breach of the RTPI code of conduct requiring planners to act with integrity and to exercise 'independent professional judgement', he claimed."
http://www.robedwards.com/2009/11/probe-into-top-planners-collusion-with-trump.html
Gore has since been promoted and earns £109,827 per annum from the Shire.
The environmental clerk of works did quite some job; despite the many conditions put on building in this previously-protected area, a giant bund of earth now separates the Munro household from its former views of the water, blocks their light and has caused actual property damage as the sand and dirt blows off it into their yard, garden, cars and home.
This has never been looked at, nor indeed has the last-minute change in a retrospective application concerning this bund.
How precisely this giant mound of earth was allowed in the first place should perhaps itself be worthy of an investigation; to ignore this kind of planning debacle on such an unprecedented development will do nothing for the current residents, and ignoring the issue bodes very  badly for future developments.
The status of this giant mound of earth changes within the planning department documentation so often that it seems to be moving from an unplanned structure of considerable height causing damage to a mere blip worthy of retrospective approval. Still, Mackenzie tells the Petitions Committee that all is fine in terms of retrospective planning permission.
Outdoor access is still in contention, despite claims to the contrary, and other issues with how the Shire's officers handled the development past, present and future are worthy of perhaps their own separate investigation.
Perhaps if MacKenzie spent as much time worrying about the planning department, the environmental clerk of works, Gore's interaction with Trump, and so on as he does about Ford speaking to the BBC, an inquiry wouldn't be required. As things stand, whatever he might write – clearly in inquiry is needed.
Part 2 of this series will look at further submissions to the Petitions Committee, and will supply questions that should be asked at an inquiry. If any Aberdeen Voice readers would care to submit questions for consideration for this list, please get in touch. 
Comments enabled – see comments box below. Note, all comments will be moderated.