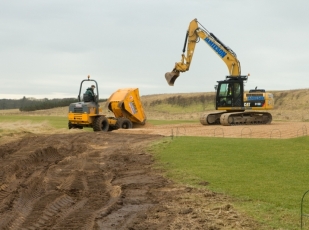 Since Donald Trump first applied for planning permission to build '
the world's greatest golf course'
on the Menie Estate, regular Aberdeen Voice contributor Suzanne Kelly has followed events closely.
Today Ms Kelly publishes a report on the Menie Estate outlining eleven major areas of concern. In each of those areas, various incidents, documents and decisions are examined, and recommendations made.
The yola web page will also have relevant links to Tripping Up Trump, the documentary You've Been Trumped, a petition calling for an inquiry, and more.
Kelly says,
"Putting aside my own personal feelings for the ostentatious Donald Trump, I could not understand why the idea of overturning the SSSI protection afforded to the dune system at Menie to allow construction of a golf course and housing complex – particularly with the housing needed to fund the golf course – got the go-ahead.  Like thousands of others, I wrote to Aberdeenshire Council to voice my objections. 
"Learning that the course would go ahead was disappointing, but seeing how the environment, people and due processes were treated was staggering.  I decided to collect together most of the worrying aspects of events at Menie with the goal of having relevant regulatory bodies, both public and private sector, investigate. What is going on here must not be allowed to set any precedents, and I believe some people and institutions should be called to account.
"It is wonderful that David Milne's petition for an inquiry has over 14000 signatures to date. Milne and the petitioners are asking the Scottish Parliament, through the Public Petitions Committee, to hold a public inquiry into the way local government, Scottish Ministers and other relevant public bodies conducted themselves when considering the Menie project.
"The Trump camp continually asserts that this was the most scrutinised application in Scotland, but the reality of the situation is that a range of past and present actions have escaped any meaningful scrutiny whatsoever."
The petition, at http://you.38degrees.org.uk/petitions/public-inquiry-into-handling-of-the-trump-resort is still gathering signatures.
"I believe that some QUANGOs, private entities, and environmental bodies must be called to account for their actions – or inactions – regarding this development. The Government, Aberdeenshire Council Planning, and Grampian Police in particular, feature prominently in my report."
Kelly's report will be sent to a range of stakeholders, regulatory bodies and to the national media in the coming days. Advance copies have been sent by request to researchers.
"I think it's time to take off the rose-coloured glasses. Are we really getting thousands of jobs and great economic and social benefits out of this scheme? How much have we paid for policing the area so far? One cancelled Trump visit to our area alone cost the police around £2000.
"Let's re-evaluate the optimistic projections on which this castle in the sand is being built. Trump is forever threatening to leave if we build wind farms. Perhaps our institutions should take a similarly-assertive position in forcing the Trump Organisation to stick to approved plans without deviation. I heartily welcome reactions from those institutions and individuals mentioned in my report."
Kelly has previously submitted a series of articles for publication in Aberdeen Voice highlighting a range of aspects of Trump International's operations at Menie, from the collapse of a culvert on the course to the marriage of Trump's Vice-President Sarah Malone to Press & Journal editor, Damian Bates.
"The relationship between the pair just might explain the P&J's stance on this development, which certainly has not harmed Sarah Malone's position with Trump. This relationship, and any financial implications arising from it, might be a matter for Aberdeen Journals Ltd, if not the Press Complaints Commission, to investigate.
"I have met such wonderful people from visiting the estate and from attending screenings of You've Been Trumped, that I felt it necessary to try to help somehow. I just hope some good may come from my report."
Comments enabled – see comments box below. Note, all comments will be moderated.