Suzanne Kelly
and AV photographer
Rob
discovered. On a recent visit they spoke to several residents and spent hours walking the area. Aberdeen Voice shares their findings in a series of articles.
King Canute demonstrated that although he was a wealthy king, he could not hold back the tides by standing on the shore as the tide came in. Trump did not get this memo.
There are signs of flooding all over the Menie Estate; this is not surprising as the North East is experiencing some of its wettest weather historically speaking.
But are things worse than if Trump hadn't been there?
An arcane system of visible plastic pipes installed by the Trump organisation is not exactly helping things – well, not for common access roads and the residents, anyway.
Unlike some conservationists who objected to the golf course, the Trump people didn't foresee what could happen when the weather got wild. How would the course hold up with the recent storms the North East experienced?
The path in question has the (formerly moveable) sand dunes and the North Sea on the east, and the course on the west.
In places, the course is very close to the sea indeed.
On our walk we found a large section of dune had crumbled. A World War II pillbox was newly covered by the falling sand and marram grass, planted to stabilise the dunes.
I guess Mother Nature hadn't got that memo.
The damage was striking.
While continuing our walk towards the fourth hole, we discovered a set of traffic cones ahead of us on the path.
It is just as well the light hadn't yet faded – or we might have fallen several feet into a newly-opened chasm.
Approximately four feet of the golf course path has simply fallen into the sea at Blairton Burn. It is as if Mother Nature took a bite out of the course.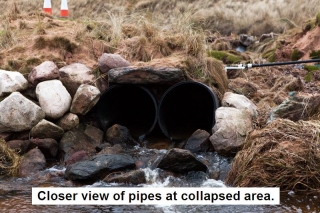 A large pipe leads out into the sea at this point.
Presumably if this pipe is being used for water runoff, it has been approved in advance by Aberdeenshire's environmental and planning experts?
The pipe had no foundation, just sand around it.
The cross section of ground clearly visible from the course collapse shows that there is a thin layer of turf directly over the sand.
Photographs illustrate this dramatic gap eloquently.
While there are cones warning of the huge gap, there is no protective fencing.
Even more worrying is that other sections of this portion of the 4th hole might likewise be ready to fall into the sea.
In the news this past week a couple bid £80,000 to come and play here, including transportation, meals, etc.
We wonder in what state they will find 'The World's Greatest Golf Course' when they arrive.
As the dunes shift, and the course crumbles (in one place anyway), how are the residents faring? Not very well, as a subsequent article will demonstrate.
Comments enabled – see comments box below. Note, all comments will be moderated.