Julie Thompson shares her experience as a fledgling music photographer, and a few of her pictures of Johnny Marr and support act, Meredith Sheldon at The Garage, Aberdeen on 9 October 2013.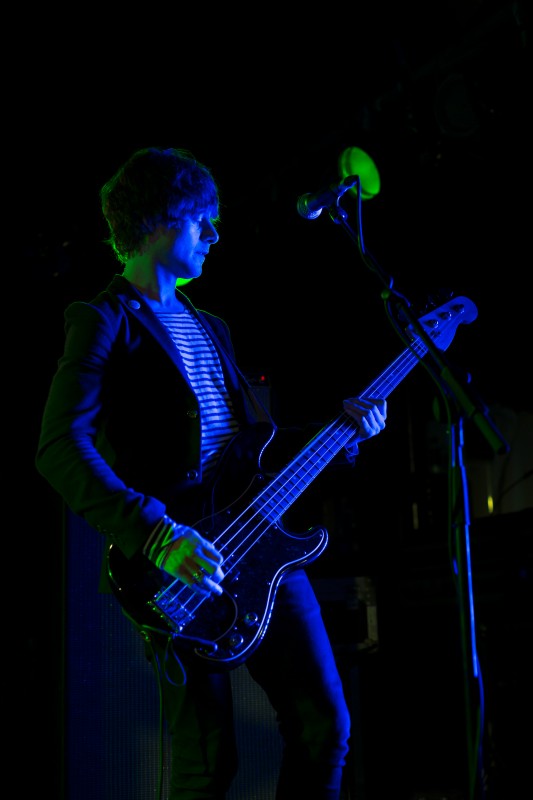 Sitting waiting patiently in the photo pit for former Smith Johnny Marr to come onstage, I thought back to the time when I wondered just how people got in here.
Now I know. Sometimes it's luck, sometimes it's who you know, sometimes who you shoot for. For those at the top of the game, it's what they can do. Me, I'm just starting out.
Now I know, that having acquired that prized photo-pass, you get the first three songs in the pit and then you're kicked out. If you don't get what you need in that brief window of opportunity, tough.
Often, like today, you may not even find out if you have access until a few hours before. I got my pass confirmation e-mail only this morning, for a gig with doors open at seven this evening.
Sometimes you get to the venue only to find your name is not on the list after all. That was not my fate today; I collected my pass and headed into The Garage, formerly Moshulu, on Windmill Brae.
I arrived a little after 1900 and the place was almost deserted. As I'd not been here before it gave me a chance to find my bearings without fighting through crowds.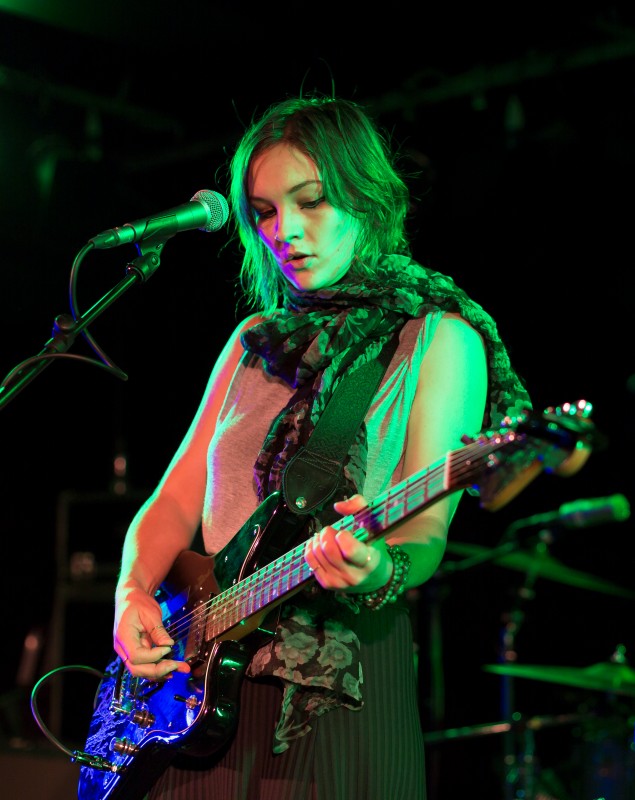 Be aware, if you need to find the bathroom here, DO NOT leave it until the last minute. It's a fight to get there when the place is full and the only puddles we want to see on this floor are puddles of spilt beer.
I bumped into a fellow tog and we headed down for the support act.
We had the pit to ourselves to photograph a gorgeous young American lady, Meredith Sheldon. The camera loves this lassie and she was a pleasure to shoot.
Playing lead guitar accompanied by a bass guitarist, a floor-length skirt pointed out to us that she was a girl playing rock guitar who supported The Lemonheads on a previous tour.
Three songs later and we left. The odd thing about this game is that you don't tend to hear the music while you're shooting. It can be quite intense in the pit.
You don't have long to warm up, figure out your camera settings and get the shots you want.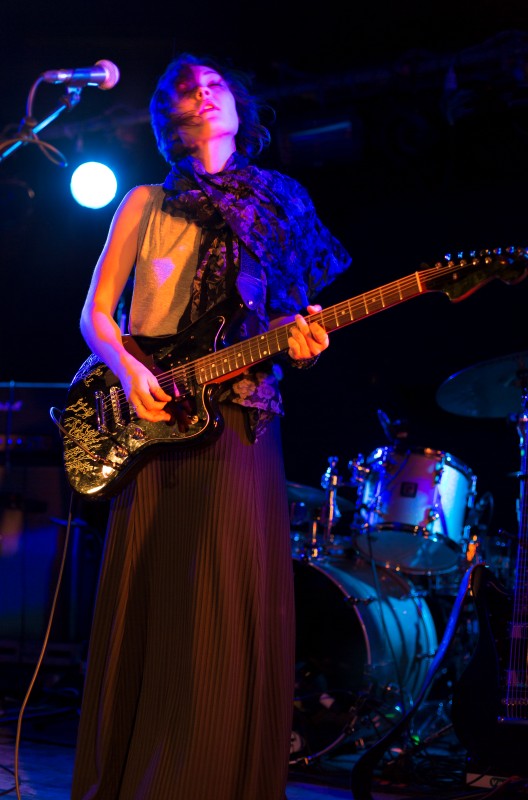 Ever-changing lighting can be a challenge, very dim lighting a nightmare. No flashguns are allowed in the pit, after all.
Things outside had changed in that time; many more people had arrived, but the place wasn't really busy yet. We grabbed a drink and listened to the rest of Meredith's set.
Having finally got a chance to listen to her, I decided that she's good. You can find samples of her music on her website and she's worth a listen.
A photographer from a local newspaper arrives, so there will be three of us in the pit for Johnny Marr.
It's a good-sized pit, not overly deep but with enough room for moving around. Sometimes the pits can be challenging, as the order you enter is the order you stay in, not ideal for getting different angles.
This venue has early start times for live music and quick turn-around between bands, mainly due to the fact that it's used as a late-night clubbing venue after 2230, so we headed back to the pit to wait. We weighed up the new microphone layout on stage and picked a start point.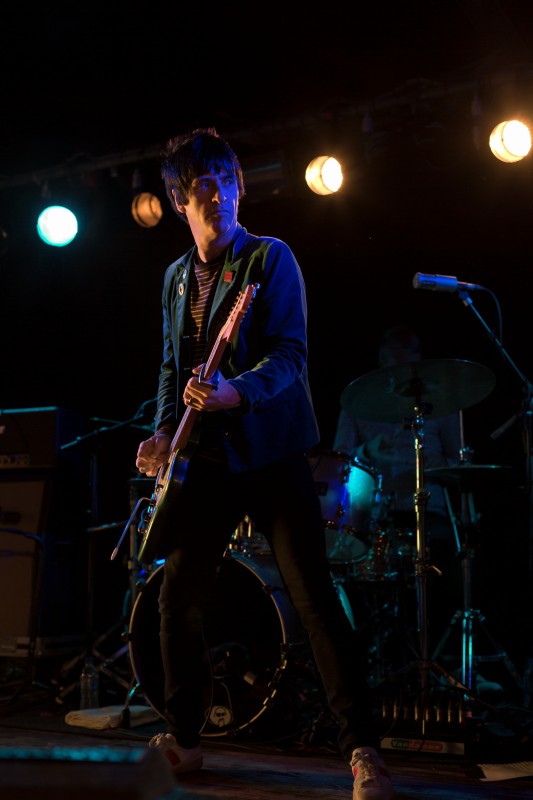 As sitting on each other's knees is a no-no, the prime position is usually grabbed by the first one into the pit. As the time progresses we will all take turns in the different spots, so it's no biggie.
I did a final mental check on camera settings, grabbed a quick photo of the set list and shot some tests of the crew as they made last minute adjustments to the equipment on stage.
The tension was worse than waiting for your exams to start in school.
What went through my mind, when Johnny Marr and his band first came onstage?
'Wow, it's gone very dark. What's that flash? Oh, it's a strobe. I can't focus on anything here… it's going to be a disaster!'
Then the stage lights came on and we were away.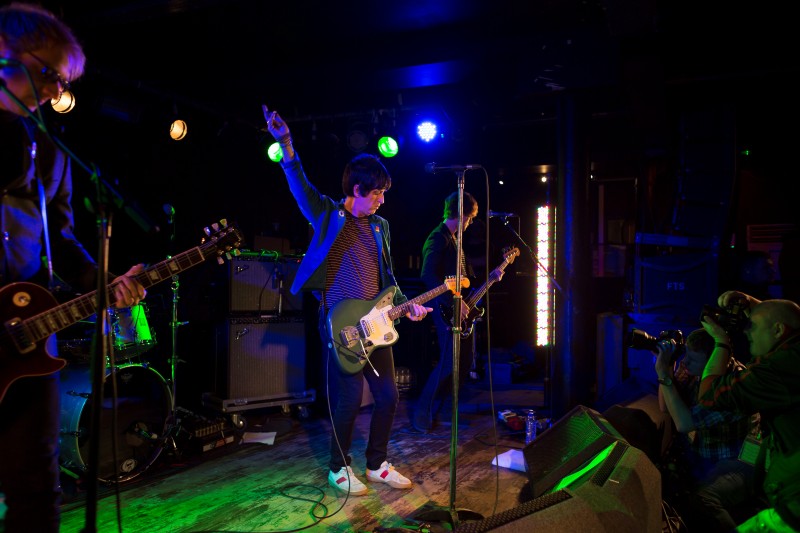 The time flew by and all too soon we were being ushered out of the area. The place was packed by this point; it was a sell-out.
I grabbed a drink and then did some chimping* at the back of the venue.
I finally got a chance to listen to the rest of the set without seeing much. One of the hazards of getting pit access is that you usually get a crap view later on.
Between songs, Johnny was complimentary of Aberdeen as he'd apparently had a wander during the day and liked the place.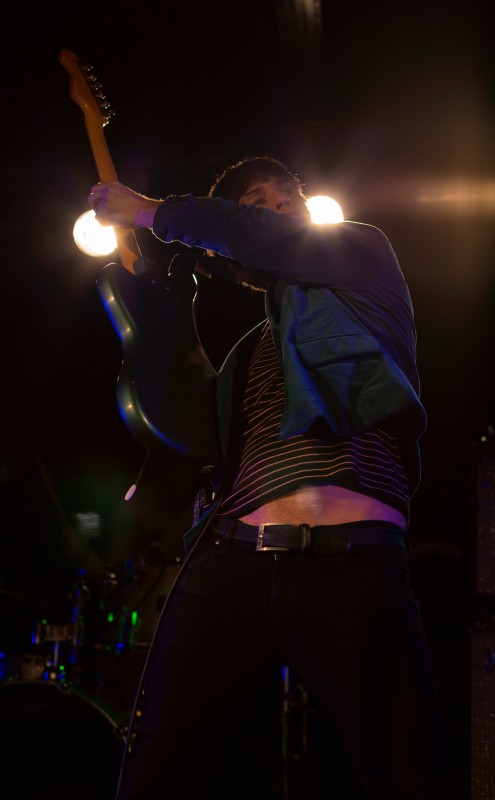 The crowd was jumping and as we reached the last few songs the place erupted as some old favourites rang out, including an excellent cover of I Fought The Law.
Out into the night, it was hissing down, I popped into Drummonds for a quick look at a new venue to me.
I'll be shooting Catfish and the Bottlemen there on Friday.
*Chimping – looking at the pics on the back of your camera and going 'oo oo' when you see a good one.
More photos:
Johnny Marr: http://www.flickr.com/photos/ladypakal/sets/72157636386073343/
Meredith Sheldon: http://www.flickr.com/photos/ladypakal/sets/72157636386410513/

Johnny Marr Set List (for those who like that sort of thing)
Upstarts
Panic
Right Thing Right
Sun and Moon
Crack Up
Stop Me If You Think You've Heard This One Before
New Town Velocity
The Messenger
Lockdown
Say Demesne
Bigmouth Strikes Again
Generate! Generate!
Word Starts Attack
I Want The Heartbeat
How Soon Is Now?
———————–
Please Please Please Let Me Get What I Want
The It Switch
I Fought The Law
Getting Away With It
There Is A Light That Never Goes Out