Aberdeen Chorus of Sweet Adelines, one of the most successful medal-winning Barbershop choruses in the UK, returned from Edinburgh recently  – their third successive year there – hailing their show at the Fringe a triumph. Marketing and Publicity Officer Linda Allan tells us more.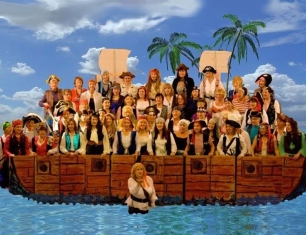 Despite their many adventures on the way there, including thunder storms, mini flash floods on the motorway, a rescue by the A.A., cancelled trains and problems with the staging, all the intrepid lady pirates made it to the venue to the obvious delight of the enthusiastic audience, who gave a standing ovation claiming the show
 Adventure On The High Cs
was "the best one yet"
Now Aberdonians will also get a chance to see these intrepid women display their pirattitude as Adventure On The High Cs will form part of their show in the Music Hall on Friday 16 September at 7:30pm.
Audiences will be treated to a very varied performance, with glimpses of Abba, flashing cutlasses, Gilbert and Sullivan, humorous ditties, and traditional Scottish airs, including a very special arrangement of The Northern Lights.
Sharing the stage this year will be the local successful trio of Fifth Dimension with their special blend of magic and humour which is sure to engage and astound the audience.  Spectators will also be treated to enthralling performances by dancers from the very successful Sharon Gill School of Dance.
Tickets £12 (£10) are available from
Aberdeen Box Office on 01224 641122
www.boxofficeaberdeen.com
Free singing lessons
In addition to their Music Hall show the chorus is offering a free 4-week singing course to women. These lessons will take place on Mon 24 Oct, Mon 7 Nov, Mon 21 Nov, and Mon 28 Nov 2011 at 7:30pm in the Britannia Hotel, Bucksburn.
Participants will receive tuition on breathing and posture, vocal production and performing skills in a warm and friendly atmosphere. All course materials – music and learning CDs will be provided – there is no need to be able to read music – but you need to enjoy singing!
For more information contact us via the website www.aberdeenchorus.co.uk