Julie Thompson takes in The Dillinger Escape Plan at The Garage in her continuing series on the life of a pit photographer.
Do you ever wish you'd brought your sunglasses to a gig? Certainly someone on Twitter recommended that others do, regarding one gig I attended recently. I'll come back to that.
After an unusually quiet, gig-free weekend, I headed back to The Garage on Monday 4 November for The Dillinger Escape Plan,  a five-piece American mathcore metal band with a reputation for crowd involvement, amongst other things.
I had been looking forward to this for some days.
The two supports were Maybeshewill, a lively Leicester quintet, and Three Trapped Tigers, a trio, as their names suggests, from London. Unusually, both bands were vocal-free.
Maybeshewill have gorgeous tunes underpinning their work. All their material is self-recorded and fantastic to listen to. I recall one of the later tracks had spoken words playing over it, as if a film was being heard in the background.
Andy Thorn, another local *tog , arrived between Maybeshewill and Three Trapped Tigers. We had a brief chat while he got his gear ready and he said he was looking forward to shooting Dillinger.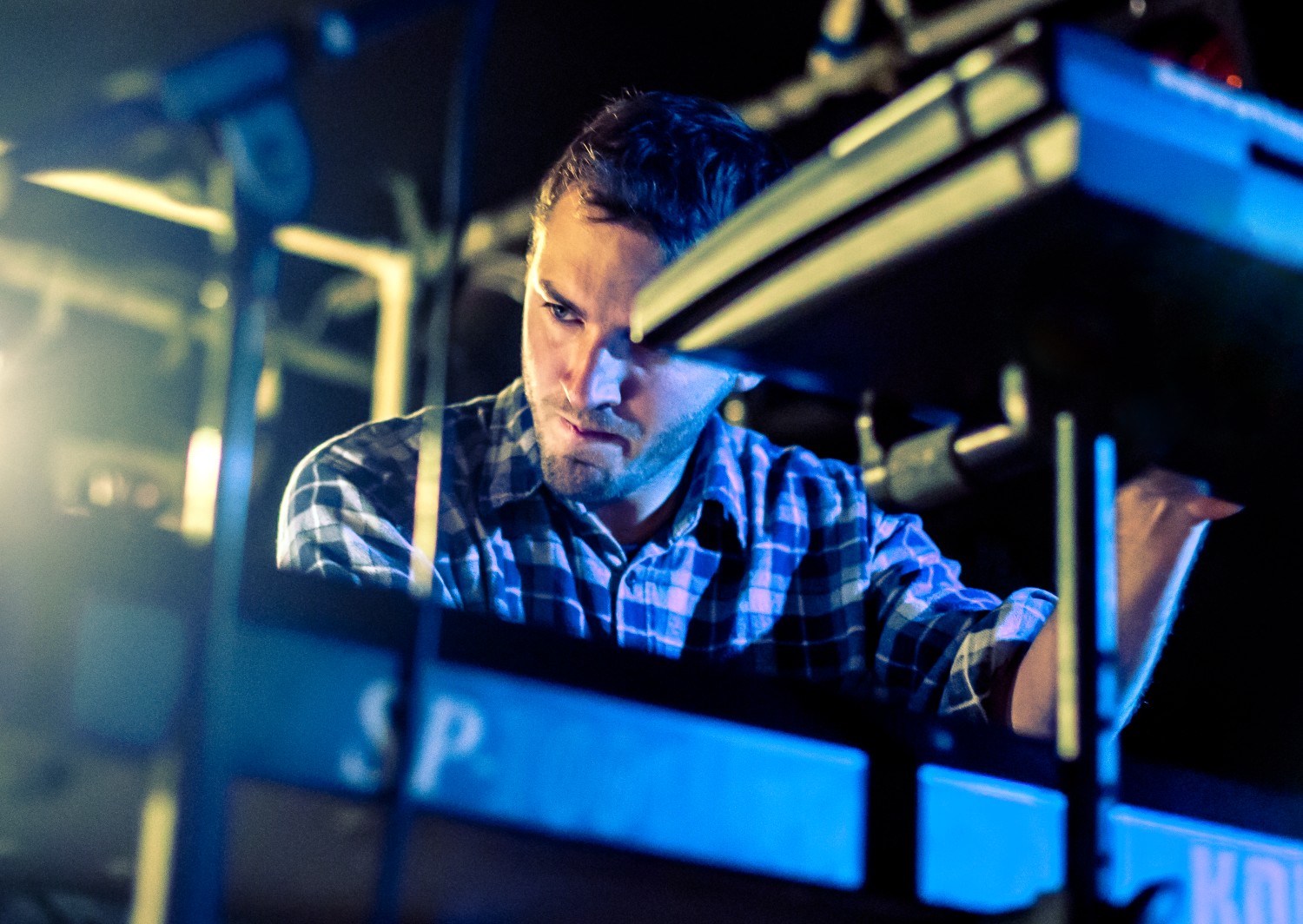 Three Trapped Tigers are mostly instrumental too, using their voices as instruments rather than for delivering lyrics.
Trying to match names to faces, when labelling my photos, I came across a youtube video which stopped me dead.
It was beautiful – a simple piano version of one of their songs, Cramm, played by Tom Rogerson on piano on London's Millennium Bridge.
The piano was part of the 2011 Play Me, I'm Yours art project, where pianos were installed in the streets, parks, bus shelters, markets and general public spaces of cities worldwide. What a fantastic idea.
Tom Rogerson of Three Trapped Tigers plays a version of 'Cramm' on a street piano at Millennium Bridge, London 2011.
What a treat – two support acts both really enjoyable to listen to and shoot.
So, back to the sunglasses question.
When The Dillinger Escape Plan came onstage my eyes started to blink madly – good grief, strobe-tastic or what?
No time to worry about that though, as total madness ensued. Frontman Greg Puciato, and his radio mic, were off over the pit wall and gone. OK, focus the camera elsewhere until he returned. Except for the blinding white lights of course. In between the strobes was darkness, occasionally some OK light but there was a lot of smoke.
Hmm, strobes are a new experience for me – this was going to be tricky.
At points I remember sharing a look of amazement with Andy, and throwing my head back and laughing like a hyena; despite the difficulties it was awesome fun!
Up close and very personal at times, a guitarist over my head with  one leg on the stage, the other on the pit wall, and the pit wall shaking like there was an earthquake going on, due to a very energetic crowd.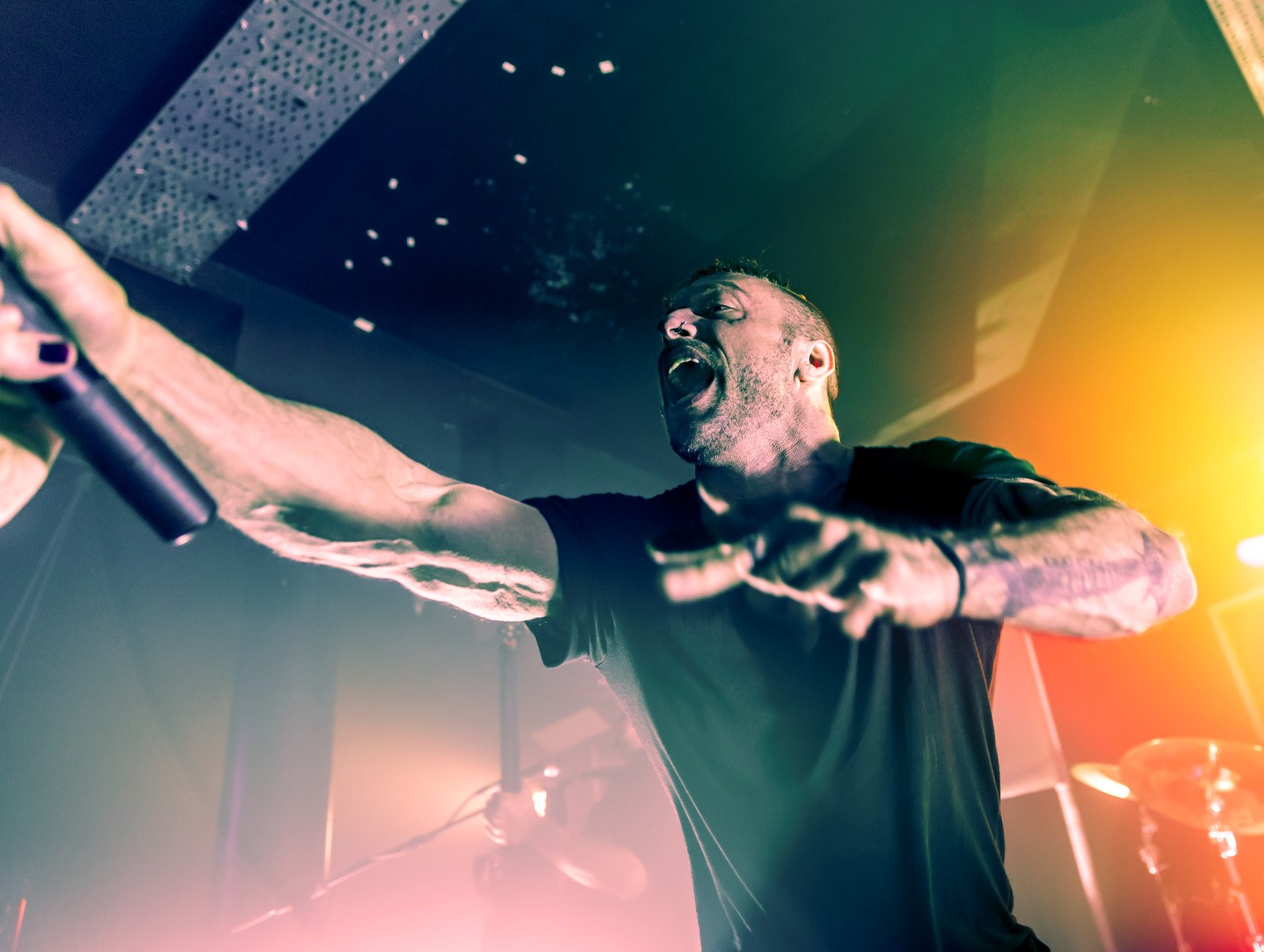 From the few images I managed to peep at on the back of my camera while in the pit, I wasn't very confident I'd have many of use.
Still, I hope I'll have a better idea of how to handle this sort of situation next time I come across it.
Once out of the pit, I picked a spot out of the way, on the stage side stairs to the cloakrooms, to watch the rest of the show. Andy stayed down by the pit exit, well-positioned for one unexpected event.
Ben Weinman, lead guitar and founder of the band, has a habit of hanging upside down from the ceiling to play. Unfortunately, when he tried it here he fell into the pit.
I'm not sure if he couldn't get a good grip or if something in the ceiling gave way. It must have hurt. It certainly broke his guitar, but he picked himself up and carried on with another guitar. I watched, with interest, the regular guitar swaps, for fresh strings, or for charged radio transmitters.
The roadie working below me was certainly kept busy with gaffa tape and the like.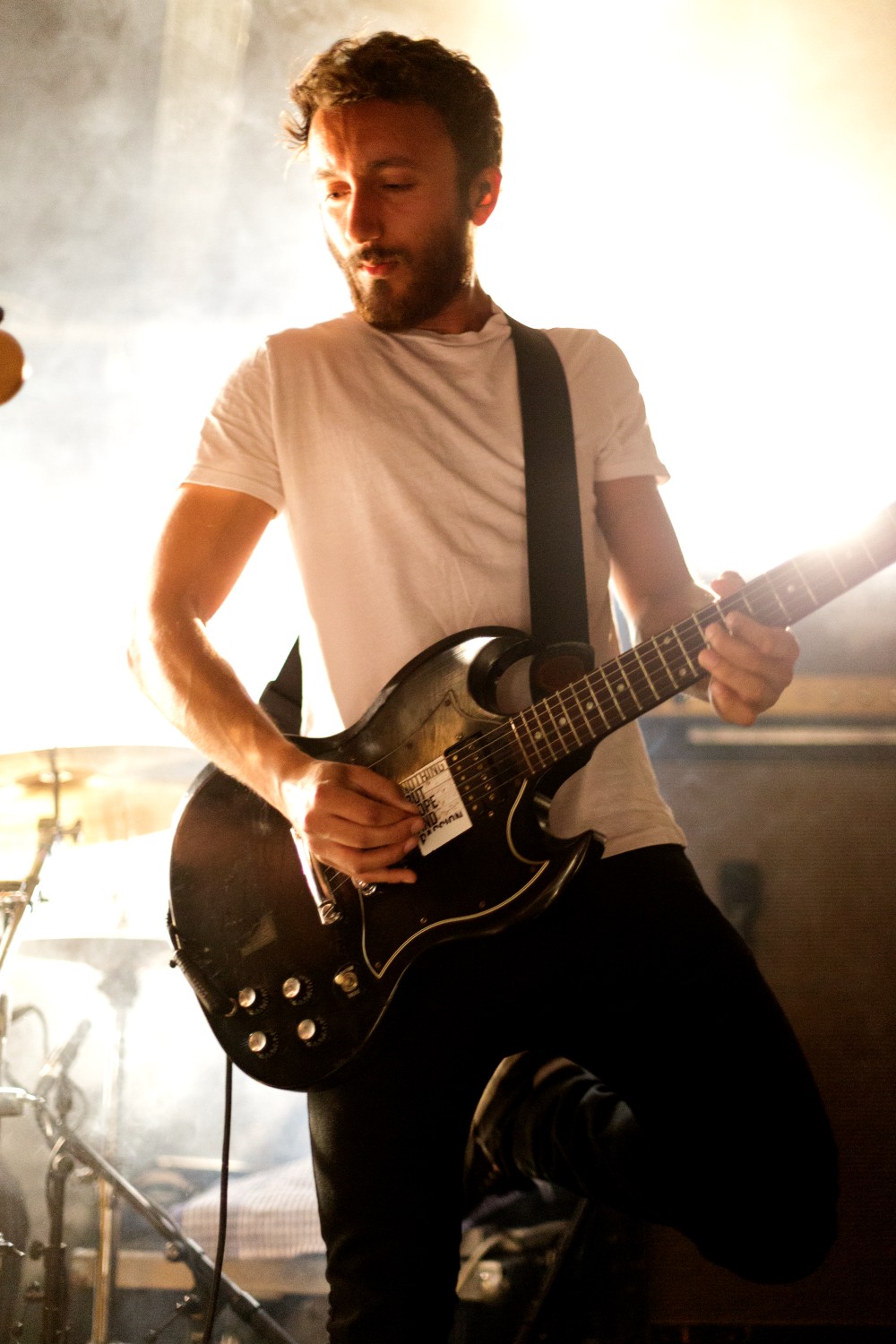 I remember little details, Ben Weinman kneeling down to grab a water bottle, and using it to knock his guitar strings to keep the rhythm going while he unscrewed the top. The Garage house photographer, climbed the speakers, like the frontman did, to try to get some good shots.
Greg Puciato headed off into the crowd again while they stampeded in a ring around him and security tried to herd him back onstage. It looked as if  the crowd launched him over the pit wall as there's no way he could have managed that leap unaided.
A remarkable show that made me feel tired just watching it. By the time I got home my head was throbbing from a strobe-hangover.
So two Nurofen and off to bed, whilst the photos transferred to the laptop.
Next time, I talk to Matt Jolly, house tog at The Moorings, who has been recording the events of a US trip with Tom Simmons of Fat Hippy Records, Amy Sawers and Craig John Davidson, who went over to support Terry McDermott.
*tog – short for photographer and much easier to spell.
More Photos:
Maybeshewill
Three Trapped Tigers
The Dillinger Escape Plan
Comments enabled – see comments box below. Note, all comments will be moderated.