Julie Thompson shares her experience as a fledgling music photographer, and a few of her pictures taken at The Old Granite Whistle Test at HMV between August and October 2013.
Here's a little quiz for you. What do Gerry Jablonski, Craig John Davidson, Amy Sawers, The Lorelei and Little Kicks have in common?
If you answered 'Fat Hippy Records', then you'd be right. But were you also aware that they, and several of their Fat Hippy siblings, have also played free gigs in HMV on Thursday nights for the last few months?
Let me present The Old Granite Whistle Test:
"The Old Granite Whistle Test is a weekly event at HMV in Aberdeen. It occurs weekly on a Thursday evening at 6:00. The band night was initially set up by HMV as a platform for new rising local acts to get some publicity, but quickly became a partnership between Captain Toms/Fat Hippy Records and HMV Aberdeen. As of the present moment, Steven Spencer and Tom Simmonds are dual organisers of the weekly event."
The Old Granite Whistle Test sessions began on 1st August 2013 and were kicked off by Daniel Mutch, a young acoustic singer/songwriter.  The second week showcased Craig John Davidson, whom I have since had the privilege of seeing play, when he supported The Lorelei at Meldrum Town Hall.
Sadly, I was unaware of these sessions until the third one, when The Lorelei came down to entertain us.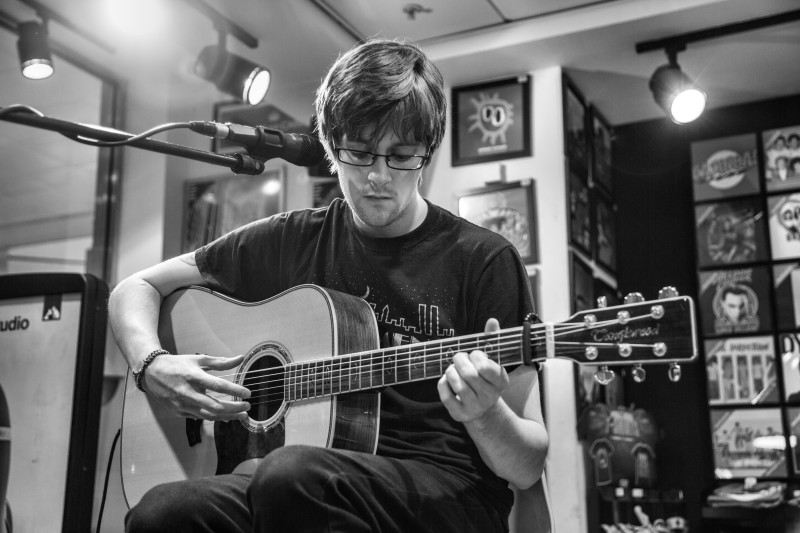 Despite complaints from a neighbouring vendor that they were too loud (just how is that possible?) they did their thing with that exuberant joy for their music which they seem to have, whenever I see them play; and, as a bonus, they got complimentary juices from the Juice Bar.
First Leanne Smith, a bonny girl with a sweet smile and voice to match, and then Amy Sawers, amazing voice, entertained us on the following Thursday evenings, bringing August to a close.
September's line-up began with Robbie Flanagan and his guitar, and the following week, the twin rappers SHY & DRS, accompanied by Dave Brown on guitar.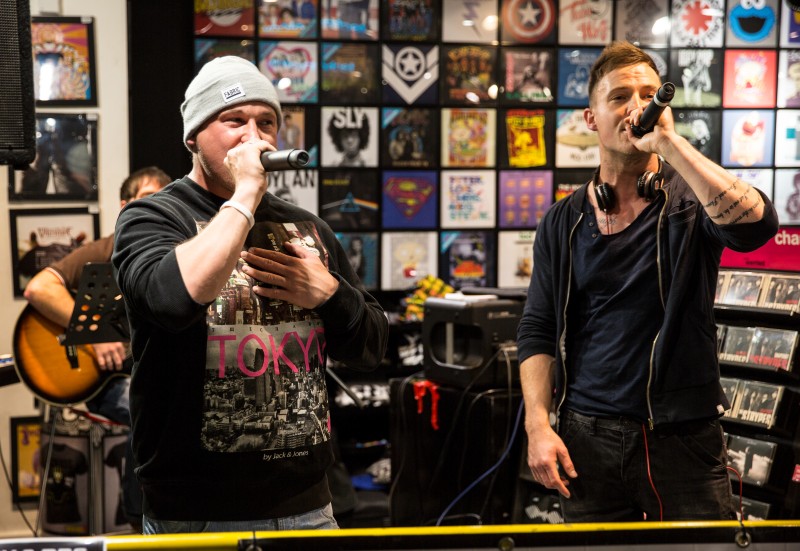 They also filled Sandi Thom's vocals on their Top 40 hit, The Love Is Gone.
The non-acoustic part of their set was sadly cut short due to technical problems.
The third session, featuring Uniform, had a delayed start as their frontman was caught in traffic.
Unfortunately, I only caught the very start of their set as I had an appointment elsewhere.
The fourth week was a blast, with Gerry Jablonski and the Electric Band bouncing around HMV, fresh from their new album launch at The Lemon Tree; which was, incidentally, my first official music shoot, providing images for the Aberdeen Voice.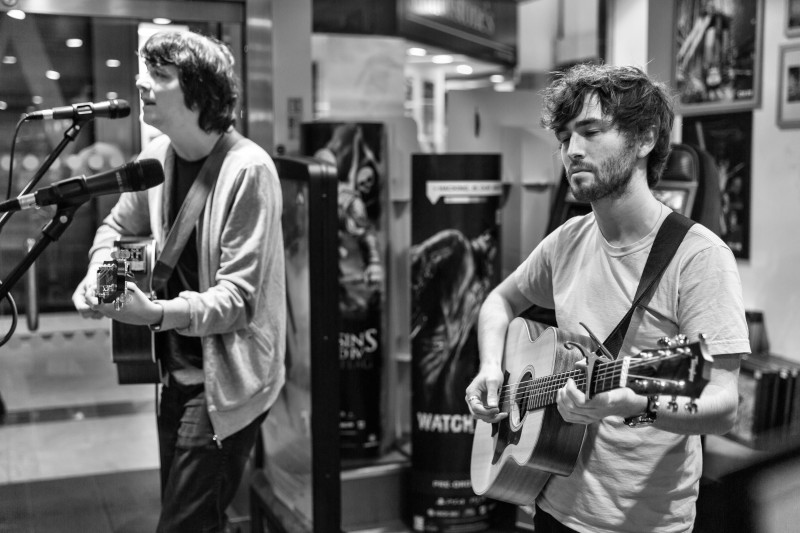 What an excellent way to wind up September.
October opened with The Little Kicks, well, half of them, who are always a favourite. As they were playing later that evening at another venue, the drummer and bass player were not performing, although I did spot them lurking in the crowd.
I first encountered, and shot, this band at the Brewdog AGM in August. I was attending that event to provide images for an Aberdeen Voice article.
In fact they were, along with The Xcerts, the first live music I'd shot, apart from at the Belladrum Festival a couple of weeks earlier. Confession time: it gave me such a buzz that I wanted to do more.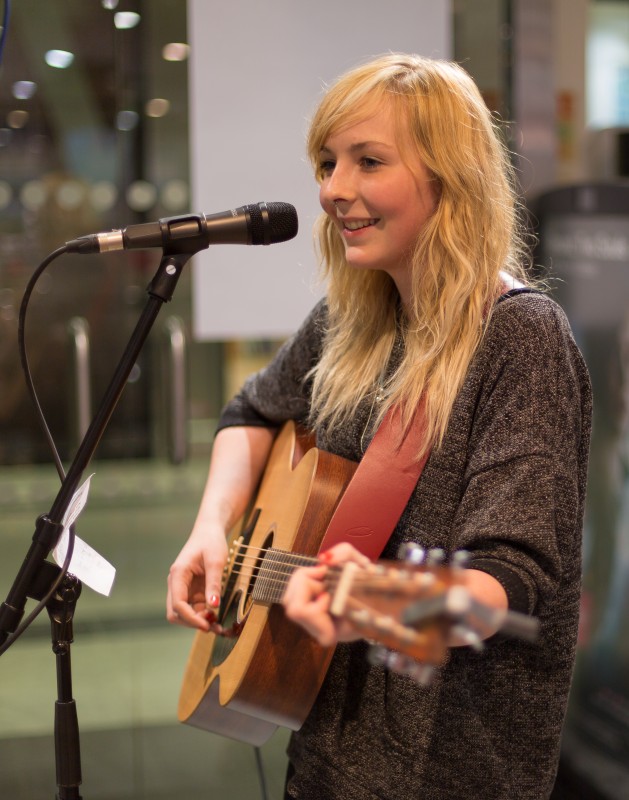 Cara Mitchell played the second session of October. It was the first time I'd had the pleasure of hearing her.
The third week was supposed to be the Polish band, CETI, fresh from their Lemon Tree album launch.
However, due to illness they were replaced at short notice by Jon Davie.
I'd come across this singer/guitarist before when he played a solo acoustic set at The Lemon Tree.
He's the frontman for GutterGodz, who I went down to Stonehaven Town Hall on Oct 25th to shoot, along with Deadfire and The Ruckus.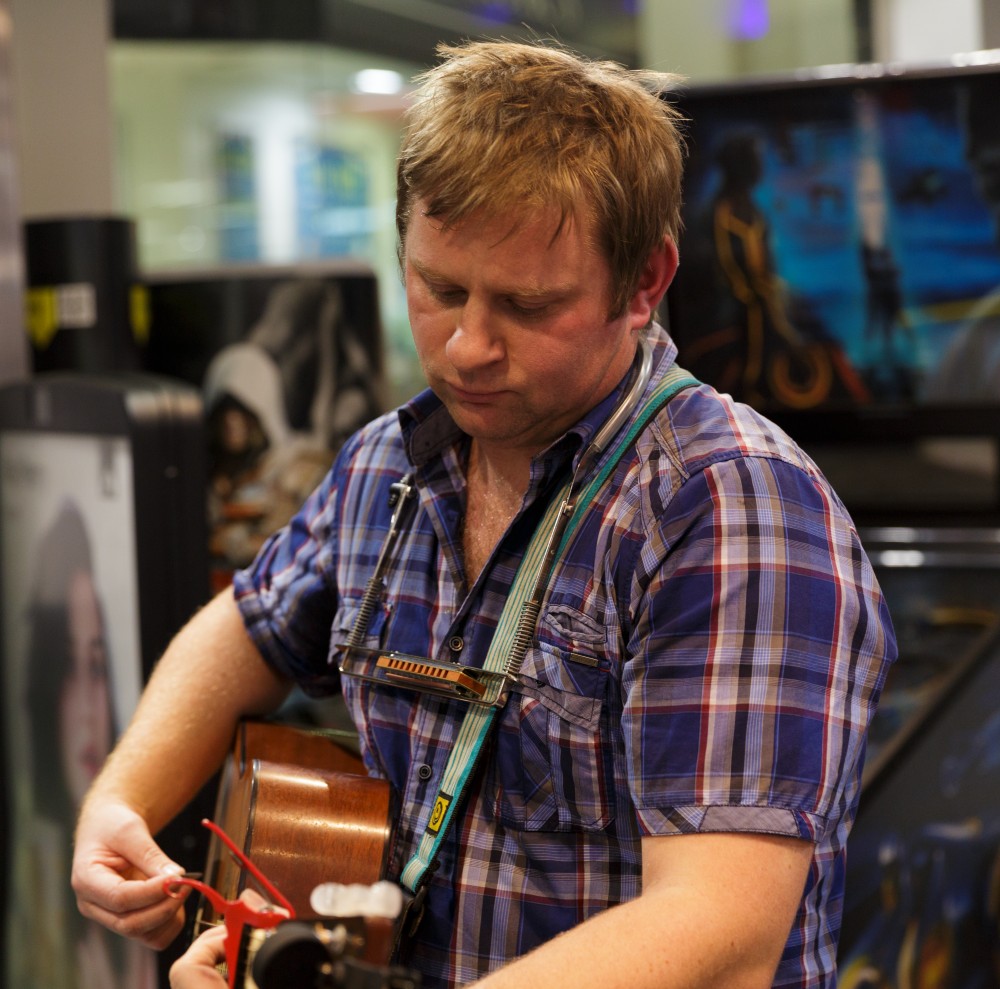 Colin Clyne, back home from a long stint in California, played the fourth week.
He has a good voice, which he accompanies with his guitar and mouth organ.
Having built up a following in the United States, he is hoping to repeat his success back home.
Over the weeks, I've chatted with Captain Tom of Fat Hippy Records about these sessions.
I put a few questions to him:
Q:  Who came up with the idea of The Old Granite Whistle Test, and the name?
A:  It was Steve Spencer, who works at HMV, who came up with the name and made the effort to get everyone involved.
Q:  Has it been easy to persuade the acts to play?
A: Very. No one has needed to be persuaded, I think just about everyone we asked said yes, if they were available, and many more have asked to play.
Q:  Have the bands enjoyed the experience?
A: I believe so. Some nights have been busier than others, but I think most relished the opportunity to play HMV for the first time.
Q: So, was it a frustrating or fun experience for you?
A: A bit of both, I suppose, if I'm honest. It's great to be involved in an exciting new outlet for Aberdeen's burgeoning and talented live music scene, but it can be a frustrating business when bands cancel at short notice or there's a lack of support for really talented artists. But that's the same for all gigs everywhere.
Q:  Are there any amusing anecdotes you can relate?
A: Well, there have been a few interesting moments along the way. Without being specific I'll confess that most of them involve the weekly running of the gauntlet with traffic wardens, to get parked anywhere near HMV to unload the PA. They're very good at their job, so they are.
Q: Have HMV enjoyed giving up a bit of their floor space and time, do you think?
A: I think so. I get the impression they have probably wanted to do something like this with local music for some time, and it's just taken a while for the opportunity to arise.
Q: Will you be doing more next year?
A: I hope so. This first 3 month stint from August to October was in some ways an experiment to see how it went, and what sort of response it got. So we'll sit down with the powers that be at HMV over the next few weeks and see how we all feel it's gone. Hopefully everyone's happy and we can find a way to do another 3 month stint in early 2014.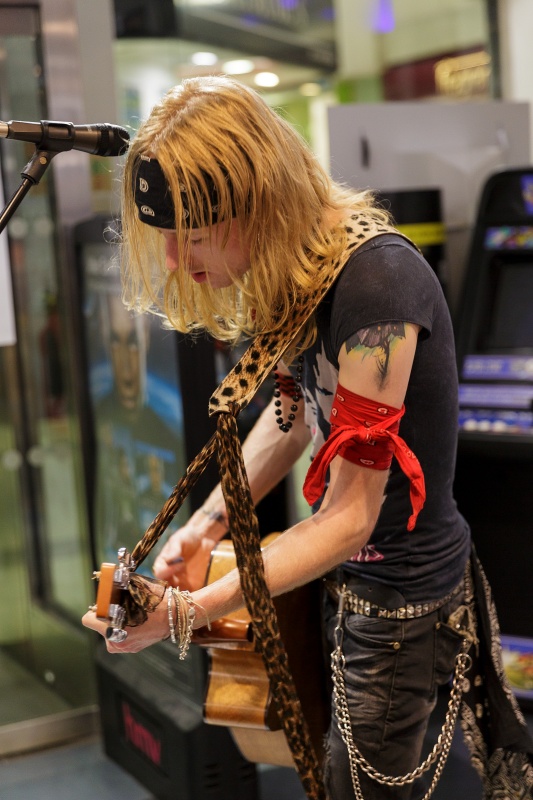 Suburban Saints will complete the October line-up on the 31st, and, indeed, bring The Old Granite Whistle Test to a close for 2013. Whether it returns next year remains to be seen, but for me it has been a great way to see some of our local talent in action.
If The Old Granite Whistle Test returns next year, I shall certainly be there.
You've heard a little bit in this article about how and when I got started photographing live music.
In future weeks I plan on catching up with some of the local music photographers for a chat, to find out how they got started, their best and worst experiences, and maybe even garner some tips.
Click here to view more HMV Photos.
Comments enabled – see comments box below. Note, all comments will be moderated.