Craig Chisholm reviews Alice Cooper / The Stranglers / MC50 @ P&J Live, Aberdeen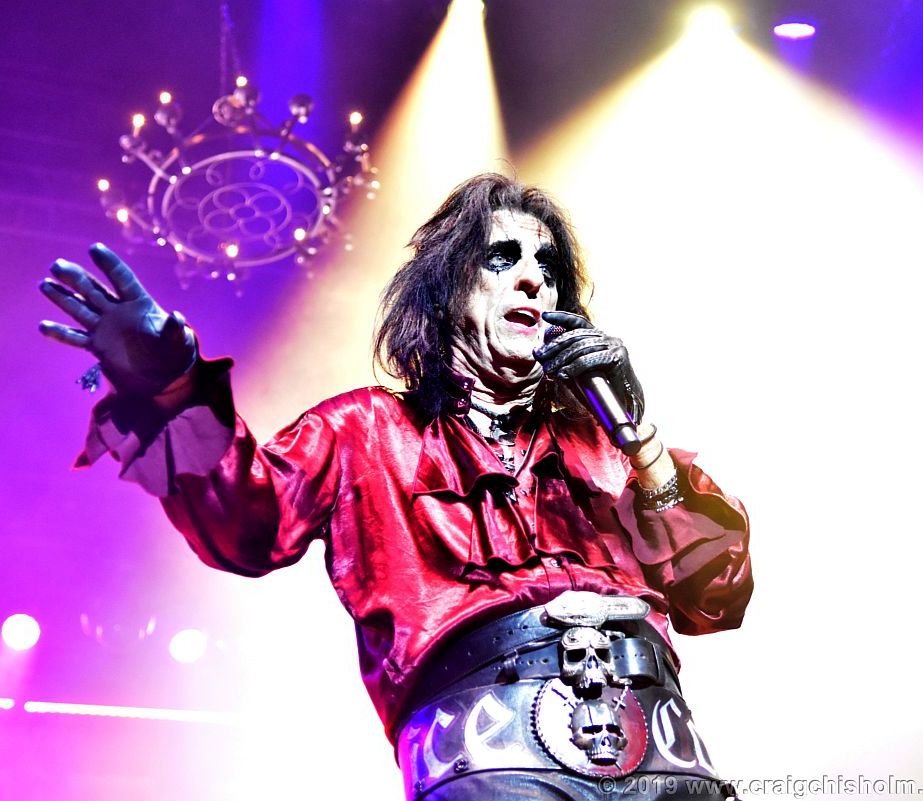 It was a night of firsts in Aberdeen as the new P&J Live arena held its debut gig. and rock legend Alice Cooper visited the city for the first time in his near half century career.
Also celebrating 50 years are opening act MC50. This is the current name for original MC5 guitarist Wayne Kramer's touring act which is celebrating the seminal US proto-punk classic album 'Kick Out the Jams'.
The band is a who's who of underground and alternative rock legends – as well as Kramer on guitar and vocals there's Faith No More's Billy Gould on bass, Soundgarden guitarist Kim Thayil, Fugazi drummer Brendan Canty and on vocals, Marcus Durant of the band Zen Guerrilla who have released albums on feted records labels such as Alternative Tentacles and Sub Pop.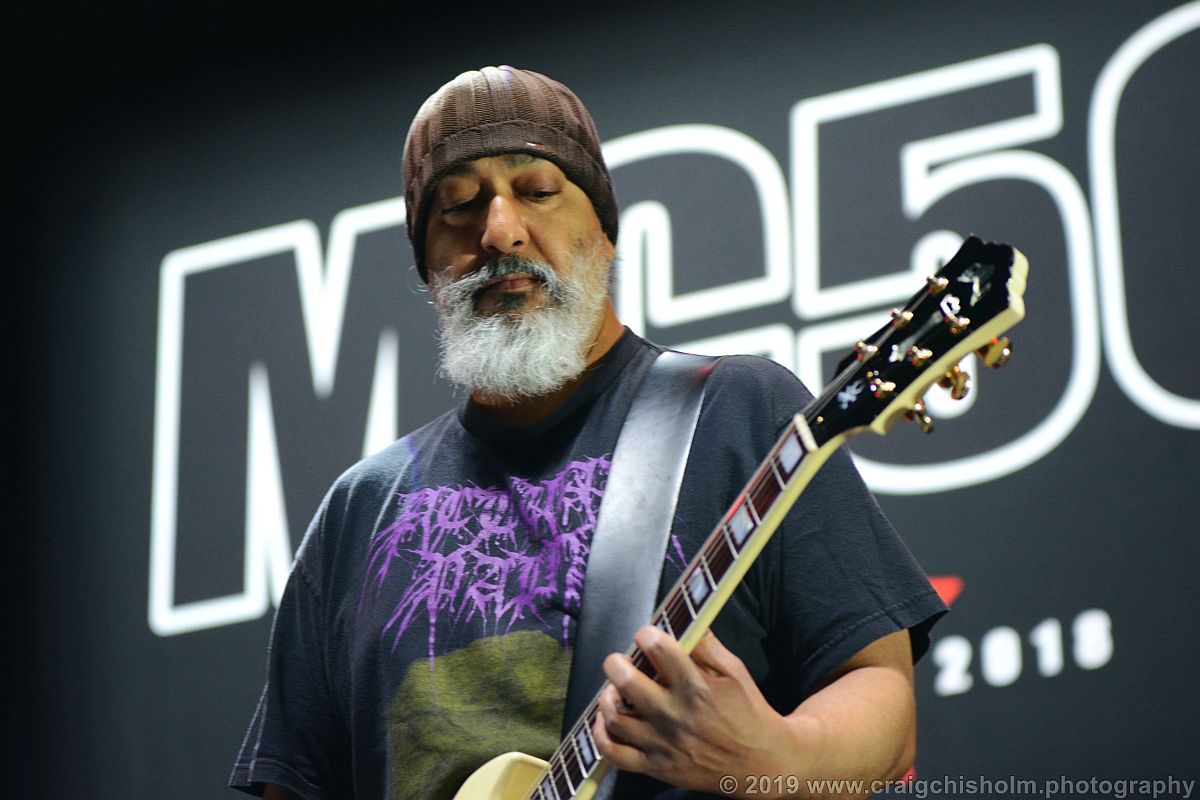 If the line-up of the band is jaw dropping then the music is even more so. Rock staples such as 'Rambling Rose' and the aforementioned 'Kick Out The Jams' are electrically charged and life affirming.
In these politically charged times it's essential to have politically aware bands and MC5 are the originals.
It's an honour to see them. Essential listening for anyone not familiar with these classic Detroit rock legends.
Middle of the three band bill is another legendary act. The Stranglers need no introduction; such is their legacy and body of work.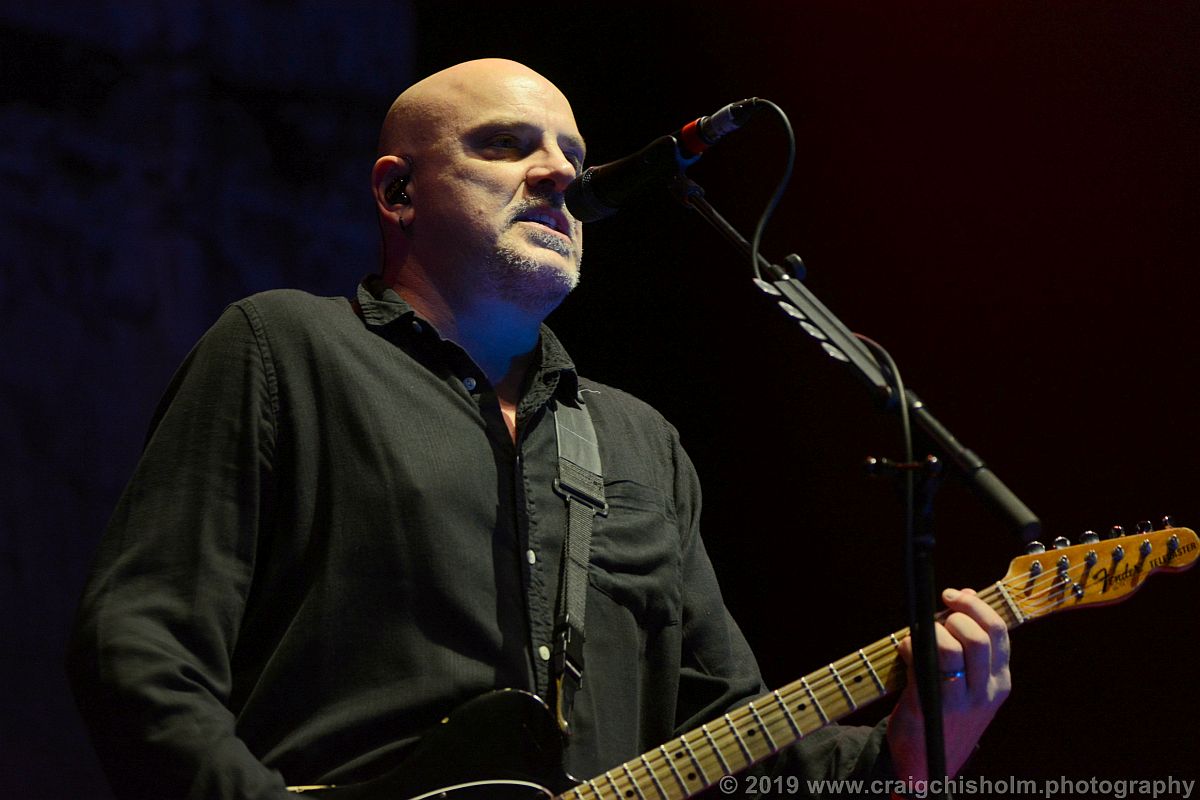 It's a tight, 11 song set lasting 50 mins they perform, filled with classics.
Massive hits such as 'Golden Brown', 'Peaches' and 'No More Heroes' pepper the set, along with rockers such as '(Get a) Grip (On Yourself)' and 'Hanging Around' and their cover of Dionne Warwick's 'Walk on By'.Dressed in black and minimally lit the band give a masterclass in understatement that provides a suitable juxtaposition to the headliners performance.
There's no subtlety or understatement in Alice Cooper's performance – its pure overblown theatre from the moment he walks on stage.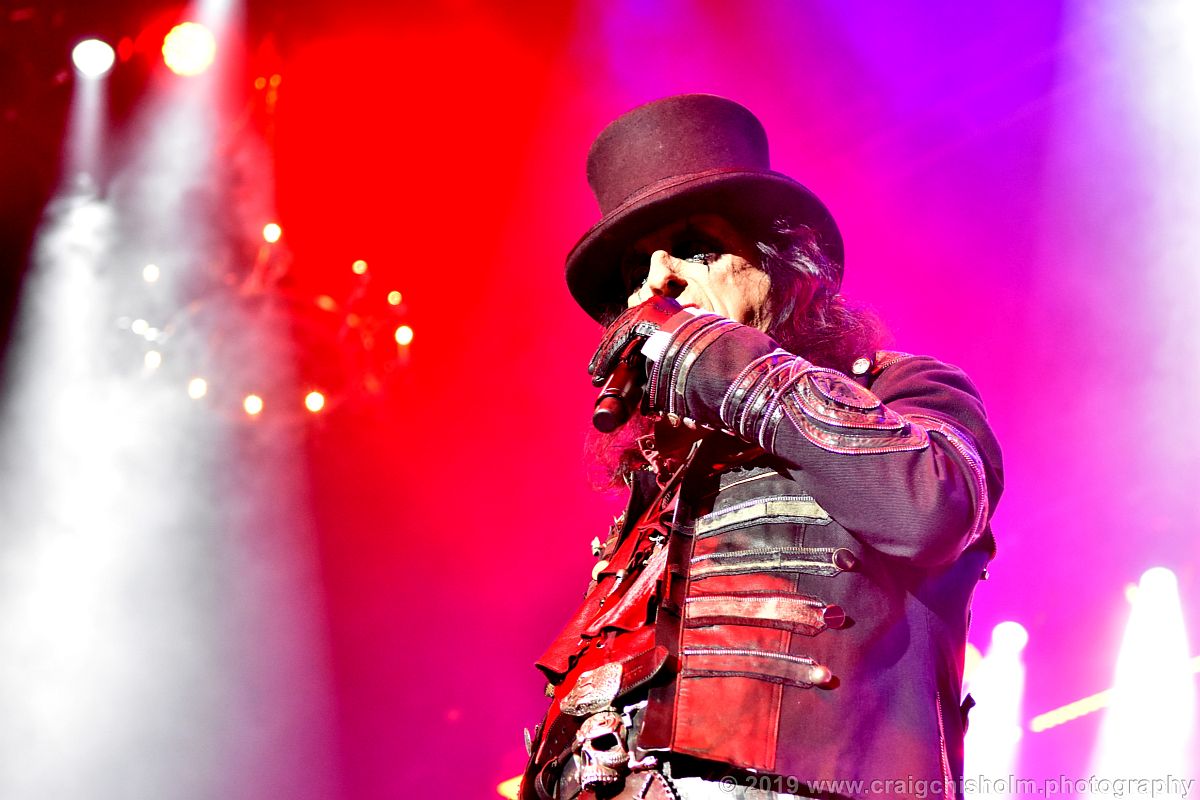 Dressed theatrically in top hat and leather he strides on stage in front of a giant castle wall backdrop.
The show is pure pantomime and schlock horror, bombastic and supersized.
Giant babies stride the stage; corpse brides interact with Alice; slasher flicks are performed; canons are fired and, in an elaborate set piece, Alice himself is beheaded on a guillotine.
It's an elaborate stage show – pure theatre. The horror is, thankfully, tongue in cheek and is well staged without being too bloody or trying too hard to shock.
It's a fun crowd pleasing show that would have got everyone talking.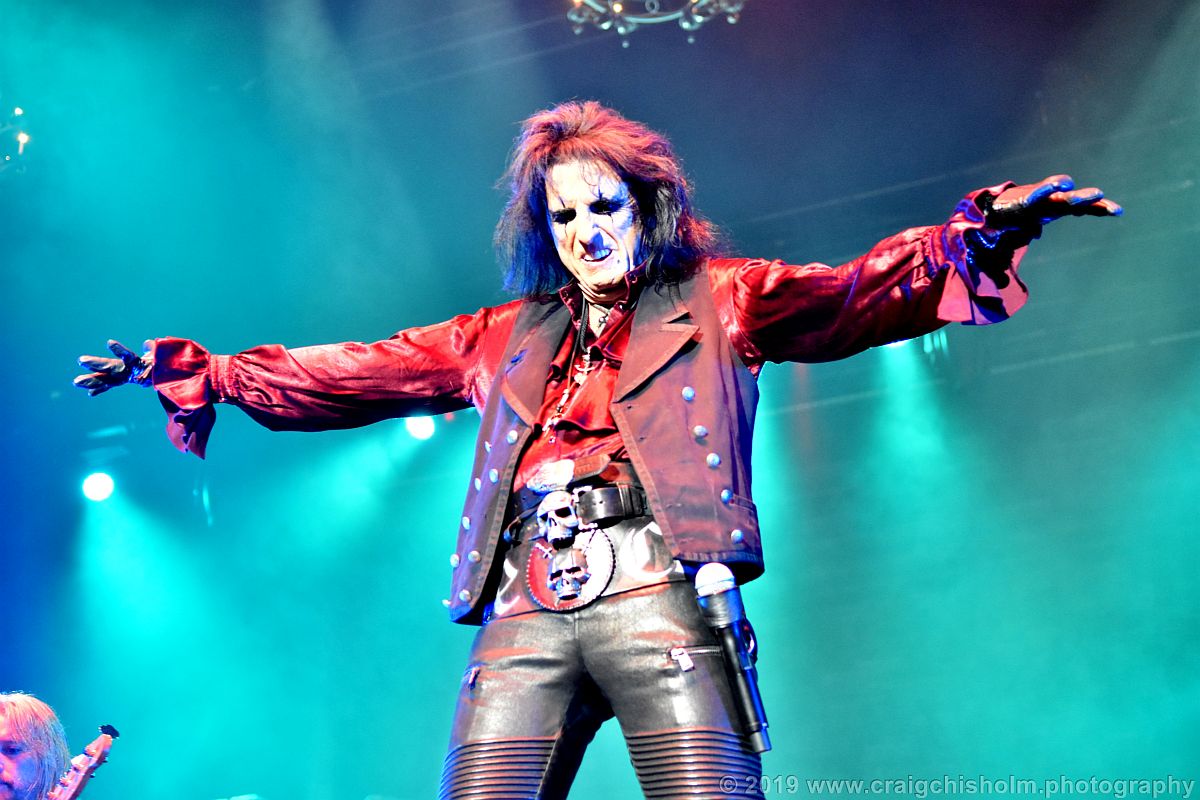 Fortunately, however, there's some good music behind
it.
Tracks such as the brooding 'Poison'. the air-punching 'No More Mr. Nice Guy' and the raw rock of 'Under My Wheels' are catchy and melodic.
'I'm Eighteen' is a singalong anthem; and the closer, 'School's Out' is such a rock staple that even non-Alice Cooper fans must know it.
His band are virtuosos – expert enough in their playing to be able to ham it up and add to the theatrics whilst simultaneously providing a tight musical performance.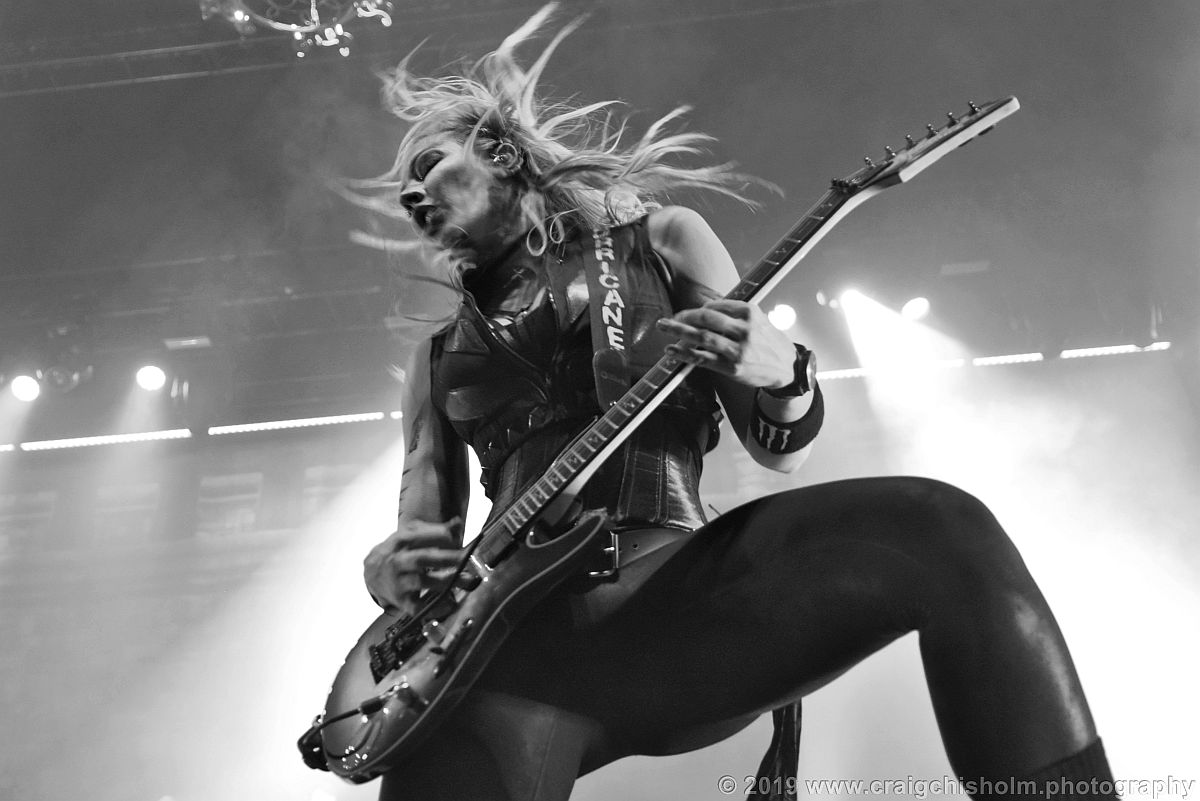 Guitarist Nita Strauss is particularly eye catching as she plays stunning guitar solos and flings her guitar around, looking every inch the rock god(ess) and living up to her nickname of Hurricane. It's a fun show and it's one that every rock music fan should catch at least once.
As for the new venue, it is also a success – it's large enough to not feel crowded but not large to feel dwarfed; queues to get in are handled well and getting food, drink or merchandise is easy.
It's going to be hard to top the opening night for P&J Live but with Lewis Capaldi, Liam Gallagher, Catfish & The Bottlemen and The 1975 all booked to perform in coming months, there's certainly going to be a few trying.