By Charlie Abel.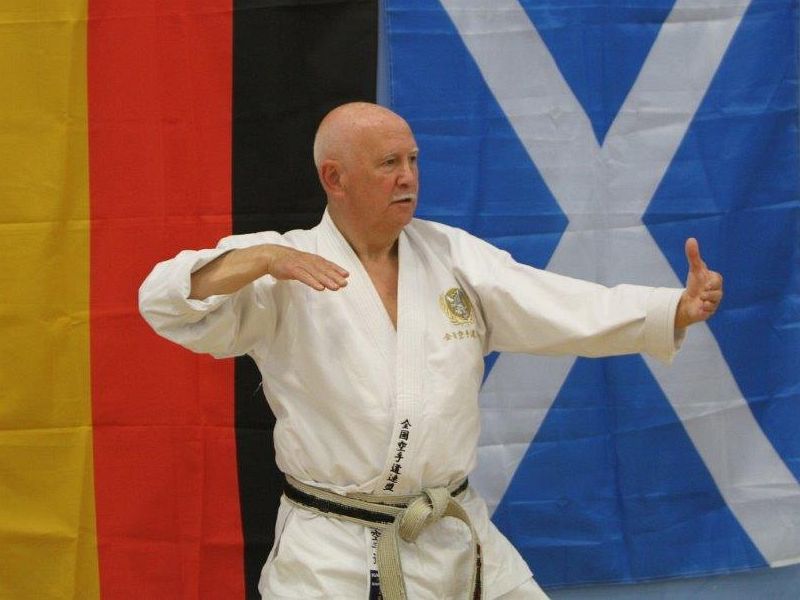 Aberdonian karate students will have great cause to celebrate this week with the news that their very own Ronnie Watt OBE ORS, chief instructor of the NKF (national karate federation) and director of Shotokan for the WKC (world karate confederation) has been awarded a 9th Dan black belt (Kudan). It is believed to be the highest ever Dan grade awarded to an Aberdonian or a Scotsman.
This is a major achievement for Ronnie and for karate in Scotland.
Ronnie Watt's name is already famous and well respected throughout the city of Aberdeen and the karate world. Being graded a 9th Dan Ronnie joins the elite ranks of the worlds most repected Karate masters.
Obtaining a black belt is very difficult, very few people manage to train hard enough, it takes at least three years and most people give up, perhaps one in a hundred achieve a black belt. Some will go on and get a 2nd Dan or higher. However, it is almost unheard of to achieve a 9th Dan in karate. Very few manage to reach this level, most are Japanese and it takes a lifetime of training.
This is a first for Scottish Shotokan Karate and it's a great honour for the city having a home grown 9th Dan teaching and training karate, here in Aberdeen, Ronnie's home town.
The 9th Dan will be presented to Ronnie by the International Shotokan-ryu Karate–do Shihankai (ISKS). The ISKS was set up in 2004 by an international group of world karate masters to protect and maintain the tradition of karate, which they see is sadly being diluted by many outside 'fashionable' influences. The ISKS is one of the most respected orders in the world of Karate today.
Karate has been a way of life for Ronnie and his family. He has won many competitions both home and internationally. To date he has trained over 25,000 students in his 50 years, many of them achieving black belt and going on to higher Dan grades, his students are well known for returning from World Championship tournaments laden with medals and golden trophies.
His wife Gail has been indispensible in running Ronnie's NKF Karate Academy and his children, now adults are also very much following in his footsteps with Son Reeve (5th Dan) and Daughter Roxy (5th Dan) training karate regularly and teaching classes. Grandson Cooper (age 4) has also recently started training, keen to join his grandpa in the dojo.
Ronnie who has trained karate 'religiously' as a way of life for 50 years was recently entered into the European Hall of fame for Martial Arts (November 2015).
Ronnie has previously been awarded an OBE from the Queen. In 2010 was recognised by the Emperor of Japan with an Order of the Rising Sun – a very special award rarely given to foreigners. Ronnie joins good company with famous people such as Clint Eastwood, Gustav Eiffel of France, George Takei (Sulu, Helmsman of the Starship enterprise on Star Trek) Bobby Charlton, and ex UK Prime minister Sir John Major.
In 2014, Ronnie was awarded a Commemorative Medal of the Trnava Self-Governing Region (TSGR) of Slovakia by the TSGR's president, Tibor Mikus for promotion of friendship between Scotland and Slovakia. Ronnie is also a Free Burgess of Guild member of the city of Aberdeen, (Freedom of the city) and is a banner bearer to the Knights of the Most Holy Trinity, who are a heraldic based charity organisation raising funds for good causes.
When asked about his 50 years in Karate and his 9th Dan Ronnie says,
"I've just loved karate, being karate. It's what I've always done.
"I see a lot of people and see what it can do for them.  The discipline, the training, the Budo (the way) it changes them. It changed me. Karate improves people. It's beautiful….My 50 years have not been easy, but I'd do it again tomorrow.."
" I'm very happy and really humbled to receive the 9th Dan. It's amazing…I'm still learning!"
Having one of the worlds most decorated and respected Karate masters living and teaching in Aberdeen is a massive advantage to anyone wishing to learn more about Karate-do.
Visit www.karate-scotland.info for more info.
Comments enabled – see comments box below. Note, all comments will be moderated.