If you think about karate or martial arts in Aberdeen, or even in Scotland or in the UK, one name that will spring to mind should be our very own Ronnie Watt (8th Dan, OBE, ORS) who this year celebrates training in Karate for 50 years. Ronnie has never been out of the headlines and this month is no different, as it has just been announced that Ronnie is to receive yet another significant award in recognition of his karate, this time from an international organisation. Charlie Abel reports.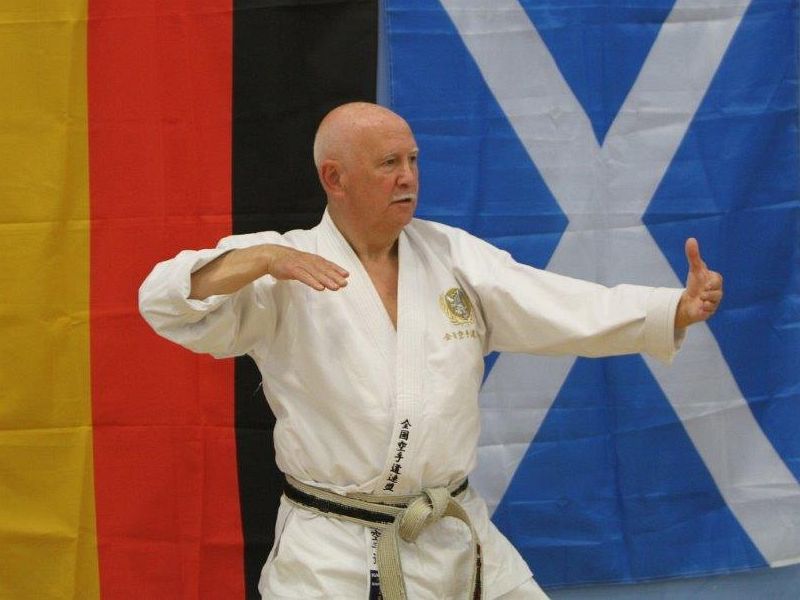 The President of the IBSSA (International Bodyguard and Security Services Association) has acknowledged Ronnie by entering him into the European Hall of Fame for Martial Arts.
The honorary award ceremony will take place in Rheine, Germany at their black tie Gala where Ronnie will attend as their special guest.
Ronnie is delighted to receive the award, which came as a great surprise, and is another very prestigious occasion for Ronnie and his family. It also brings Aberdeen to the forefront of International Karate, the city again recognised on the international stage as having a living legend in our midst.
Only last year he was awarded another honorary title from the Slovakian Government in recognition of his services to Karate in their country:
"for the promotion of understanding, tolerance and friendship among nations and regions"
In recognition of his services to karate, Ronnie has previously been honoured by the Emperor of Japan with the Order of the Rising Sun and has been appointed an OBE from her majesty the Queen.
Ronnie has now been inducted in to the European Martial Arts Hall of Fame 2015.
After 50 years of training karate, competing and winning medals around the world, not to mention teaching tens of thousands of children and adults, many students reaching black belt and going on to win medals in various world championship karate events, Ronnie's place in history is already clearly stamped, though there's still plenty ink left!
Ronnie continues to train and still teaches to his private members in Aberdeen three times a week and is constantly receiving invitations to travel abroad to train at karate festivals and self defence courses.
Anyone in Aberdeen of any age (over 5) interested in becoming a member of Ronnie Watt's Karate Academy should call 01224 734607 or visit www.karate-scotland.info. If you are interested in self defence, getting into better shape and keeping fit while learning an ancient Japanese discipline, this is an ideal opportunity to train with a real master of karate….here in Aberdeen! What are you waiting for? It just doesn't get any better!
Comments enabled – see comments box below. Note, all comments will be moderated.