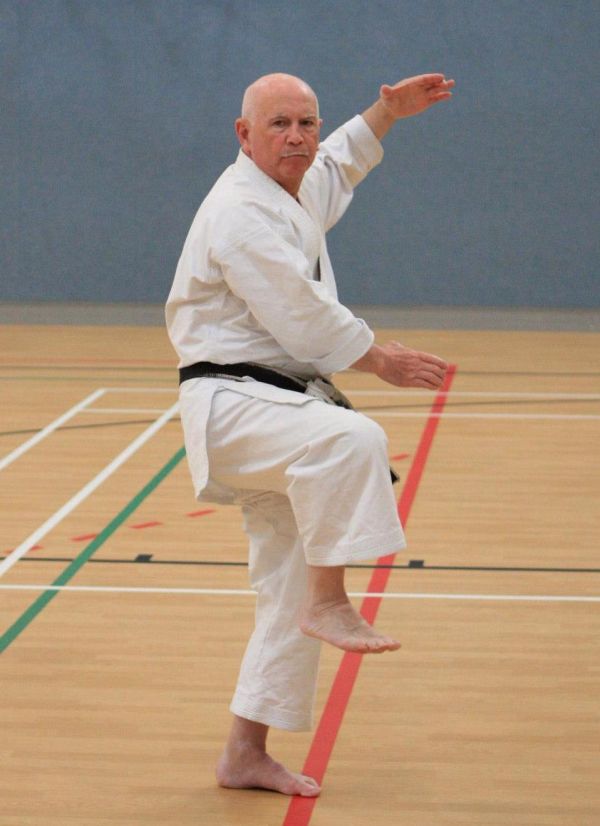 With thanks to Charlie Abel.
Aberdeen's famous Karate Instructor Ronnie Watt will be looking for a bigger  cabinet to display his medals after receiving yet another award, this time from the Slovakian government for 'promotion of understanding, tolerance and friendship among nations and regions'
The commemorative medal of Trnava Self-governing region (TSGR) was awarded to Ronnie on the 5th of September by the TSGR president Tibor Mikus. The award has an important place in the chivalry of the TSGR.
Jurai Staffa, the assistant to the President commented:
"It only belongs to those whose contributions to society and human values are extraordinary. It is not only awarded to residents of the region but to other outstanding personalities from other parts of the world. Its prestige and moral credit are unquestionable.
The president of the TSGR in Slovakia ( Tibor Mikos) has added
"TSGR is proud that the medal is in good hands in your case."
Ronnie first met with President Mikos through Karate back in 2001 when Aberdeen was host to the WKC World Karate Championships at AECC, where thousands of competitors from all over the world came to compete. The competition which had been organised by Ronnie and his team in Aberdeen was praised as a huge success by the WKC who said that it was one of the best competitions they had ever attended and that the hospitality of Aberdonians was second to none.
President Mikos is a keen Karate man himself, and at 8th Dan is greatly respected throughout the Karate world as a former champion fighter and member of the WKC board. He had attended the Championships and was so impressed that he invited Ronnie to Slovakia to train his students.
Ronnie has now made several trips to Slovakia to help with teaching Karate alongside President Mikos, and Jurai Staffa, (a former treasurer and secretary to the WKC, assistant to president Mikos and author.)
This September Ronnie flew to Germany and travelled to Slovakia  with the President of the WKC and good friend Dr. Fritz Wendland from Germany where a surprise ceremony was organised during a 2000 mile European road trip on Dr. Fritz's World War 2 motorcycle and side car.  The pair had been talking about the road trip for years and Ronnie knew nothing about the award that was in store for him during the journey.
Ronnie has previously received recognition from the Emperor of Japan for his life's work in karate with an 'order of the rising sun'  an award seldom given to people outside Japan. This followed recently an OBE from her majesty the Queen and previously Ronnie has been recognised by Aberdeen City Council as their 'Sports Personality of the Year' on more than one occasion.
Now aged 67 years young,  8th Dan Black Belt Ronnie Watt still trains karate every day and teaches adults and children the traditional Shotokan karate discipline which has helped shape the karate that Aberdeen is becoming famous for in the karate world. Ronnie has helped tens of thousands of people progress through karate, and some of his students have gone on to win many competition medals including gold in world karate championships.
Anyone wishing to learn Karate please visit www.karate-scotland.info
Comments enabled – see comments box below. Note, all comments will be moderated.