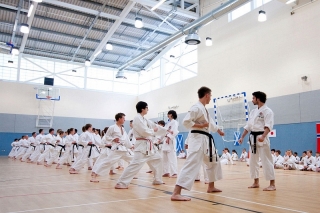 With thanks to
Jon Ruszka
, press officer, National Karate Federation.
The Aberdeen based National Karate Federation (NKF) of Scotland are preparing to attend the World Karate Championships being held this May in Australia, followed by the Children's World Championships in Argentina in 2014.
In addition, preparations are well underway for the now annual International Karate Festival being held on 8th and 9th June, 2013, at the International School of Aberdeen.
Five karate masters Ronnie Watt OBE, 8th Dan (Scotland), Alain Verbeek, 6th Dan (France), Dr Fritz Wendland, WKC Founding President (Germany), Paul Kee, 7th Dan (Sweden) and Alf Ronny Fagerland, 6th Dan (Norway) will attend with their national squads.
These masters will assist all attendees on their technique, from beginners to black belt 5th Dans.
The course will culminate in an International Festival of Karate which will be attended by a number of VIPs that will include Mr Masataka Tarahara, the Japanese Consul General in Edinburgh, and Lord Charles Bruce.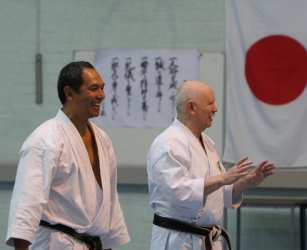 The Aberdeen based NKF of Scotland is an internationally recognised karate institute dedicated to the tuition, practice and advancement of traditional Karate-do.
The NKF President is Aberdeen born, 8th Dan Karate Master, Ronnie Watt OBE who was recently awarded the Order of the Rising Sun by the Emperor of Japan and the OBE by HM Queen for services to international karate.
With over 47 years of experience under his belt, Ronnie (65) assisted by senior instructors, teaches karate in Aberdeen, Aberdeenshire and further afield.
Of the International festival, Ronnie said:
"We've been very busy introducing karate to youngsters across Aberdeen and preparing the squad for international tournaments.
"Compared to many National Federations across the world, we're a small self-funded organisation representing Scotland on the international stage.
"The International Festival will be a fantastic event for all taking part. 
" I'm truly honoured that such esteemed masters, squads, and guests will travelling to Aberdeen to join us."
Recent NKF activities have included helping over 1,000 local youngsters to experience, for the first time, the discipline and fitness which traditional karate brings to people's lives.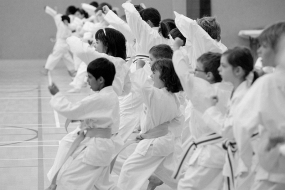 These efforts have been recognised in a personal letter from Shona Robison MSP, the Minister for Commonwealth Games and Sport.
So, if you are looking for something special in your life, why not take up one on the finest Japanese disciplines?
There is nothing better than Karate-do for fitness, health, self-confidence and self-defence.
Anyone interested in taking up Karate-do, please call us for details on 01224 734607
Comments enabled – see comments box below. Note, all comments will be moderated.