By Stephen Davy-Osborne.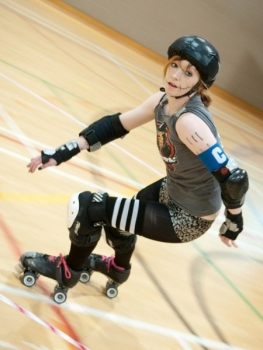 Three skaters from Aberdeen's very own roller derby team have been selected to represent Scotland as part of the national team at the 2011 Roller Derby World Cup taking place inToronto, Canada later this year.
The local skaters selected to be part of the team are Carolyn Mackenzie (aka Clinically Wasted), Claire Simpson (reserve) (aka Ruby Riot) and Jill Simpson (reserve) (aka Rock 'n' Riot) all members of Aberdeen's only female Roller Derby Team, the Granite City Roller Girls.
Speaking to the Aberdeen Voice upon learning of her selection, Carolyn Mackenzie said:
"Since October 2009, Roller Derby has become an immense part of my life. Never before had I found something so liberating, enjoyable and welcoming.
"For me, being selected for Team Scotland threw up many emotions including – joy, disbelief, happiness and fear! The road to Toronto, has, and will be a tough one – both physically and mentally, but I will still be there flying the flag for Scotland with the biggest smile on my face.
"Modern Roller Derby is such a young sport and this will be the first ever World Cup, being broadcast to tens of thousands of people across the globe. To be involved in such an important historic event for our sport, this makes me the proudest person in the world."
The team are still seeking a sponsor to support them to travel and stay in Canada and to help with uniforms, insurance and training facilities.  The sponsorship provides the opportunity for exposure at an international event that will be attended by thousands of spectators and streamed across the world.
The 2011 Blood & Thunder Roller Derby World Cup takes place in Toronto between the 1st and 4th of December.
– For more information, check out www.teamscotlandrollerderby.com
Pictures: Andrew Leatherbarrow