In the Financial Times on 24 May, Sarah Malone, Executive Vice-President of Trump International Golf Links, said, "10000 people played the course in its short first season last year and 11000 have already booked rounds in 2013, out of a total capacity of up to 25000". Julian Baker looks behind these claims.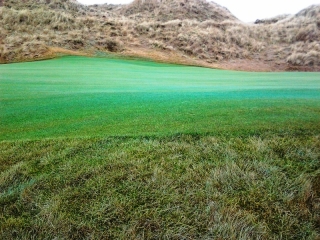 Aberdeenshire's local authority and the Scottish Government have taken a big gamble in risking the wellbeing of an SSSI on the promise of new jobs from the Trump Organisation and a knock-on increase in tourism.
I have been following closely the volume of business this golf course is generating, by monitoring the online booking portal each evening.
This allows me to understand how many rounds have been booked for the following day.
So far this season, the course has been struggling to fill a third of its capacity. And this level of business isn't necessarily earning the minimum green fee of £156 per person, since the word on the street is that quite a few bookings are for complimentary rounds via local businesses and for winners of raffles and competitions.
Looking ahead to the end of this season, I've logged the number of bookings showing on the online tool, and calculated that there's a maximum of 7500 golfers booked in so far. That errs on the generous side. For example, that figure includes an assumption that the course is booked to its absolute capacity during the two midsummer weeks – 28 July to 11 August –  where the booking tool is not in operation. I'd expect that to be more like 6500.
So 11000 booked in already for this year? I don't think so. And I doubt that it will rise to that level by the end of the year either, because the course appears to rely on golf tours which are generally arranged some time in advance of the event.
How many Aberdeenshire folk can afford £172 for a round of golf at the weekend? Run out of fingers to count on yet?
This calls into question the figure of 10000 bookings in last year's inaugural season. Unless that figure also includes everyone who has used the driving range and bought meals and drinks, golf balls, and Trump-branded ball markers. Or waved when they drove past the entrance.
So how confident can we be that there will be 6000 new jobs arising from this golf development? Don't hold your breath.
Comments enabled – see comments box below. Note, all comments will be moderated.