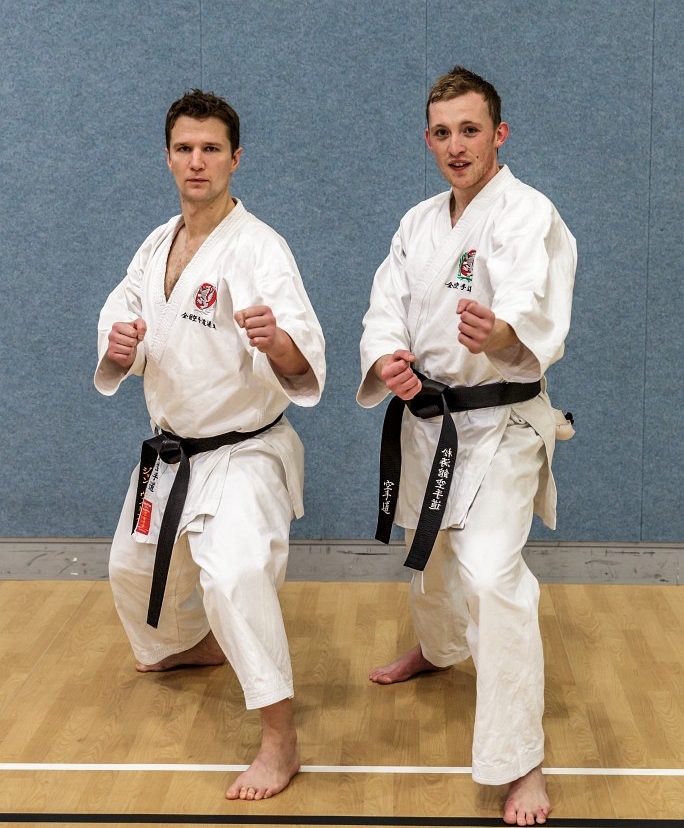 By Charlie Abel.
Aberdeen's National Karate Federation (NKF) will compete in the International Open World Karate Confederation (WKC) Championships in Munich in January, and two members of the squad will take part in a daring fundraising event to help the club to pay for flights and accommodation.
Kai Thomson and John Willis (pictured right) will jump out of a perfectly good airplane at 10,000 feet wearing only Kamikaze Bandanas… and jump suits!
Aberdeen is famous for many things. The first thing that springs to mind is usually the Oil Industry. Add to that CAT scans, the development of insulin, the invention of partition chromatography, The Dons, Denis Law, Mary Slessor, the list goes on.
Relatively few, however, are aware that Aberdeen is world famous for Karate and has produced its very own 8th Dan master, Ronnie Watt.
Under Ronnie's guidance and instruction, the NKF Elite squad from Aberdeen, and the surrounding area, have been training hard in preparation for this prestigious Karate competition and will do Aberdeen and Scotland proud.
The NKF are no strangers to the International Karate community. They have won medals in the past and in 2000 they hosted the WKC world championships in Aberdeen at the Beach Ballroom, bringing thousands of visitors, competitors and their families to the City.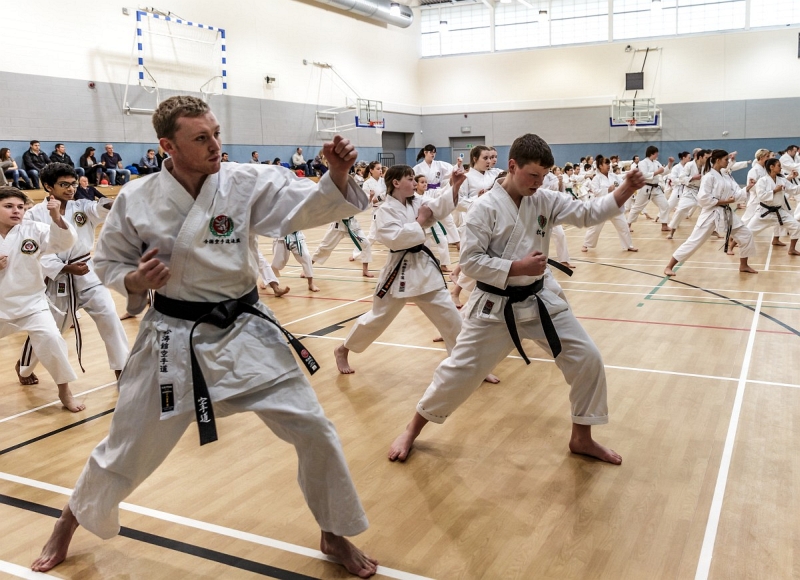 Being a private organisation receiving no funding from any government source, the success of the club shows great testament to the leadership of the NKF and the canny resolve and determination of its Aberdonian Karate-ka.
The flights, accommodation, entry fees and extra equipment are all paid for by its members, and flying a squad over to Germany for the competition is no easy task, which is why Kai and John have volunteered to raise funds by way of a sponsored parachute jump.
Asked if he had ever done a parachute jump before, Kai replied:
"No, Never. But I'm prepared to take one for the team'
John added:
"It's a crazy thing to do but I like it."
The daring spectacle will take place in Errol, on Saturday the 18th of January 2014, where the two Kamikaze Aberdonian parachutists are hoping to raise £5000.
Any offers of sponsorship or donations from members of the public would be very welcome.
Donations can be made via our PayPal account, or by cash or cheque ( made payable to NKF ) sent to:
Ronnie Watt OBE,
Order of the Rising Sun; 8th Dan.
Hadley House, Culter House Road,
Milltimber, Aberdeen, AB13 0EN
Tel: 01224 734607
Mobile: 07511 406556
All donations will be entered into a free prize draw. The winner may choose from either an exclusive self defence lesson with Ronnie Watt…
Or… a special bespoke black NKF jacket, worn only by Black Belt NKF squad members with very special embroidered writing with their name on it and a special message.
As one of the world's highest awarded Karate teachers Ronnie is widely respected for his expertise in the Karate-do discipline and its way of life having trained Karate almost every day for nearly 50 years.
Still training hard at 66, he is an inspiration to all who train Karate with him.
Ronnie is one of only a handful of Scottish people ever to be awarded the 'Order of the Rising Sun' by the Japanese government since Thomas Blake Glover. This is an award which is seldom given to people outside Japan. The award was quickly followed by an OBE from the Queen.
There is a high demand for Ronnie's Karate experience and he is often seen on the top billing of many Karate courses worldwide.
Anyone wishing to train Karate with Ronnie at the National Karate Institute can call 01224 734607 or visit the website http://www.karate-scotland.info/ for more information.
Further Info:
Comments enabled – see comments box below. Note, all comments will be moderated.