In her continuing series on the life of a pit photographer, Julie Thompson reports on an extremely busy week, taking in Withered Hand, Charles Latham and Dear Lara at The Tunnels, Toxik Ephex  Downstairs @ The Malt Mill, Pallas , Hellhouse, The June Brides, and Stanley over two nights at The Moorings, Sweet and Slade at The Music Hall, and resumes her chat with Matt Jolly, in-house photographer at The Moorings.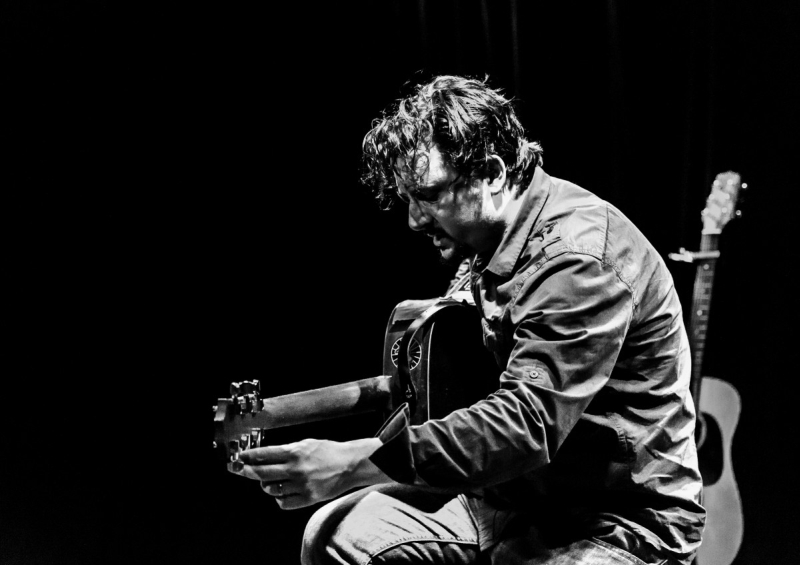 Well, I've been a very busy bee this week/weekend.
Sleep? What's that? Still, I got my first pass for The Music Hall – so another step up the learning curve for me.
As you can see from my schedule, I covered 5 gigs over 4 evenings, which left me with a bit of a gig hangover.
I'll not talk about all of them in much detail but I will just mention that the Pallas gig is covered in an Aberdeen Voice review here.
So, first up was Thursdays gig (28th November) – Withered Hand, with support from Charles Latham & Dear Lara. I couldn't help reflecting on the difference from my last gig at The Tunnels 1. Last time I was there, the place was a sweaty, heaving mass of folk all there to see the excellent The Temperance Movement.
Tonight, there were tables & chairs in place of bodies on the dance floor – an obvious clue that I was in for a totally different sort of evening.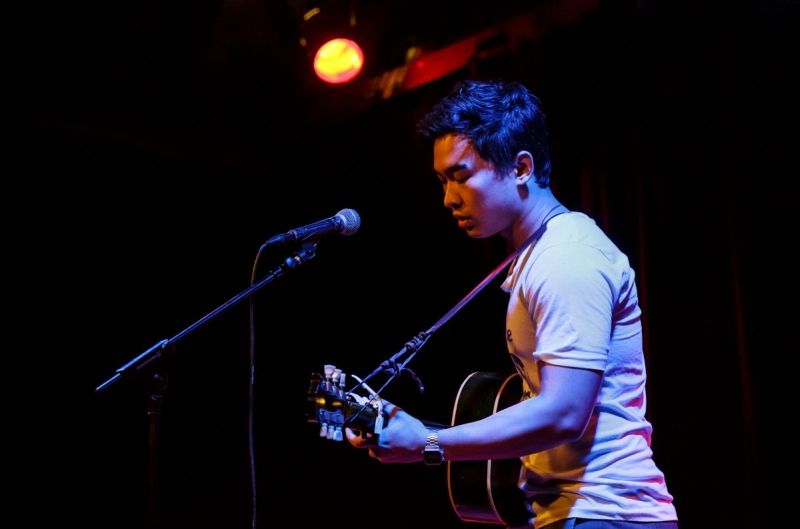 I usually keep my camera on silent shooting mode, which reduces the shutter sound significantly but doesn't eliminate it. As the first support, Dear Lara (a young Glaswegian called David Lan) took the stage I was a bit concerned how loud my camera sounded to me, so at a suitable break I asked the table closest if it was annoying them.
They said they'd not heard a thing and that it was nice someone was there taking photos, which was reassuring.
Dear Lara describes his music on his Facebook as 'music for when the party's over' and indeed it is very relaxing and peaceful to listen to him.
He was followed by Charles Latham, who from the start had me giggling.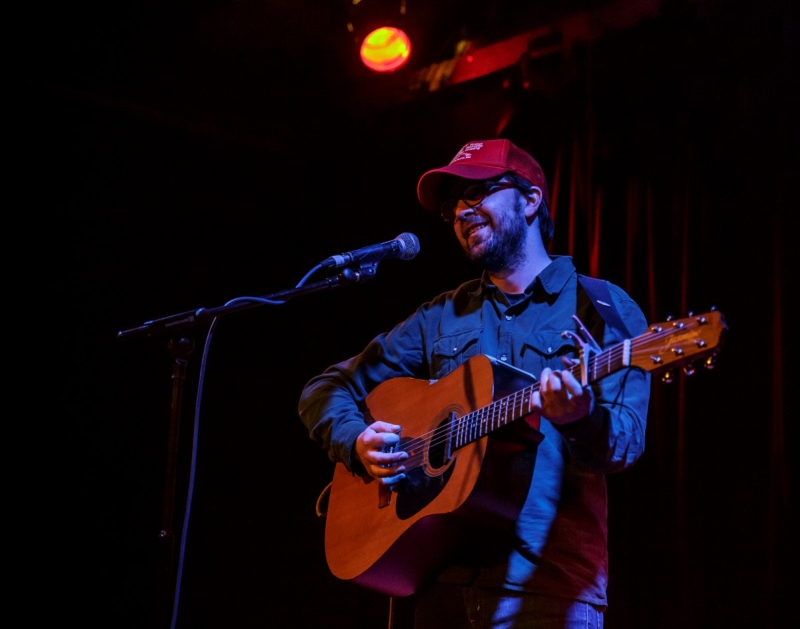 An amusing, confident and somewhat irreverent American, he said he was asked along as support due to Withered Hand having covered one of his songs in the past. He has a naughty sense of humour which I liked very much.
Withered Hand (the stage name for Dan Willson) is an indie rock musician from Edinburgh. His first album came out on 2009 and he's been keeping busy with shows featuring collaboration with his friends & colleagues and recording a second album with guest appearances from the likes of King Creosote & Frightened Rabbit, amongst others.
I had to leave before the end, as I wanted to catch the end of my next gig at Downstairs – a total contrast to the evening I'd had so far.
It was a punk night, which had, by the time I arrived, descended into chaos; chaos featuring feather dusters.
This was a 4 band benefit gig for Dod Copland, whose story has featured in The Aberdeen Voice previously.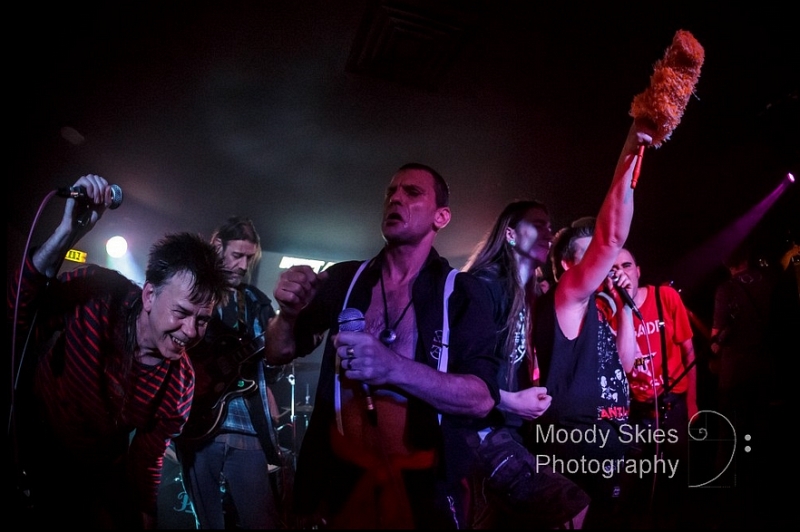 I arrived about half an hour from the end and Toxik Ephex (well, their instruments anyway) were in full flow. Some of the band seemed to be taking a timeout as 'audience participation' was… well… occurring. Drums, guitar & microphones were all under the control of audience members onstage, along with others brandishing feather dusters.
General good humour abounded though, despite an overrun on curfew time and lots of spilt beer.
I'm about 9 weeks in from my first gig shoot now, and the newest newbie of the togs in Aberdeen. Matt Jolly, as we saw last week, has been shooting gigs for over 2 years now.
It turns out he has previously photographed someone that I met and shot at a private event last night, Ricky Warwick of Black Star Riders (which for anyone who doesn't know, is a band created from the most recent Thin Lizzy lineup, as they felt uncomfortable releasing a new album using the Thin Lizzy name).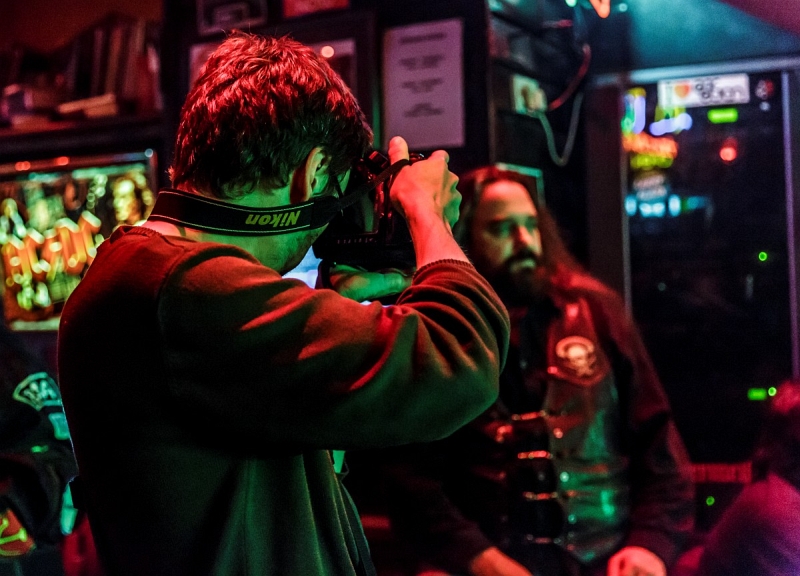 I think Matt is currently most excited about his recent trip with Fat Hippy Records to Los Angeles, California.
He went along, at Captain Toms invite, to document the trip. Local talents Amy Sawers & Craig John Davidson went over to support Terry McDermott at the word famous Molly Malones for a showcase gig.
During this 5 day trip he accompanied (and photographed) them shopping for new guitars and, once the gig was over, took some time out to sightsee.
His thoughts on festivals – I went to my first ever this summer at Belladrum – he loves them. His went to his first at the age of 15 and thinks they are a great opportunity for discovering new bands & music that you might not come across normally.
He said:
"Attending my first T in the Park in 1998 and seeing the likes of The Prodigy and Beastie Boys was a pretty mind blowing experience at that age. This year I went to Download festival in England, traveling down with Semperfi and Akord to cover their sets as they played at the festival for the first time.
"They had all been before as punters but it was my first time at Download which was a fantastic weekend, I'm really grateful to the guys in both bands as they have given me some really great opportunities in the last 3 years."
I asked if he had any tips he would share.
"Well, it may be obvious but the best thing to do if you're just starting out is just get out there and take photos. It's the only way you'll learn and from there you can go on to develop your style and the type of photographer you'll want to be whether it's for a hobby, a part time job, or a full on career."
I had hoped to obtain permission to shoot Hugh Cornwell (of The Stranglers) on the Saturday at The Lemon Tree, however, I was unsuccessful. So Plan B was enacted and I was off to The Moorings to see The June Brides supported by local band Stanley.
The June Brides, one of the first indie-pop bands, had chart success in the early to mid 80's and split in 1986. They reformed in 2012 with pretty much the original line-up. There was much dancing and silliness that night – I think I spent more time people-watching than shooting the bands.
I've not got around to processing the shoot yet, as I have a huge backlog to plough through, but I will put some photos up on my flickr page when I finally cross them off my list.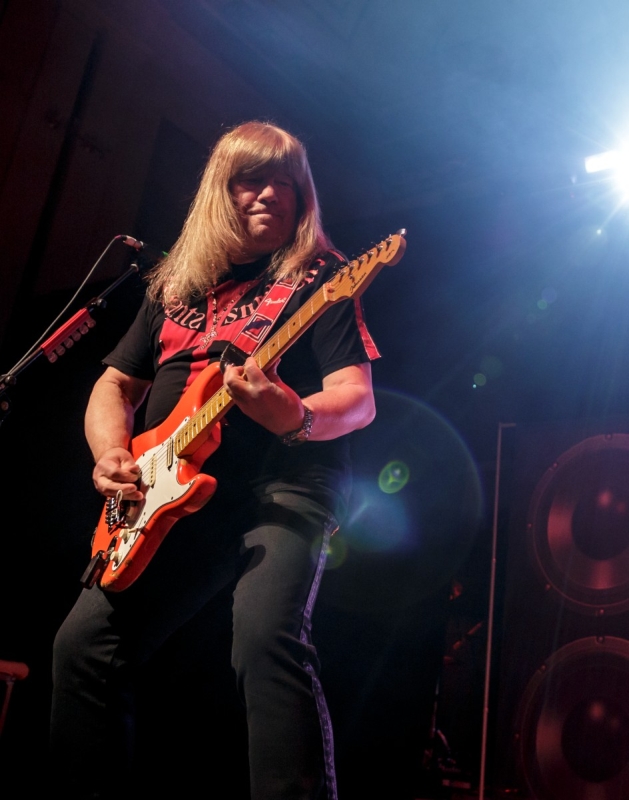 Sundays gig featuring Sweet & Slade was a whole new ball-game to the previous venues I'd visited in the past few days – the beautiful Music Hall.
Having applied for a photo pass a couple of weeks ago, I finally got the go ahead a couple of days before the event. Surprised, much? Yes, I was.
I was also excited and a bit nervous. When I arrived I went to the box office prepared with an email printout in case my name wasn't actually on their list.
Luckily  all went smoothly and I was in. While I was waiting for the place to fill up, I bumped into a couple of togs I knew, so there were 3 of us in total for the shoot.
There was no pit setup so we got to wander in front of the stage for the first 3 songs from each band. If anyone reading this was there in the front couple of rows, I'll apologise now if I got in your way!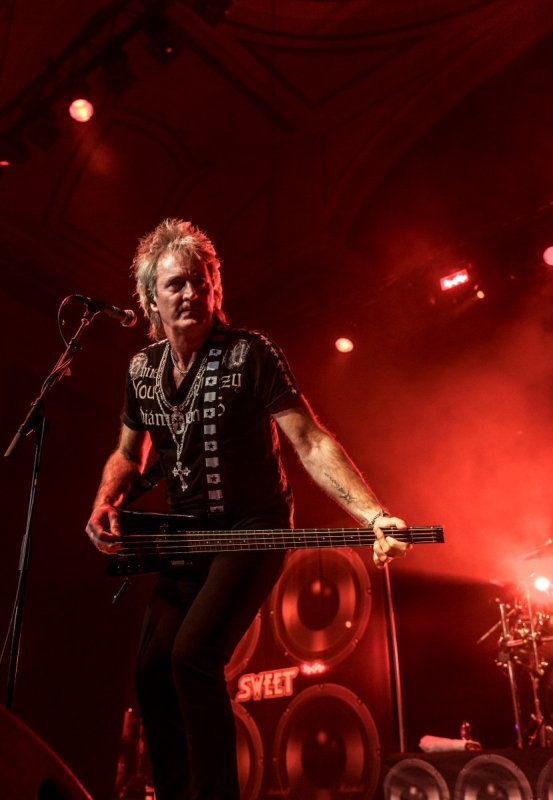 Sweet was the first onstage – with guitarist Andy Scott, the only original member, getting the loudest cheers and we togs went to work.
They went down a storm but I was too busy shooting to notice the tiny old lady, who had been sitting near where we were hanging out when not shooting, had at some point decided to join us up at the front of the stage – she was dancing away, oblivious to us folk dashing about with the cameras. Good on her!
By the time Wig-Wam Bam began, pretty much the whole place was up and jumping about. Other old favourites followed – Block Buster, Ballroom Blitz – fun, toe tapping and well executed.
The ice-creams were wheeled out at the intermission and the tiny old lady had two – obviously needing sustenance after her dancing exertions.
Slade were next. They still have 2 of their original members – Dave Hill on guitar & Don Powell on drums.
Noddy Holder was replaced as lead by Mal McNulty (also on guitar) with John Berry providing bass and, also violin. What interested me about this was that Mal swapped his guitar for a bass when the violin was in use.
It seems the tiny old lady either wasn't a Slade fan or she'd used all her energy in the first half. She didn't leave her seat for Slade.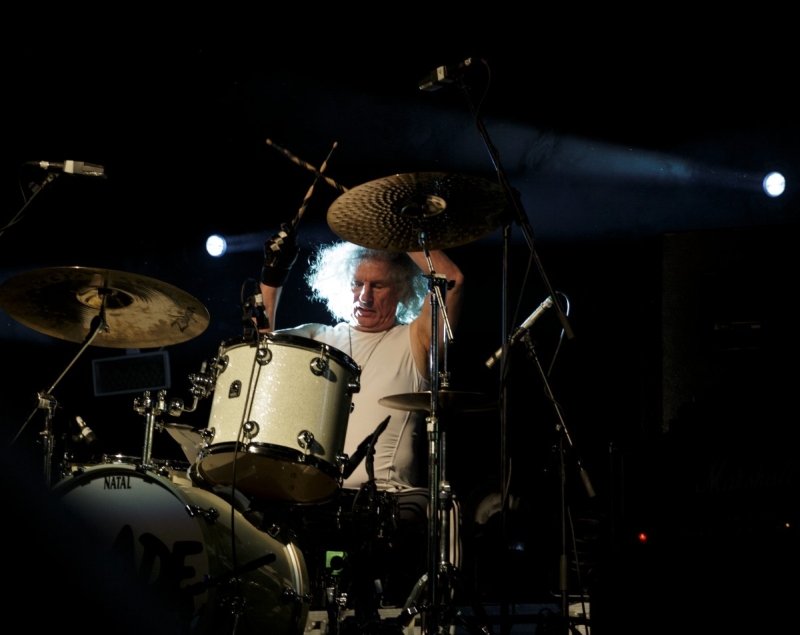 One problem when you have a high stage to shoot are the floor monitors – those short but wide black speakers that sit at the front of the stage in front of the band members  providing sound to them, so they can actually hear themselves.
With Sweet there had been spaces between them, which you could use to get full length head to foot shots of the band members. Slade filled those gaps with boxes. However, they did stand on them for time to time which gave us some opportunities; otherwise you're somewhat limited on angles.
There was dancing in the aisles, dancing in the seats – most folk were up and moving at some point. They, of course, ended on an old favourite chart topper which, considering we had just entered December was not inappropriate.
Donning seasonal headwear for the finale, Mals Santa hat specially designed to fit over his original hat and Don wearing a large chimney hat with Santas legs poking out of the top, they belted out Merry Xmas, Everybody.
The big shoes & outrageous garb may no longer be there but there was still the glitter & long hair and it was a fun evening, one I suspect I'll try to do again (hopefully better) if they return at some point. We all know the old saying about practise…
So, what's coming next on my schedule?
Well, one was a bit of a surprise and a thank you for some work I've been doing elsewhere – an acoustic evening with Ricky Warwick at a private event at Musa, I'm waiting to hear about a gig at The Lemon Tree and I hopefully have a four band gig, with headliner Enuff z'Nuff, coming up at The Moorings (if my body hasn't given in by that point).
Lastly I've decided George Mackie (one of the two I bumped into at the Music Hall) will be my next tog in the spotlight.
More Photos:
Sweet
Slade
Withered Hand/Charles Latham/Dear Lara
Links:
Matt Jolly Photography on Facebook
Matt Jolly on Flickr
Comments enabled – see comments box below. Note, all comments will be moderated.