The Moray Wheelchair Curling team of Gregor Ewan (skip), Jim Gault, Mike McKenzie and Jackie Cayton round off the season in style with victory in the Tunnocks Trophy in Lanarkshire, emerging unbeaten from their eight games. With thanks to Dave Macdermid.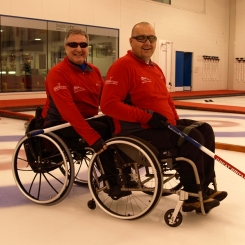 The Moray team defeated eight other teams including Stirling, Wales, Lockerbie and runners-up South Lanarkshire.
National World Class Wheelchair Performance Programme Squad members Gregor and Jim (pictured), coached in Aberdeen by Albert Middler, were part of the Scotland squad at this year's  World Wheelchair Curling Championships in South Korea, where they finished eighth.
Jim (57), from Lossiemouth and Greg (41) from Elgin both took up the sport less than five years ago following industrial accidents, and, as Jim outlines, it did not take long for both of them to become hooked.
"I've always loved competition and taking up curling has allowed me to travel to places I'd never been to and make some wonderful friends. We must enjoy it as we travelled around 24,000 miles in the car in the last nine months for training and competitions."
Greg, a former stonemason, is equally enthusiastic.
"It's a marvelously strategic game involving move and counter-move and after my accident is really has given me a new focus in life when it would have been easy just to mope and feel sorry for myself."
While Scottish Disability Sport funded the trip to the Worlds in South Korea and the Sportscotland Institute support ice and coach time, like many sportspeople, the pair are always on the lookout for private sector sponsorship, as Jim explains.
"We travel the length and breadth of the country and would be absolutely delighted to promote a business as we are doing so!"
Their national coach is Tony Zummack, Sportscotland Head Coach for Wheelchair Curling who worked with the players here in Aberdeen last season and will work with them as a whole Scottish Squad in Stirling this coming season. Founded in 2000, Wheelchair Curling has grown enormously in popularity since then.
Anyone interested in learning more about the sport and where they can participate in a 'come and try' session, visit www.trycurling.com .