Israel's stance on Palestine comes under scrutiny this weekend. With thanks to Dave Watt.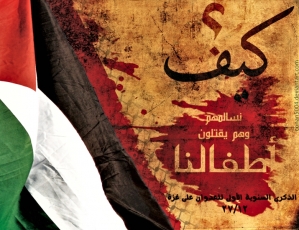 This Sunday Aberdeen resident Karolin Hijazi will embark on what should in theory be a simple journey; a journey made in response to an international call to take part in a new education project, and an attempt to return to her homeland. However, the journey that she wants to make is to Palestine, and by openly stating this at Israel's Tel Aviv airport, she will most likely end up in a detention centre or prison.
Karolin is travelling as part of the Welcome to Palestine 2012 initiative , which will see at least 1500 individuals of conscience and supporters of human rights take up the call from Palestinian civil society organisations, to travel openly to Bethlehem, part of Palestinian land in the West Bank which Israel has illegally occupied since 1967.
Last year, the first time the Welcome to Palestine initiative took place, around 125 participants were detained in prisons in Israel
Individuals will fly in from the UK, from Europe, the United States, Canada and many other countries. There are no airports in the West Bank, as Israel has been able to keep tight control of the borders and development of Palestine, ie. anyone wishing to travel to the West Bank has to do so through Israel with permission from the Israeli authorities, most often denied.
Israel maintains complete control of 59 per cent of Palestinian land in the West Bank, military control of another 24 per cent of the land, thus leaving only 17 per cent in full control of the Palestinian Authority.
Last year, the first time the Welcome to Palestine initiative took place, around 125 participants were detained in prisons in Israel after expressing their wish to travel to Palestine at airport passport control. Hundreds more were unable to even board planes after Israeli authorities exerted pressure on airlines to prevent passengers departing airports in Paris, Brussels and Geneva, among others.
The story of participants made headlines around the world, mainly due to how basic the aim of participants was: to accept an invitation by Palestinians to visit them as their guests. The initiative calls for the freedom of movement of both Palestinians and their guests. The West Bank and Gaza have often been compared to open air prisons, but even prisoners are allowed visitors.
Karolin Hijazi's family originally come from Yazur, a Palestinian village, which is now known as Azor. Azor and nearby Jaffa are just two of the many sites in Israel which were built on top of the remains of Palestinian villages destroyed in 1948. After being forced from their homes in the 1948 war, the family moved on to Al-Lydd in the district of Al-Ramla, which was also evacuated and destroyed.
Karolin, who is a doctor and teaches medical students at Aberdeen University, wants to join the initiative to show solidarity to the Palestinian people by taking part in the project which aims to build four new schools in Bethlehem.
Karolin has received support from local MPs Dame Anne Begg:
"I would hope that this non violent act of requesting entry to Palestine is treated as such. I will be maintaining contact with my constituent to ensure safe passage during her trip."
and Frank Doran:
"I would ask that Ms Hijazi is allowed to pass through Tel Aviv airport without impediment so that she is able to proceed to the West Bank to take part in the educational project."
Kevin Stewart MSP raised the following motion at the Scottish Parliament:
"That the Parliament commends those people attempting to travel from Scotland to the West Bank as part of the Welcome to Palestine initiative…to bring attention to the fact that Palestinians have been denied visitation rights in the occupied territories…to raise awareness of the lack of freedom of movement endured by Palestinians both inside and outside of the occupied territories, and to show solidarity with the Palestinian people who continue to be denied the most basic of rights."
Chair of Aberdeen Trades Union Council Brian Carroll said:
"Welcome to Palestine is an important event highlighting the suffering being endured on a daily basis by those peoples living in the West Bank. It is a criminal outrage that in this day and age a modern so-called progressive state like Israel can continually break international law and commit human rights violations on a daily basis against people that wish only to have the same opportunities, lives and choices that we have.
"I very much hope that the efforts of Karolin and others brings the suffering of the Palestinian people to the forefront of international politics, so that their suffering is curtailed."