Richard Thompson returned to Aberdeen Music Hall, and as they say, 'he owned it'. Biased devotee Suzanne Kelly reviews. Photographs by Julie Thompson.
It's always a treat when Richard Thompson comes to town.  The Music Hall lobby was filled with fans before the show, speculating on what he might play, and comparing notes on when they'd last seen him.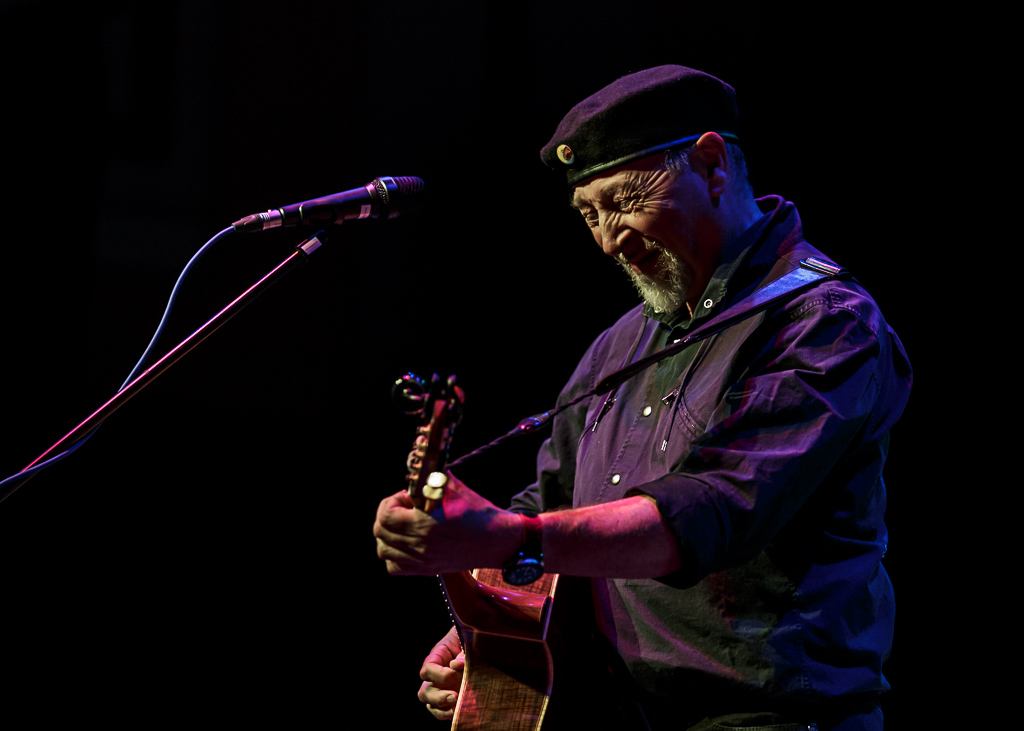 I only found out that The Rails were opening on the night; I'd long wanted to see them live.
Richard's daughter Kami Thompson and her husband James Walbourne are giving us pure folk music, beautifully arranged with haunting harmonies and beautiful playing. You'd expect no less though.
They explain their new CD has been delayed, or they'd have it for sale tonight.
Happily, you can get more info on The Rails and their CD here.
They seem relaxed and seem to be enjoying it – but it can't be easy opening up when your father – or father-in-law is basically a living benchmark.
"We still keep falling for the same old lies. Times are tough, times are tough, but that's enough."
Thompson opens with the rousing call to protest song 'That's Enough'. He explains it's from the family album, and that he intended it for Occupy Wall Street but 'was about a year too late' with it. The night's going to be filled with astonishing music, but a piece like this reminds you that aside from the 200 mile per hour riffs, haunting acoustic melodies, straightforward honest rock, it's not just the guitar you come for, it's the writing.
You have to love the directness and simplicity of a piece like this, but when it's performed with harmonies supplied by his daughter and son-in-law filling the Music Hall, you remember what live performance at its best is.
Genuinely, the impact of this song as performed was immense. I hope someone's going to get a recording of this piece with all three musicians. Genetics. The stuff that gives you a family of Bushes or Kardashians. Or, if you're really, really lucky, a family of Thompsons.
Now that we're all riled up and ready to start a protest there and then, the music is taking us elsewhere. 'All Buttoned Up' leads with its uptight staccato tension leads into folky 'Sally B'.
We hear a new piece, 'Broken Doll' – slow, haunting, touch of menace – in the way Richard makes wholly his own. As he does.
'Al Bowlly's in Heaven' is introduced and explained by Richard. It's the tale of a veteran who feels forgotten (lack of support for veterans sadly is still a huge issue and the UK fails its service people badly). The protagonist, a down-on-his-luck veteran remorsefully muses on the death of his musical idol. Al Bowlly's gone to heaven, but our veteran is in limbo.
'Guitar Heroes' is an amazing voyage through the styles of the artists who inspired Richard including Les Paul and Chuck Berry. In this piece, the guitar tech is brought on to provide acoustic rhythm guitar support. "Sorry it's for the same money," Richard tells him.
The song is an extraordinary piece seeing Richard channel Les Paul to such a degree that I get teary; it was just like listening to Paul again in person like I did, enrapt, over 25 years ago.
To play this song, jumping in and out of styles, is a phenomenal workout. Everyone in the audience is loving the exhilarating, perfect work; it gets massive applause. I'm exhausted for them by this point; but they're keeping on.
Clearly no one's going to get onto a bill with Thompson if they're not the business, but the bass and drums are such you'd have to go far and wide to find talents anything like these. I've heard percussionist Michael Jerome before touring with Thompson, but tonight he's absolutely on fire.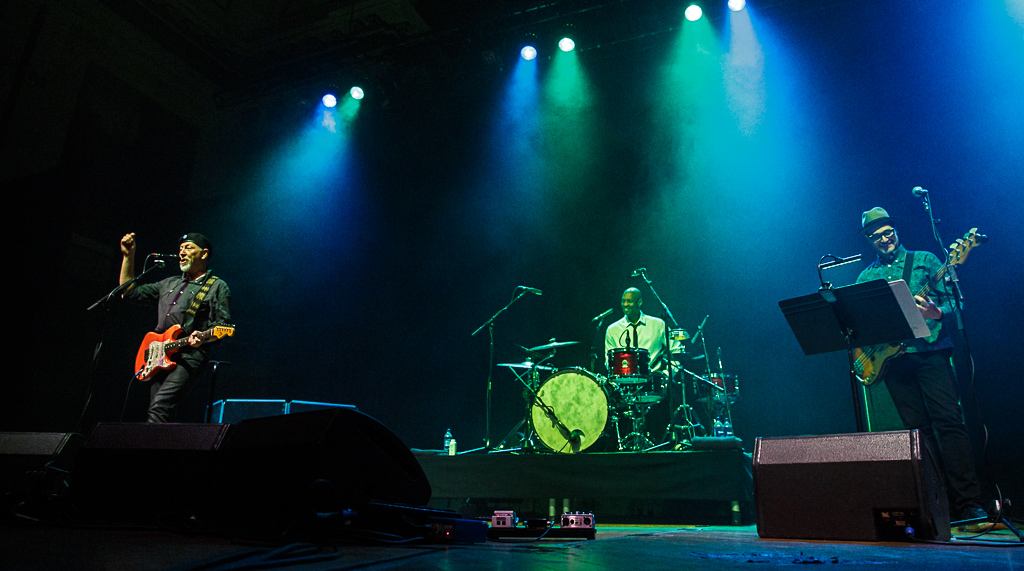 The range of techniques; the variety of the playing, the expressiveness is on particularly great form.
If it seemed like, if Thompson was channelling Les Paul, then Jerome was channelling Krupa and Bonzo.
A solo he's got about halfway through the night has Davey Faragher making his bass speak like I've never heard anyone do before. Other than when his bass takes the lead, it's always just right – never dominating, always creatively underlining; always felt. We're liking this line up an awful lot.
The guitar solos exceed expectations. Maybe he has six or seven fingers? How's he moving that fast? Why did they call Clapton 'Slowhand?' A few frivolous thoughts like that come quickly to mind and go. The greatest metal lead guitar players would have a hard time doing this material justice. The music and the material has me thinking and feeling some wonderful things; I'm finding this exhilarating, battery-recharging, and empowering. And I want to go and protest things even more.
Then he slows it all down with If Love Whispers Your Name 'next time I promise I will be ready, ready to move when the clouds roll apart
It ends too soon. Afterwards, over a quick drink or two (the road manager is celebrating his 60th birthday – though he seems more like 20 to me), Richard's got an effortless nonchalant demeanour; 'down to earth' doesn't even quite do it justice; he's just being a top bloke.
What others said:
Gemma Louise Cook said:
"it was a fantastic night and a real treat to be there – RT Electric Trio and The Rails gained two more very enthusiastic fans in Scott and I Thursday night."
Portrait artist Keith Byres said:
"Blistering performance! Richard Thompson is a musician who doesn't believe he's a guitarist…. He just knows!!!!! This is true art!!!"
and Shaun Young said:
"great performance loved the new album too. enjoyed the rails too. great vocal. , the drummer from the electric trio was incredible couldn't take my eyes off some of his drum beats very impressive."
On a personal note: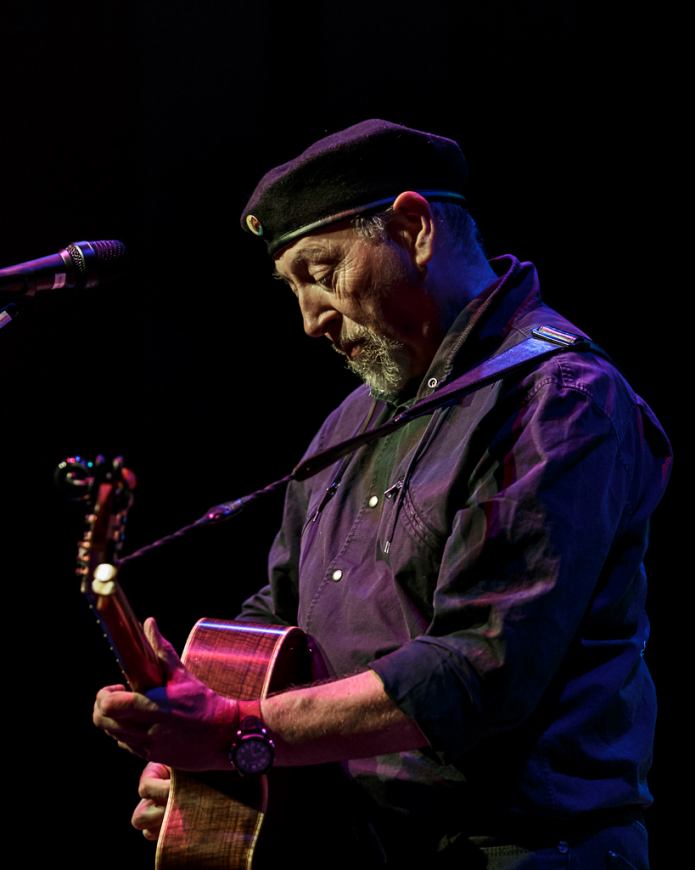 There was this particular point, maybe it was a solo early on in the proceedings, but I realised that something was missing – then I realised that someone was missing. Her name was Ruth MacPherson; she loved Richard's music, and one year I was going to take her along, but on the night she was just too ill from her fight with cancer to make it. She'd have loved being here tonight.
Most musicians gracefully sign photographs and pose for photos as if they were an exhibit; I generally try to avoid asking them for any such favours when I could just be talking with them.
On that long-ago night though, I got Richard to sign a backstage pass or some such for Ruth. I slipped it under her door one day with a copy of 'Electric'. She was ecstatic. I wished she was here.
I also got slightly teary like a silly girl when Richard's 'Guitar Heroes' got to the Les Paul section. You try not to be disappointed over the many 'would have/should have/could have' moments. Still, the last time I had the opportunity to hear Paul play, I got conscripted against my will into something I didn't want to do instead.
'I'll just go see him play next time' I thought. There never was a next time, and there won't be one. Maybe I finally learnt my lesson about following my instincts and appreciating what is available in the here and now. I'd like to hope so. But when I closed my eyes, it was just like being back in Fat Tuesday's, sitting a few feet away from Les, and hearing those golden tones that no one else can match (Richard did it though).
On a less maudlin note, I would have liked to hear 'Fergus Lang' at the Music Hall, like Thompson did last year. That was the first time I'd seen it live, and I'll try and make sure I see Richard perform it again. I hope RT realises that for a good number of people, that song is pure tonic (Trump not being one of them).