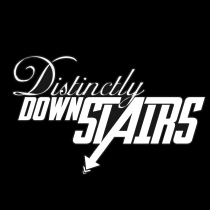 It was a night, generally, of brutal thrash at Aberdeen's newest live music venue, Downstairs. Andrew Watson was there.
First up were Perth's Blackened Ritual. They were a man down, so played as a four piece of drums, bass, guitar and vocals.
They combined thrash with a bit of groove, and if the guitar levels were a bit better the subtlety and technicality of the riffs would've been realised and more so appreciated.
The singer was enthusiastic and was able to laugh at himself. It's nice to see people on the stage genuinely loving what they do.
Local act Drekavac were probably the most pounding and heavy band on the bill. It wasn't just about loudness wars, either, with clean guitar atmospherics brooding throughout. This black metal four piece (again, drums, bass, guitar and vocals) put tremendous effort into stage props.
Goat skulls, face paint and black cloaks were all included onstage.
The main support act were Nolti Nan Gana Nan Nolta or NNGNN for short, of Edinburgh. In the build up to their set their drummer was clearly seen pacing the width of the stage floor, from end to end. He was so psyched it's a wonder he wasn't punching holes in the wall. His bandmate said the ritual helped him play drums better.
Anyway, the three piece consisted of said drummer, vocals/bass and guitar. These guys were intense and distorted blackened thrash.
Headlining were Croatia's Evil Blood, who reside in Fife and are were made up of guitarist, vocalist/guitarist, bass and drums. They seemed to hark back, at least a little sometimes, to the times of classic metal with dungeons, dragons and ice maidens amongst the subject matter. There was no shame in the subject matter, which in itself is a positive.
All round a colourful night of headbanging, windmilling, devil horns held aloft and swilling of beer.