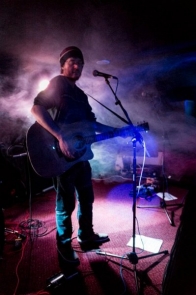 With thanks to
Dan Leckie.
A lineup of highly talented Aberdeen-based acoustic musicians is about to perform at a Distinctly Downstairs gig, the second such event, though the first to highlight an all-acoustic lineup.
These gigs are held once a month, on the second Saturday of each month.
With the first Distinctly Downstairs show having been highly successful, the second is set for 8th June, starting at 7.30pm.
Downstairs – an exciting venue where the gigs are held – has newly opened at the Malt Mill.
Said manager Gavin Bassett:
"Distinctly Downstairs is a night of some of Aberdeen's finest local talent, a distinct showcase of musical genius and creativeness that the city has to offer. Supporting local music is what Downstairs as a venue aims to do so these events organized by Dan Leckie, quite fittingly, are Distinctly Downstairs!"
Headliner Craig John Davidson is an Aberdeen-based singer-songwriter who has been writing and recording from home since he was 15 years old. In his songs, Craig brings an intelligent eye to the problems in modern society as well as interpreting the influences and challenges most young citizens meet today.
This uncompromising style and approach has earned him a good fan following, all enamoured of his unique vocals and accomplished finger-picking ability, comparing him to a young Bert Jansch or Elliot Smith.
So far, Craig has self-released 3 albums: Soaked in Harm (2008), Curiosity (2009), and All in Song (2010). He has recently signed to Fat Hippy Records and this gig is part of the Last Laugh Tour, promoting Craig's first Fat Hippy release, The Last Laugh. The Scottish Daily Record gave the album a 4-star review, saying:
"Davidson indeed has the Last Laugh – his album is excellent."
At the gig, Craig will be joined onstage by guitarist Innes Cardno.
http://www.reverbnation.com/craigjohndavidson
http://www.myspace.com/craigdavidsonaberdeen
Russo is, in her own words:
"a musician, a singer, a songwriter…far from home but at home in my music wherever I am. I see the world through my eyes – the eyes of someone who has seen much but has so much more to see and learn. My vocal style and songwriting incorporate elements of folk, classical and soul combined with a sense of urgency and originality which is very much belonging to the here and now."
Russo is due to self-release her first EP in June; indeed, this will be her first gig since the release of her EP.
Facebook: www.facebook.com/LizabettRusso
Website & Blog: www.lizabettrusso.wordpress.com
Soundcloud: www.soundcloud.com/lizabett-russo
Robbie Strachan is a former member of the London four-piece band The G String Snaps, in which he contributed songwriting and was the lead vocalist. As such, he was the UK Songwriting semifinalist in BBC Introducing's 2010 pop category, receiving airplay for his highly celebrated song Nefertiti Was a Queen on BBC Radio 6 and BBC Radio Scotland. His set features quirky lyrics and highly rythmical strumming.
R.D. Wyness is a local singer-songwriter, playing original acoustic songs, mainly in folk and blues styles. He has been making live appearances since 2003 or 2004, when he played a college gig at the Blue Lamp.
http://www.facebook.com/RDWynessMusic
http://soundcloud.com/r-d-wyness
June Stevenson is a singer/songwriter in the process of recording her 2nd album. Her 1st album was released in September 2012, entitled Newfound Heights. She will be playing some of her new sounds on the night, to help promote her upcoming new album (yet to be titled), and will also be performing a couple of cover songs. On the night, she will be accompanied by Chris Paterson on acoustic guitar.
Said June:
"We hope to see you there and look forward to your company!"
http://www.JuneStevensonMusic.com
http://junestevenson.bandcamp.com/
http://www.reverbnation.com/junestevenson
http://www.facebook.com/pages/June-Stevenson/134999239865255
http://www.youtube.com/therocklady1963
http://soundcloud.com/junestevenson
Debut Album Newfound Heights is now available from both Amazon & ITunes:
UK: http://www.amazon.co.uk/Newfound-Heights/dp/B008KCCLKM/ref=sr_shvl_album_1?ie=UTF8&qid=1351775511&sr=301-1
USA: https://itunes.apple.com/album/newfound-heights/id546240482?v0=9989&ign-mpt=uo%3D1
And: http://www.spotify.com
As for his own aspirations regarding this show, event organizer Dan Leckie commented:
"It is my hope to feature, at this gig, a thrilling collection of supremely talented music acts that will keep the crowd interested and entertained. Hopefully, those attending the gig will enjoy the performances on display, perhaps finding out about a new artist they really like or supporting their friends playing an exciting mix of their own tunes."
The third Distinctly Downstairs gig will be on 13th July, again at Downstairs.
Distinctly Downstairs
Downstairs at the Malt Mill,
82 Holburn Street
Aberdeen
AB10 6BY
Tel: (01224) 654456
Facebook pages
event page: https://www.facebook.com/events/549800571728603/
venue page: https://www.facebook.com/DownstairsAberdeen
The second Distinctly Downstairs gig will be on 8th June, starting at 7.30pm
Admission fee is £3, payable at the door